Hefei Shopping
After visiting some scenic areas in Hefei, you will do some shopping to buy local souvenirs for your friends and your family. Here, some special local products are recommended to you for your shopping guidance.
'
Four Treasures of the Study
' which is famous in China refers to the four tools of Chinese calligraphy including brush, ink-stick, paper and ink-stone. In the city, certain counties are renowned for producing some of these treasures: Jin County is renowned for producing Xuan Paper and Xuan Pen; She County is renowned for producing Hui Ink and She Inkstone. These are all available to you for your special use in Chinese calligraphy.
| | |
| --- | --- |
| A brush shop | An ink slab |
You may expect that the following special artistic souvenirs arouse your curiosity: Poker-picture is a rare and precious handicraft in the city. It was an art which originated at the end of Ming Dynasty (1368-1644) and has a history of over 300 years. Using the craft of traditional Chinese painting the poker-picture is burnt by a stencil pen at high temperature. The pictures, when completed, show scenery which covers both distant and close views and also have different shades of colors. It is a special art in China.
Zhuhuang (a part of bamboo) painting is another special painting you can easily find in the city. It is a painting on which birds, flowers and natural landscape are painted. Zhuhuang is a smooth layer to be found inside of thick bamboo, thus the painting looks very much like satin. This characteristic is perhaps what makes the painting special. As is generally known, Chinese embroidery is very famous throughout the world. In the city a special kind of embroidery, called hair embroidery, will definitely draw your attention. This kind of embroidery is achieved by use of the long hair of man or animal instead of thread, and the resulting pictures show different shades of color and an elegant lustre.
| | |
| --- | --- |
| An inkstone shop | Drum Tower Mansion |
For those who feel like seafood, you can buy some bags of local sea products such as Chaohu whitebait and Da-zha crab. It is known that the best Da-zha crab is produced in Yangcheng Lake located in Kunshan City, while the Da-zha crab in Hefei compares equally with it. But you have to check if these are allowed to be taken with you onboard your plane, home.

Anhui, renowned for its tea production, is the essence of Chinese tea culture. The most famous tea in Anhui is most certainly, Huangshan Maofeng which is considered one of the top ten green teas in China and, is also well-known overseas. Anhui Qihong Tea, Anhui Tun Green Tea and Anhui Houkui Tea are three other categories from which you may choose.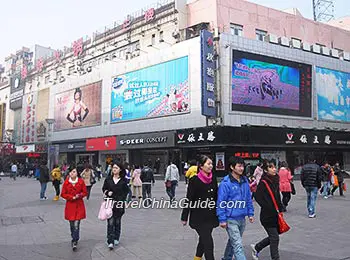 Huaihe Road Walking Street
For those who like to eat the local snacks, you can choose to buy bags of cooked food such as Honggao (baked cake), Mabing (sesame cake), Baiqie (white sesame slices) or, Cunjin (sesame cookie). They are all tasty sweet snacks.

In the city when you want to go shopping, the place you should never miss is Huaihe Road Walking Street, located in the prosperous area on Huaihe Road, where many kinds of local products are sold. Women who are crazy about shopping can choose to go to Women Street located in Sanxiaokou on Changjiang Road.

You will enjoy your 'adventures' as well as the added delights to be found as you tour. The following are some shopping centers introduced here for your reference:
| | | |
| --- | --- | --- |
| Anhui Commercial Capital | No.8 Suzhou Road | Take bus No.104, 105, 106, 109, 117, 123 |
| Drum Tower Mansion | No.96 Suzhou Road | Take bus No.1, 103, 109, 117, 136 |
| Department Store | No.150 Changjiang Road | Take bus No.1, 4, 14, 27, 105, 106, 109, 116 |
| Vista International Plaza | No.181 Shouchun Road | Take bus No.2, 5, 25, 105, 113, 117, 118, 121 |
Supermarket
| | | |
| --- | --- | --- |
| Hejiafu Supermarket | Meiling Avenue | Take bus No. 4, 5, 11, 14, 27, 31, 104, 105, 109, 111, 113, 117, 119 |
| Anhui Huadian Supermarket | No.19 Qingnian Road | Take bus No. 4, 8 , 158 |
| Shanghai Lianhua Supermarket | No.150 Ningguo Road | Take bus No. 122, 135, 153, 141, 149, 150 |