Hefei South Railway Station
Put into service on 17th Oct, 2014, Hefei South Railway Station is about 8 miles (13 km) from Hefei Railway Station, 4 miles (7 km) from Memorial Temple of Lord Bao and 28 miles (45 km) from Xinqiao International Airport.

Address: Between Huizhou Avenue and Luzhou Avenue in Baohe District

Schedule and Ticket Booking
Located at the junction point of Shanghai-Wuhan-Chengdu, Hefei - Shanghai, and Hefei - Beijing Train, the station mainly operates bullet trains to/from Beijing, Shanghai, Hangzhou, Shenzhen, Huangshan, Ningbo, Nanjing, Hankou and Fuzhou etc.



Major Rail Lines from the station to:

(Last Update on May 7, 2019)
To
Trains
Duration
Ticket Fare (CNY)
First/ Second Class Seat

Beijing South

G262, G352, G24, G162...
15 departures from 07:03 to 19:56
3h37m - 5h13m
CNY 734.5/ 436
USD 111/ 66

Shanghai Hongqiao

G9412, G7378, G7162, D3028...
44 departures from 08:46 to 19:32
2h6m - 3h43m
CNY 190/ 119
USD 29/ 18

Huangshan North

G7413, G1611, G1619, G345...
24 departures from 07:50 to 20:20
1h20m - 2h2m
CNY 151/ 94.5
USD 23/ 14

Hangzhou East

G7638, G7458, G7480, G7694...
29 departures from 07:38 to 20:06
2h4m - 4h27m
CNY 206/ 129
USD 31/ 20

Guangzhou South

G649, G635, G1113, G1743 from 08:26 to 16:50
6h13m - 8h48m
CNY 949/ 593
USD 144/ 90

Nanjing South

D5500, G7638, G7258, G7458...
88 departures from 07:33 to 21:42
0h52m - 1h7m
CNY 70/ 44
USD 11/ 7

Fuzhou

G1611, G1601, G345, G27...
12 departures from 08:21 to 17:23
3h35m - 4h43m
CNY 601/ 357
USD 91/ 54

Chongqing North

D2373, D353, D2255, D637...
15 departures from 08:14 to 12:50
7h39m - 9h30m
CNY 592/ 353
USD 90/ 53

The above schedule is for reference only. For real-time schedule and ticket booking, please click the arrival stations.

See detailed
Hefei Train Schedule
Station Plan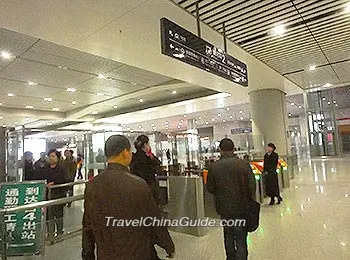 Railway Exit on -1F
The station consists of a five-storey terminal building and two squares – north square and south square. Currently, the basement of South Square is under construction and not opened yet.


2F: waiting hall, ticket offices, check points, toilets, service desk


1F: platforms, entry hall, ticket offices


-1F: arrival floor, transfer hall, taxi stands, bus stops, parking lot for private cars, distribution hall


-2F: metro entrances/exits for metro line 1, 4 and 5 (not opened yet)


-3F: metro platforms for metro line 1, 4, and 5 (not opened yet)

North Square:


-1F: bus stops, shopping area, parking lot


-2F: parking lot for private cars
How to get to the train station from downtown area?

Arrival by bus:
At West Drop-off Area: Airport Shuttle Bus Line 3
At Railway Station Bus Stop: 4, 9, 11, 16, 31, 51, 57, 65, 99, 108, 131, 156, 703
At North Square: 4, 9, 11, 16, 31, 51, 57, 65, 99, 108, 131, 156, 509, 703
At South of Luchuan Intersection: 104
At Meilan Bus Stop: BRT 1
Passengers arriving by bus will get off at the north or south square outside the terminal building. For those with a ticket, enter the station directly and find the waiting hall to wait for the departure. For those without, six ticket offices are located on the first and second floors. Passengers can go to the nearest one to purchase one and then enter the waiting hall.

Arrival by metro: Passengers can take metro
line 1
to get to this railway station directly.

Arrival by taxi:
Passengers taking taxi to the station will be dropped off at the east or west drop-off area on the second floor.
From
Duration (Minutes)
Cost (CNY)
Hefei Railway Station
25
25
Memorial Temple of Lord Bao
20
20
Xinqiao International Airport
50
100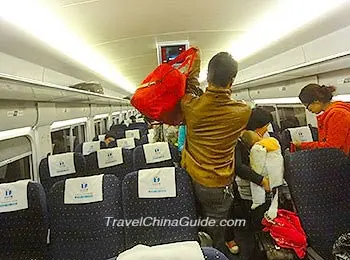 Second Class Carriage
Ticket Check and Boarding
There are 20 check points inside the waiting hall and automatic checking machines and manual ticket checking channels are provided at each check point. Passengers should read their ticket carefully to know which check point to go to have their tickets checked. Please note that blue tickets can be checked at the automatic ticket checking machines, while red ones can only be handled manually. After check-in, passengers should follow the direction signs to the correct platform to board.
How to exit and leave the station?
After arrival, passengers should go down to the arrival floor on -1F and then follow the direction boards to find bus or taxi to leave the station; or passengers can go out from the distribution area to the north or south square to take bus to leave the station.

Leave by bus:
Bus stops are located at the east side of the arrival floor on -1F. There are clear direction boards leading you there.

Leave by taxi:
Passengers can take a taxi at the west side of the arrival floor on -1F. But be prepared; taxi there is usually in great demand and one may need to queue up for about 30 minutes or even longer.

Transportation to famous sites:

Heifei Railway Station:
Take bus no. 11 or 509 to Zhonglv Square and then walk about 1000 yards northwestward to the destination. .

Memorial Temple of Lord Bao:
Take bus no. 4 or 99 to Dazhonglou, and then walk 550 yards northeastward to get there.

Xinqiao International Airport:
Take Airport Shuttle Bus Line 3 on -1F to the airport. The line 3 is available between 06:00 and 19:10 every 40 to 60 minutes. Duration is about an hour and a half. Ticket fare is CNY25 per person.
Facilities and Services

Ticket Office:
Altogether six ticket offices are available in the station for passengers' convenience. Two of them are located at the east and west sides of the station entrance respectively on the first floor. Another four of them are located at the east and west sides of the elevated drop-off area on the second floor. Passengers can purchase, change or refund tickets at those offices.

Waiting Hall:
Passengers can find themselves a seat among the 4500 seats inside the waiting hall. LED screens are provided there to show the train schedule, departure and arrival time. At the east and west sides of the waiting hall, passengers can find six washing rooms and hot drinking water. Besides, close to the check point no. 11, there is a service desk, providing service including consulting, lost and found, wheels for the disabled or other help for the old, weak, pregnant, as well as ticket change.

Left luggage service:
Luggage storage cabinets are provided on -1F. Usually, it charges CNY2 per hour for a small bag and CNY3 per hour for a large bag. But only coins are accepted.
Print

- Last modified on Apr. 09, 2019 -
Questions & Answers on Hefei South Railway Station
Asked by Tony Eagles from UNITED KINGDOM | Oct. 27, 2018 07:02

Reply
Lost Camera -G324 Hefei South to Beijing South
Hello. My daughter travelled from Heifi South to Beijing South on the G324 at 15:14 on Wednesday 24th October. She was part of a school trip from England and unfortunately she left her camera on the train. It is a black Panasonic DMC-TZ20.

If it is found is there any way of paying for it to be returned back to us in the UK? My daughter returned home yesterday and is upset that she has lost all the photo's of her trip. If it is found and it is unable to be returned, is there anyway of sending the memory card back or alternatively a copy of all the pictures she has taken.

Many Thanks
Tony
Answers (1)
Answered by Tillie | Oct. 29, 2018 02:10

0

0

Reply
Sorry to hear about it, but as I read that even if you find it, the owners should collected it from the station. They do not offer overseas delivery option.
Asked by Phat from VIETNAM | Jun. 02, 2018 09:14

Reply
Is there any bus from Heifei airport to Hefei South Railway station?
Bu hao yi si!
Is there any bus available from Hefei airport to Hefei South Railway station? I need to take a high-speed train to Huangshan. Thank you very much!
Answers (1)
Answered by Mr. Burton | Jun. 03, 2018 02:53

0

0

Reply
Yes, the shuttle bus is available. You could take Shuttle bus No 3.
Asked by chris from USA | Dec. 13, 2017 19:48

Reply
how to know which platform for the Hefei to Shanghai Honggqai high speed
We need to get from Hefei to Shanghai and have tickets on the high speed . We are concerned about finding our platform.
Is there a consistent platform for the high speeds? will it be obvious based on train numbers?
Answers (1)
Answered by Samuel | Dec. 14, 2017 02:17

0

0

Reply
You need to find it at the station. These information can be find on some LED screens including train number, time, status, checkin gate, platform etc. Once you find your checkin date, you can wait at that waiting area. Once the checkin begins, you can go through the gate and reach your platform.