Anhui - Hefei Hiking Tours

Mt. Jiuhua is a natural landscape attraction characterized by Buddhist culture in China. The picturesque views and historical temples make it become a hot destination for hiking enthusiasts from both home and abroad.

Here we offer two options of Hefei hiking routes: You are suggested to refresh yourself in the tranquil lake view of Chaohu, and explore the natural wonder, Fairy Cave of Yinping Mountain. Otherwise for history fans, hiking to the ancient battlefield in Shouxian Old City would be a great choice.
03: Downtown - Xindian - Xianyu Mountain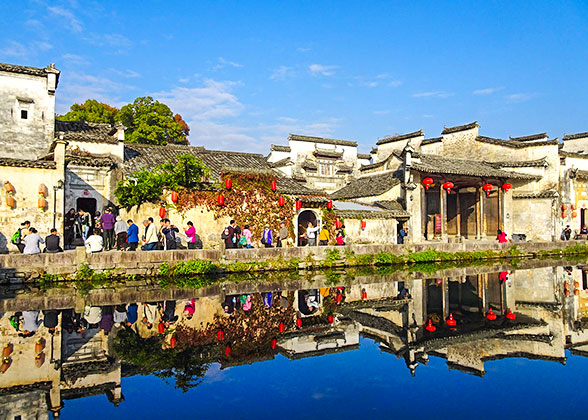 From Hefei to Xindian Village, there is no direct transportation. You can take a bus to Shitai County first from Tourist Bus Station or South Bus Station. Upon arrival, take a connecting bus to Xianyu Town. Xindian Village is located in Xianyu Town, and the village is the northern beginning of the Ancient Chihui Caravan Trail. It is paved by stones, and you can hike along the ancient trail via Xianyuzu and finally get to the top of the Xianyu Mountain.
04: Downtown - Tianlong Pass - Tianzhu Mountain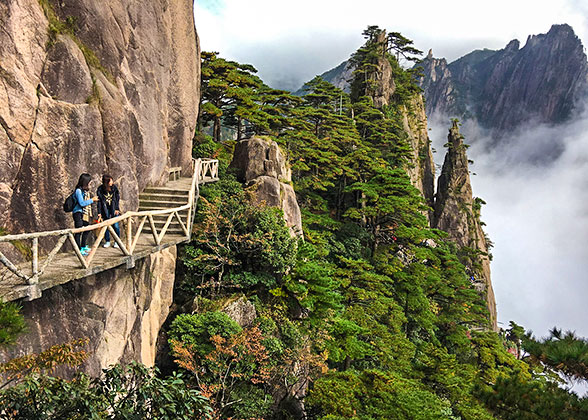 You're suggested to depart downtown Hefei at about 6:30 and have a two hours' drive to get to Tianlong Pass in Shuihou Town, Anqing. Tianlong Pass is a notable cliff-climbing training base. There you may climb the Tianzhu Mountain, which is 35 miles (57 kilometers) from downtown Anqing. In the evening, you can stay overnight in the camp. The next day, you may hike through the Mystery Valley and visit the Liandan Lake and Fly-Over Peak.

Tip: There are bullet trains and coach buses between Hefei and Anqing. The bullet trains are available at Hefei South Railway Station, and the travel time is about two hours. You can take the coach to Anqing at Hefei Coach Bus Station or Provincial Bus Station. The buses depart at an interval of about 30-40 minutes. Upon arrival in Anqing, you can transfer to a bus to go to the Tianzhu Mountain at Anqing Coach Bus Station.
05: Hefei - Guniujiang Scenic Area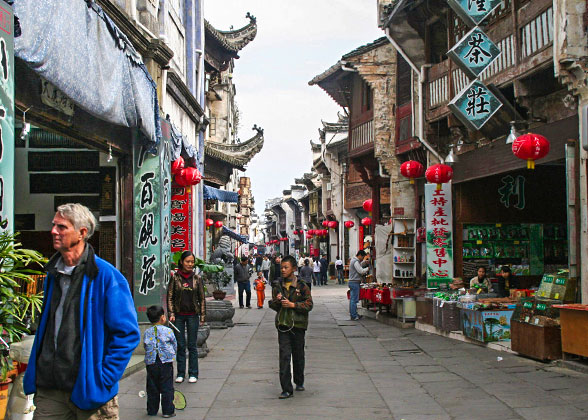 If you hope to get to Guniujiang earlier, you can drive on the express way from Hefei to Anqing, then via Yinhui in Chizhou, and finally get to Shitai County. Go on driving southwards for about 12 miles (20 kilometers) and you can find Guniujiang. The next day, you're suggested to start early to visit the old woods and have breakfast in Tanjiayuan, and then hike up to the top of the mountain to see the sunset. In the evening, you may stay overnight in the base camp on the grassland. Hope you can wake up early, otherwise you may miss the charming sunrise. After that, you could get down towards the direction of Qimen County. It's a great pleasure to appreciate the natural landscape on the way, and capturing it with your camera will be nice. After you get to Lixi Village in Qimen in the late afternoon, you can take a short break there and then drive back.

Tips:
1. There are coach buses between Hefei and Shitai. You can catch the bus at the Tourist Bus Station or the South Coach Bus Station.

2. From Qimen to Hefei, you may take a bus at the Qimen Coach Bus Station.
06: Hefei - Jixi - Fuling Town - Qingliang Peak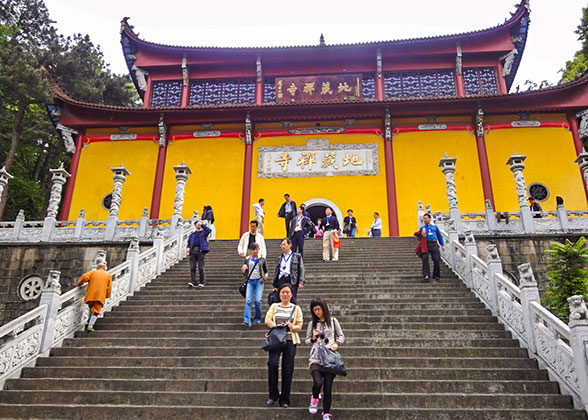 You can take a train from Hefei to Jixi County in Xuancheng City in the afternoon. Hefei is about 210 miles (340 km) from Jixi. The travel time of normal speed train is 5 hours, while for bullet trains, it takes about 1.5 hours. Upon arrival in Jixi, you are suggested to stay one night in the county. The next day, spend 50 minutes taking a minibus from downtown Jixi to Beicun Village in Fuling Town. Then, you may transfer to a motor tricycle to pass through Zhangshan Grand Canyon and finally reach the foot of Qingliang Peak, which is the main peak of Tianmu Mountain. Climb up Qingliang Peak and you will get to the top in the late afternoon. Stay overnight in the hiking camp. On the third day, you'd better get up early for watching the beautiful sunrise. Then hike down the mountain and head for Jixi via Fuling Town along the Huihang Ancient Trail.