Wuhu Travel Guide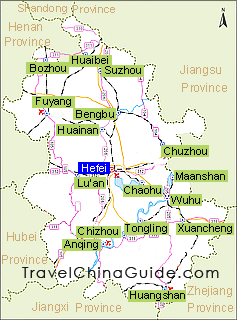 Wuhu Facts
Chinese Name: 芜湖市 (wú hú shì)
Population: 3,748,000
Area: 6,026 square kilometers (2,327 square miles)
Location: in the southeast of Anhui, eastern China
Administrative Division: 4 districts (Jinghu, Yijiang, Jiujiang, Sanshan); 3 counties (Wuhu, Fanchang, Nanling,); one county-level city (Wuwei)
Area Code: 0553
Zip Code: 241000
GDP (2018): CNY 327.85 billion (USD 19.55 billion)

Wuhu is located in the southeast of Anhui Province, on the south bank of the lower reaches of the Yangtze River. It is 119 kilometers (74 miles) from the capital city of the province, Hefei and neighbors Jianghuai Plain to the north and the mountainous area of south Anhui. The Yangtze River crosses the city from southwest to northeast. Wuhu Port is the fifth largest port of Yangtze River water transportation, the largest one in Anhui Province. There are many scenic spots in Wuhu ranging from natural landscape, entertainment and leisure, architecture and culture. With beautiful scenery, Zheshan Park has always been an ideal place for people to climb high and look far. Known as Oriental Dream Park, Wuhu Fantawild Adventure highlights the science fiction and cartoon and has more than 300 entertainment projects.
Attractions
Zheshan Park: This is a major tourist destination combining entertainment, historical and scenic attractions, such as a zoo, children's playground, garden, watchtower, and pavilion. Included amongst these attractions is Guangji Temple, constructed during the Tang Dynasty (618-907) it is a famous Buddhist site in Anhui Province.
Fantawild Adventure
Fantawild Adventure, a family-friendly theme park, is mainly composed of 15 theme project areas such as Interstellar Flight, Mysterious Valley, Dinosaur Crisis, Conch Bay, Children's Kingdom and Liaozhai, covering modern technology, future fantasy, myth and legend, history and culture and children's play.
Other scenic Spots: Tianmenshan Mountain, Jinghu Park, Ma Renqi Mountain
Special Local Products: Melon seeds, iron paintings, tea

How to Get to Wuhu
1. Wuhu Xuanzhou Airport operates flights to/from Beijing, Shenzhen, Guangzhou, Kunming, Chengdu, Xi'an, Chongqing, Sanya... It is about 38 km(24 mi) to downtown Wuhu. Upon landing, there are airport shuttle buses sending passengers to Wuhu downtown.

2. Located 4 kilometers (2 miles) northeast away from the city center of Wuhu, Wuhu Railway Station has both normal speed trains and bullet trains to/from Shanghai, Hangzhou, Nanjing, Guilin...



See more Shanghai - Wuhu Train, Nanjing - Wuhu Train
Weather
-
Wuhu is in the subtropical zone and enjoys a humid monsoon climate with plenty of sunshine and rainfall. Its annual average temperature is 15-16

C (59-61

F). January is the coldest month and August is the hottest. The rainy season in the city extends from spring to early winter with the heaviest concentration usually from mid-June to early July.

When to go: Autumn is usually the best time to visit Wuhu as the weather is cool and the chrysanthemums are in blossom.
Wuhu Travel Tips

History: It was known as Jiuci during the Spring and Autumn Periods (770BC-576BC) for its abundance of cooers, ponds and lakes. Its present name dates from the Western Han Dynasty (206BC-24AD), and it has been reputed as a land of fish and rice since the Song Dynasty (960-1279). During the Ming Dynasty (1368-1644), it became a flourishing commercial center attracting a myriad of businessmen.



Physical Features: The city stands on the alluvial plain of the middle and lower reaches of the Yangtze River and is comprised of floodplains, terraces, and low hills. The predominant geographical feature of the area is alluvial plain, and because of its plentiful supply of water the town has always been considered a production center for both fish and rice.

The Yangtze River Bridge is an important transportation link for the city across the Yangtze River. It is also a good place from which to admire the Yangtze River.

The Phoenix Delicacy Street in downtown is a good choice for travelers when visiting the city. There are many restaurants along the street serving various local delicacies, as well as foreign food. Visitors can also find pubs, cafes, teahouses and many other recreational places here.
- Last updated on Mar. 04, 2022 -
Questions & Answers on Wuhu Travel
Asked by Javier Pipaón from SPAIN | Feb. 09, 2022 01:14

Reply
Has been in Wuhu a house of jesuits?
Answers (1)
Answered by Kate | Feb. 23, 2022 10:34

0

0

Reply
You can go to St. Joseph's Cathedral on Jihe Street in downtown Wuhu.
Asked by 茉莉 from CHINA | Jun. 25, 2019 04:47

Reply
Are there any hotels in the area close to the glass Bridge?
Answers (1)
Answered by Sarah from USA | Jun. 26, 2019 00:15

0

0

Reply
It seems that only the Tianchi Resort near the scenic area is available but the service and quality is just so so. It costs about CNY300 per night.
Asked by Gugu from CHINA | May. 16, 2019 02:10

Reply
How much is the entrance fee into the Marenqifeng scenic spot?
Answers (1)
Answered by Moria from AUSTRALIA | May. 16, 2019 20:20

0

0

Reply
The entrance fee is CNY80.
Asked by aslan from CHINA | Oct. 03, 2018 07:06

Reply
how to reach glass bridge from wuhu railway station ?
Answers (1)
Answered by Vida from USA | Oct. 10, 2018 01:25

0

0

Reply
You can take the bus from the railway station to the glass bridge but you have to make two transfers on the way. It takes too much time and is inconvenient. So the most convenient way is to take the train from the WH railway station to the Fanchang West railway station and then take a taxi to the scenic area.