Wuhu Travel Guide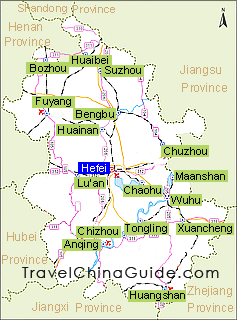 Wuhu Facts
Chinese Name: 芜湖市 (wú hú shì)
Population: 2,268,800
Area: 3,317 square kilometers (1,281square miles)
Nationalities: Han

Location: Wuhu is located in the southeast of Anhui Province, on the south bank of the lower reaches of the Yangtze River. It is 119 kilometers (74 miles) from the capital city of the province, Hefei. It neighbors Jianghuai Plain to the north and the mountainous area of south Anhui. The Yangtze River crosses the city from southwest to northeast.
Administrative Division: 4 districts (Jinghu, Yijiang, Jiujiang, Sanshan); 3 counties (Wuhu, Fanchang, Nanling)

Useful Numbers:
Tourist Complaints: 0553-3817720
Weather Forecast: 121
Zip Code Inquiries: 184
Bank of China: 0553-3834089
Attractions
Zheshan Park: This is a major tourist destination combining entertainment, historical and scenic attractions, such as a zoo, children's playground, garden, watchtower, and pavilion. Included amongst these attractions is Guangji Temple, constructed during the Tang Dynasty (618-907) it is a famous Buddhist site in Anhui Province.
Other scenic Spots: Tianmenshan Mountain, Jinghu Park, Ma Renqi Mountain
Special Local Products: Melon seeds, iron paintings, tea
Weather
-
Wuhu is in the subtropical zone and enjoys a humid monsoon climate with plenty of sunshine and rainfall. Its annual average temperature is 15-16

C (59-61

F). January is the coldest month and August is the hottest. The rainy season in the city extends from spring to early winter with the heaviest concentration usually from mid-June to early July.

When to go: Autumn is usually the best time to visit Wuhu as the weather is cool and the chrysanthemums are in blossom.
Wuhu Travel Tips

History: It was known as Jiuci during the Spring and Autumn Periods (770BC-576BC) for its abundance of cooers, ponds and lakes. Its present name dates from the Western Han Dynasty (206BC-24AD), and it has been reputed as a land of fish and rice since the Song Dynasty (960-1279). During the Ming Dynasty (1368-1644), it became a flourishing commercial center attracting a myriad of businessmen.

Physical Features: The city stands on the alluvial plain of the middle and lower reaches of the Yangtze River and is comprised of floodplains, terraces, and low hills. The predominant geographical feature of the area is alluvial plain, and because of its plentiful supply of water the town has always been considered a production center for both fish and rice.
The Yangtze River Bridge is an important transportation link for the city across the Yangtze River. It is also a good place from which to admire the Yangtze River.
The Phoenix Delicacy Street in downtown is a good choice for travelers when visiting the city. There are many restaurants along the street serving various local delicacies, as well as foreign food. Visitors can also find pubs, cafes, teahouses and many other recreational places here.