Huaibei Travel Guide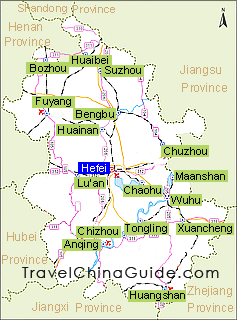 Huaibei Facts
Chinese Name: 淮北市 (huái běi shì)
Population: 2,122,000
Area: 2,741 square kilometers (1,058 square miles)
Nationalities: Han

Location: Huaibei is situated in the north of Anhui Province, located at the hinterland of East China in the linking area among Jiangsu, Shandong, Henan and Anhui.
Administrative Division: 3 districts (Xiangshan, Duji, Lieshan); 1 county (Suixi)
Seat of the City Government: No.200, Huaihai Road, Xiangshan District

Useful Telephone Numbers:
Tourist Complaints: 0561-3026183, 3040217
Weather Forecast: 121
Zip Code Inquiry: 184

Bank of China: No.172, Gucheng Road, Xiangshan District
China Post: No.79, Huaihai Road, Xiangshan District
Attractions
Xiangshan Mountain, winding on the Huaibei Plain, gathers multitude of beautiful sights of Huaibei travel. Xiantong Temple is the most important scenic spot of the mountain. This temple was first constructed during the Western Jin Dynasty (265-316), and rebuilt in the Tang Dynasty (618-907). The stele inscription by the Emperor Qianlong of the Qing Dynasty and the cliffside inscriptions on the Shenshui Crag (Shenshui Ya), together with the ancient buildings, are all the highlights of the temple.
Linhuan Ancient Tea Town: Linhuan Town, 37 kilometers (23 miles) southwest of the Suixi County on the north bank of the old huanshui River. The town has a history of more than 3,000 years and it has been over 600 years since the uprising of tea cultural in Ming Dynasty (1368-1644). In the 500 meters (547 yards) long central street stand no less than sixteen teahouses.
Transportation
1. Having the aid of Xuzhou Guanyin Airport in Jiangsu Province which is only about 50 kilometers (about 31 miles) from the city, it is much more accessible from other cities by air.
2. From Huaibei bus station located in Gucheng Road,
Xuzhou
can be reached within two hours. But it is quite farther to the capital city of the province, Hefei. Distance between them is over 300 kilometers (about 184 miles), and the journey between these two cities may cost no less than four hours.
Weather
-
Enjoying a temperate monsoon climate, Huaibei has an annual average temperature of 14.8

C (58.6

F). Spring and autumn are distinctly shorter than summer and winter. Its winter is cold and dry. Summer is both the hottest period and the rainy season.

When to Go: in spring and autumn
Huaibei Travel Tips

History: Circa 4,000 years ago, the city was established in present downtown. During the Xia (21st - 16th century BC) and Shang (16th - 11th century BC) dynasties, it was named as Xiangcheng governed by Xuzhou. In Eastern Han Dynasty (25-220), it was the capital of the Pei State, and it was gradually declined since the Tang Dynasty (618-907).

Physical Features: Huaibei slopes downwards from northwest to southeast, and over ninety-five percent of its territory is occupied by plains. The peak of the city lies in Suixi County with an altitude of 362 meters (1,188 feet) and the city proper is built on the Xiangshan Mountain.

Special Local Products: Kouzi Liquor, Huangli megranate, Badou apricot, grape, watermelon, Bangbang Cha (a kind of tea)

Local Highlights: Flower Drum Opera (Hua Gu Xi) is derived from the folk songs and dance of this region, being the most popular local entertainment.
- Last modified on Apr. 26, 2018 -
Questions & Answers on Huaibei Travel
Asked by Ms.Patience from AUSTRALIA | Jun. 24, 2009 03:21

Reply
Where to take a bus from Hefei to Huaibei?
Answers (1)
Answered by Ms.Yuan from CHINA | Jun. 27, 2009 04:09

0

0

Reply
Hefei Long-distance Bus Station
Address: No.168 at Mingguang Road