Huainan Travel Guide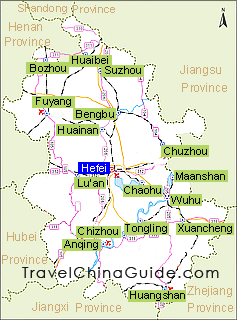 Huainan Facts
Chinese Name: 淮南市 (huái nán shì)
Population: 3,896,616
Area: 5,533 square kilometers (2,136 square miles)
Location: in the north-central region of Anhui, eastern China
Administrative Division: 5 districts (Tianjia'an, Datong, Xiejiaji, Bagongshan, Panji); 2 counties (Fengtai, Shouxian); 1 Experimental Area (Maoji Social Development Comprehensive Experimental Area)
Area Code: 0554
Zip Code: 232063
GDP (2018): CNY 113.33 billion (USD 17.13 billion)

Located in the north-central region of Anhui Province, middle reaches of the Huaihe River, Huainan is bounded on the east by Chuzhou and shares a boundary with the capital city of the province, Hefei, in the south. And its rich mineral resources, especially its high-quality and massive coal reserves make Huainan the cradle of the power industry of China. Huainan has a long history and profound cultural heritage. There are a lot of idioms and allusions handed down. The traditional Chinese food - tofu with a history of more than 2,000 years was also invented in Shouxian County, Huainan.
Attractions
Bagong Mountain: Not only a famous tourist zone in Huainan but also a national geo-park, the mountain consists of some forty peaks. It is praised to be one of the birthplaces of the Chu-Han Culture, still leaving many historical sites, including ancient battlefield, private garden, old temple, pagoda and nunnery.
Shangyao National Forest Park: Forest makes up the main landscape of the park, but it also has a great deal of historical and religious sites, such as the ancient temple built in Jin and Ming dynasties, cliffside inscriptions, caves, and stone bridge. It is an attraction that the nature and the buildings set off each other harmoniously.
Other Scenic Spots: Jiaogang Lake, Maoxian Dong (a Taoism immortal cave), Longhu Park
Transportation
Huainan Bus Station is the largest bus terminal in the city. It is seated in Guoqing Road (Middle), where buses to Hefei departing every ten minutes for about two hours' drive can be taken. If visitors want to travel by air, they can appeal to the Hefei Luogang Airport.
Weather
-
Huainan enjoys a subtropical monsoon climate with relatively moderate weather and abundant sunshine. Its average temperature is slightly lower than any other cities in Anhui. The rainfall is mainly concentrates on summer. During June to July, there will be about 20 days' plum rain period.

When to Go: spring and autumn
Huainan Travel Tips

History: Before it was governed by a kingdom under the central government of Western Zhou Dynasty (206BC-24AD), this area was dwelled by several Chinese ancient minorities. In Han Dynasty (206BC-220AD), seigneurs were sent to administrate the region, and established Jiujiang Shire instead later on.

Physical Features: The Huaihe River flows through the city. The land north of the river is fluvial plain, while the landform is bend area near the river banks, and hilly land in further south area.

Special Local Products: bean curd of Bagong Mountain. It is regarded as the mother town of bean curd. So Bean Curd Feast with various bean curd dishes should not be missed.
- Last updated on Sep. 17, 2021 -
Questions & Answers on Huainan Travel
Asked by Juliana from BRASIL | Sep. 04, 2021 21:01

Reply
What language is spoken in Huainan? Mandarin or dialects?
Answers (1)
Answered by Bonbon | Sep. 17, 2021 07:23

0

0

Reply
Huainan Dialects. If you speak Mandarin, everyone can understand you. :)
Asked by Michael from GERMANY | Sep. 08, 2018 10:41

Reply
Hello! Is there a Vape Store in Huainan (a shop where i can buy liquids or electronic cigarettes)?
Answers (1)
Answered by Mary from NEW ZEALAND | Sep. 10, 2018 23:59

0

0

Reply
Maybe you can try in this place, No. 10, Longhu center, Chaoyang middle road, Tianjia'an district 213.
Asked by m.g from ENGLAND | Oct. 31, 2014 13:28

Reply
going to work in Anhui huainan for 7 weeks is there any western bars or resturants
Answers (1)
Answered by Mona from FRANCE | Oct. 31, 2014 20:18

0

0

Reply
Yes, there are several western bars and restaurants in this city.
For bar: You can go to FREEMANBAR. It's located at no.243, South Xueyuan Road, Tianjiaan District.
For restaurant: There is a Pizza Hut that has delicious western food. It's located at 1st and 2nd Floor, Xinbai Shopping Mall, Longhu Crossroad, Guoqing Road, Tianjiaan District.
Asked by Diana L King from USA | Feb. 08, 2014 21:11

Reply
Piano House
Piano house in Huainan, Anhui

If you thought you've had enough of crazy architectural styles in Shanghai, wait till you see this piano house in Huainan, Anhui. Inside the transparent violin is the staircase to the house upstairs. Apparently, the building has been built by the local government to draw interest to the newly developed area, but from what we can see, it almost looks like it was built in the *sshole of nowhere. What is the address?
Answers (1)
Answered by Dorrisa | Feb. 12, 2014 03:36

0

1

Reply
I only know it is in Shannan area and about 500m away from Shannan Tunnel.
Asked by linda from CHINA | Sep. 09, 2012 10:38

Reply
how can i go to anhui huainan via shen chuan line from biyun rd jinqiao pudong shanghai
Answers (1)
Answered by Ms.TILLY_WANG | Sep. 09, 2012 22:29

1

0

Reply
Hi, at the bus stop of Baiyun road, you can take the Shenchuan Line and get off at Shanghai Railway Station. There you can take a train to your destination.