Xuancheng Travel Guide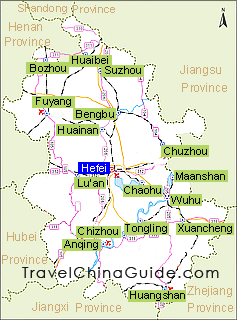 Xuancheng Facts
Chinese Name: 宣城市 (xuān chéng shì)
Population: 2,789,000
Area: 12,340 square kilometers (4,765 square miles)
Location: in the southeast of Anhui, eastern China
Administrative Division: 1 district (Xuanzhou); 5 counties (Langxi, Jingxian, Jingde, Jixi); 2 county-level cities (Ningguo, Guangde)
Area Code: 0563
Zip Code: 242000
GDP (2018): CNY 131.72 billion (USD 19.90 billion)

Xuancheng is situated in the southeastern region of Anhui Province, neighboring Huangshan to the south, Chizhou to the west and Wuhu to the north. To the east, it is bordered with Zhejiang and Jiangsu. Xuancheng is famous for producing excellent Xuan paper with a balanced ink absorption and good durability which is a unique handicraft for Chinese calligraphy and painting. Xuan paper also enjoys the reputation of longevity paper and national treasure for the thousand-year lifespan. It used to be the imperial tribute since Tang Dynasty (618- 907). Depending on manual operation, the production of the soft and tough Xuan paper requires more than 100 processes and takes more than 300 days. Its making craft has been listed in the UN intangible cultural heritage list. Xuancheng also produces other three "Chinese Four Treasures of Study": writing brushes, ink sticks, and ink stones.
Attractions
Jixi County: Jixi is a well-known cultural town famous for brick, stone and wood carving art in the Hui (short for Anhui) style of architecture, Hui Ink,
Hui (Anhui) Cuisine
, and old residential houses of Ming (1368-1644) and Qing (1644-1911) style. It can't be missed for a Xuancheng travel.
Scenic Spots in Jixi:
Longchuan Scenic Area
, Zhangshan Grand Canyon, Qingliangfeng National Nature Reserve.
Other Scenic Spots: Enlong World Wood House Village in Ningguo City, Jingting Mountain, Taiji Cave.
Transportation Tips
1. Located 21 km (13 mi) to the city center of Xuancheng,
Wuhu Xuancheng Airport
, or Wuhu Xuanzhou Airport has direct flights to most major domestic cities like Beijing, Guangzhou, Shenzhen, Chongqing, Chengdu, Sanya and Xi'an.
2. Xuancheng-Hangzhou and Wangan (Anhui-Jiangxi) railways meet in the city. Train rides from the Railway Station in Diezhang Dong Lu to
Nanjing
and
Hangzhou
take a bit more than four hours. Furthermore, trains to
Beijing
,
Shanghai
,
Fuzhou
,
Kunming
,
Hefei
,
Huangshan
and many other cities are all available in the station.
3. Xuanzhou is 298 kilometers (185 miles) from Shanghai, about four hours' drive, and 206 kilometers (128 miles) from the capital city of Anhui, Hefei, which is about three hours' drive. The Bus Station can be found in No.9, Meixi Lu in the southern area of the city proper.
Weather
-
The city enjoys a subtropical humid monsoon climate, enjoying four distinct seasons and abundant precipitation. Of the four seasons, summer is the longest. Its annual average temperature falls round 15.6

C (60.1

F). Most of the rainfall occurs in summer. The plum rain season lasts from mid-June to early July.

When to Go: Xuancheng is favorable for traveling all the year round, especially in May, July, August and October.
Xuancheng Travel Tips

History: As early as the Western Han Dynasty (206BC-24AD), Danyang Shire was established on this region with Wanling (presently Xuanzhou District) as its capital city. Since then, Xuanzhou has been the political, economic and cultural center of administration for two thousand years. However, the name of Xuzhou was changed during the Sui Dynasty (581-618).

Physical Features: Its terrain is varied and complicated, basically sloping downward from the south to the north. Landform of Xuancheng can be approximately divided into five types: Mountain, hill, valley and basin, hillock and plain. The south and southeast regions belong to ranges of Tianmu Mountain, while the southwest and west regions are respectively parts of ranges of Mt. Huangshan and Mt. Jiuhua.

Special Local Products: Xuan Paper, Xuan Writing Brush, Hui Ink; bamboo shoot, Xuan pawpaw, Chinese gooseberry, hickory nut, chestnut, Shuidong honey jujube, tea; crab, whitebait and Chinese paddlefish of Nanyi Lake.
- Last updated on Jan. 29, 2023 -
Questions & Answers on Xuancheng Travel
Asked by Jonathan Hall from UNITED KINGDOM | May. 01, 2019 08:16

Reply
What is the best way to get from Yixing to Xuancheng?
Answers (1)
Answered by Nelly from AUSTRALIA | May. 05, 2019 20:53

0

0

Reply
You can take a coach from Yixing Bus Station. The bus departs at 8:05 and 12:10. The duration is around 2.5 hours and it costs about CNY50 per person.
Asked by Katie Bell from UNITED STATES | Jul. 10, 2016 05:52

Reply
What to see and do in Xuancheng, Anhui
My online student's father invited me to visit them in the city, not knowing that I am actually planning a trip to China soon. I want to visit, but it is very out of the way, so I want to stay for a day or two and tour and do fun things. What is there to do for a tourist there?
Answers (1)
Answered by Lily from USA | Jul. 11, 2016 04:14

1

0

Reply
You can go to see these places: Jingting Mountain, Huihang Ancient Trail, Longchuan Scenic Area, Zhangshan Grand Canyon, etc. Also, you can taste the delicious local food at Life Style Center Square at the crossroad of Shuiyangjiang Avenue and Xunhua Road. Have fun!
Asked by Jay from NEPAL | Apr. 12, 2016 02:18

Reply
What is the best way to go Jingxian County, Xuancheng City, Anhui from Guangzhou?
Is there any fast train/ aero plane service available?
Can we know the costs ?
Answers (1)
Answered by David from UNITED KINGDOM | Apr. 13, 2016 21:13

1

0

Reply
Well, maybe the best way is to take the high-speed train from Guangzhou South Railway Station and get off at the destination directly. But there is only one schedule every day at 09:12. The trip takes nearly 8 hours. The ticket fare of first class seat is CNY 1139 and second class seat is CNY 692.
Asked by Jay from NEPAL | Apr. 09, 2016 17:16

Reply
What is the best way to go xuancheng from Guangzhou
Is there any fast train service available?
Is there any aero plane service available?
Can we know the its costs ?
Answers (1)
Answered by Suna from UK | Apr. 09, 2016 21:06

0

0

Reply
There is no direct flight between this place, for Xuancheng has no airport.

There is a train available, which departs at 08:52, and the travel time is about 22 hours. The fare for the hard seat is CNY192, and CNY 351 for the hard sleeper.