Suzhou Travel Guide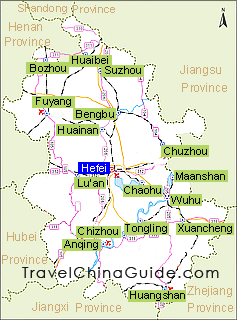 Suzhou Facts
Chinese Name: 宿州市 (sù zhōu shì)
Population: 5,681,400
Area: 9,939 square kilometers (1,502 square miles)
Location: in the north of Anhui, eastern China
Administrative Division: 4 counties (Dangshan, Xiaoxian, Lingbi, Sixian); 1 district (Yongqiao)
Area Code: 0557
Zip Code: 234000-235300
GDP (2018): CNY 163.02 billion (USD 24.64 billion)

Suzhou is situated at the northernmost end of Anhui Province, neighboring Jiangsu, Shandong, and Henan. It is one of the core cities of Huaihai Economic Zone and the nearest city to the sea in Anhui Province. Many historical sites which connect to important events in China are left in Suzhou such as the Shegu Terrace, Gaixia Ancient Battlefield and the Tomb of Yuji. Huangcangyu Nature Reserve and Wuliu Scenic Spot highlighting the picturesque natural scenery are the best places for tourists to get close to nature. Suzhou also features Lingbi Stone which is black and has various textures, ranking first among the four rare stones in China. Every April, the spectacular pear blossom sea in Dangshan attracts a lot of tourists.
Attractions
Huangcangyu Nature Reserve: It is the most attractive sight in Suzhou bringing together many types of landscape, such as natural forests and caves, springs, pools, as well as temples.
Wuliu Scenic Spot: In this spot, visitors can taste the natural, high quality mineral water in the Longquan (Dragon) Spring and the Zhenzhu (Pearl) Spring. Apart from natural scenes, the Longquan and Dafang Temples and some cultural relics and tombs can also be found in this scenic spot.
Pear Tree King Scenic Area: Covering an area of 180 square miles, the grand Pear Tree King Scenic Area is a must-see scenic spot with numerous pear trees. Dangshan government will hold the Pear Blossom Festival in March every year and it lasts for one month. In addition to bloomy pear flowers, there will be various activities and wonderful performances at that time.
Special Local Products: Food: Fuli roast chicken, crisp pear of Dangshan County, grape of Xiaoxian County
Handicraft: Leshi Inkstone
Weather
-
It is located in the warm-temperate zone having a semi-humid monsoon climate. Suzhou's winter is chilly, usually lasting as long as four months, and the summer is hot. The rainy season ranges from mid-June to late September.



When to Go: Spring and autumn are both favorable seasons for the best weather, moist air and moderate rainfall.

Suzhou Travel Tips

History: Suzhou was inhabited a long time ago, and became a flourishing place in the Qin (221BC-206BC) and Han (206BC-220AD) dynasties. In the Tang Dynasty (618AD-907AD), the government set up a prefecture in this area. Since then, it has always been the capital of the prefecture.

Physical Features: Located in the Huaibei Plain, the topography of it is low and flat, just like all the cities in northern Anhui Province.
1. If visitors get there in rainy season, be prepared to take umbrellas.
2. It is only 70 kilometers (43 miles) from Xuzhou Guanyin Airport by which visitors can get in and out more conveniently.
- Last updated on Apr. 25, 2023 -
Questions & Answers on Suzhou Travel
Asked by Brian Ashley De Souza from SINGAPORE | Nov. 28, 2019 23:51

Reply
Shuttle Buses
Hi! Please advise if there are any shuttle buses between Suzhou (Anhui) East Railway Station to Suzhou(Anhui) city.
Thank you.
Answers (1)
Answered by Ben from UNITED KINGDOM | Dec. 02, 2019 01:49

0

0

Reply
You can take bus 27/29/601 to the downtown.
Asked by PABLOMADRID | Jul. 30, 2019 11:59

Reply
One day in Suzhou (Anhui)
Hi! I am visiting this city only for one day (from 9am till 8pm). I would like to get to know the most traditional and beautiful districts. Could you please recommend me the main sights and streets of this city? I am way more interested in knowing how it is the daily life of this city rather than monuments or natural landscapes.

Thank you a lot!
Answers (2)
Answered by Daniel from USA | Aug. 04, 2019 18:54

0

0

Reply
Suzhou is famous for historical sites and natural attractions. Since you don't want to visit them, maybe you can wander around walking street and taste the local food like Yucheng Street, which is in Yongqiao District.
Answered by PABLOMADRID | Aug. 05, 2019 02:14

0

0

Reply
Hello Daniel! Sorry, I did not make myself clear at all. I am interested in temples and other kind of historical sites IF located in central areas where I can also enjoy the daily life of the city.
That takes away the natural landscapes but not the monuments :)

I note down what you tell me. What about markets and flea markets? I will be there on a Thursday.
Thank you a lot :)
Asked by Gaston Casco from ARGENTINA | Apr. 21, 2019 15:11

Reply
Can you recommend a tour to do on my own? I will arrive by train at Suzhou East station
Answers (1)
Answered by Addison from FINLAND | Apr. 24, 2019 19:57

0

0

Reply
How many days you will stay in the city? As I know, TravelChinaGuide.com provides nice tours of Suzhou and its surrounding places. If interested, their contact information is travel

travelchinaguide.com.
Asked by Azee from PAKISTAN | Jun. 18, 2013 08:43

Reply
Zhengzhou to Suzhou,Anhui
Hi,
I am in Zhengzhou, Henan.
I want to now If there is direct or indirect air travel or flight available from Zhengzhou Xinzheng International Airport to nearest place to my destination city.
Please guide.
Thanks.
Answers (3)
Answered by Black from UNITED KINGDOM | Jun. 18, 2013 22:51

1

0

Reply
There is no direct flights between the two cities.
You can fly to reach Hefei Xinqiao Airport. Then take the shuttle bus to reach Hefei Bus Station where you can find the direct bus for your destination.
Actually, between Zhengzhou and SZ, there are direct trains: D284/D281, D294/D291 and K378/K375B.
It is suggested to book the train tickets in advance and take the bullet trains directly/
Answered by Azee mehr from PAKISTAN | Jun. 19, 2013 00:29

0

0

Reply
Dear Black
Thanks for you reply.
From which railway station I need to book tickets for bullet train.?
Please inform thanks.
Answered by Black | Jun. 19, 2013 04:21

0

0

Reply
You can go to Zhengzhou Railway Station or any railway ticket service center in this city for booking.
Asked by farooq from UGANDA | Sep. 19, 2012 21:39

Reply
how long does it to travel in train from beijing to Suzhou
Answers (1)
Answered by Vicky | Sep. 20, 2012 02:03

1

0

Reply
It takes about 3 hours by high speed train, and 4.5-5 hours by bullet train.