Chaohu Travel Guide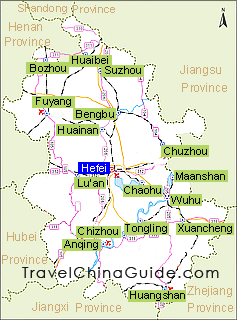 Chaohu Facts
Chinese Name: 巢湖市 (cháo hú shì)
Population: 920,000
Area: 2,046 square kilometers (790 square miles)
Location: in the central Anhui, eastern China
Area Code: 0551
Zip Code: 238000
GDP (2018): CNY 34.84 billion (USD 5.27 billion)

Situated in central Anhui Province, it borders the Yangtze River on the south with one of the five largest freshwater lakes, Chaohu Lake on its north. It neighbors Henan to the west and north, Fuyang on the southwest, and Huaibei and Bengbu on the east. Chaohu is located in a superior location with convenient transportation. It is four hours' drive from Chaohu to Nanjing, Suzhou and Shanghai. Also, there is the largest inland port in Anhui Province, Chaohu Port. Chaohu travel features brilliant lake scenery, exotic flowers, hot springs and caves. Chaohu Lake resembles a bright mirror inlaid in Anhui and the attractions around the lake are connected by a long lakeside tourism avenue.
Attractions
Chaohu Lake: Old name for Jiaohu Lake, the Chao Lake gained its present name for the shape like a bird's nest. It is a national scenic spot listed as on of the most famous freshwater lakes in China with rivers, lakes, hot springs and mountains as its greatest sceneries. It is always the first choice for visitors to the city. The Mushan Island in the lake is also an attractive spot worth visiting.

Other Scenic Spots for Chaohu Travel: Yinping Mountain, Tianmen Mountain, Bantang Hotspring
Transportation Tips
1. Visitors can get to Hefei and Wuhu along the expressway with about half an hour and they can find the buses in the bus station in Changjiang Road (East), Juchao District. In addition, trains from Huaibei to Huangshan make stops in the city, and it will take six hours from Chaohu to Huangshan.
2. It is only 60 kilometers (37 miles) from the Hefei Luogang Airport and 100 kilometers (62 miles) from the Nanjing Lukou International Airport. Well developed expressways make the transport to the airports much convenient.
Weather
-
Enjoying a subtropical humid monsoon climate with annual average temperature of 16

C (61

F). The rainfall varies greatly in different season and places. Generally, June to July is its plum rain period. The coldest and hottest days appear in January and July.

When to Go: Spring and autumn are the best seasons to visit the city. Every year in April, the city will hold peony viewing festival.
Chaohu Travel Tips

History: Its history as a county can be traced back to the Qin Dynasty (221BC-206BC). In the following years, this land of fish and rice left behind a number of historical sites ranging from the Paleolithic Age to old battlefield and ancient buildings. After the establishment of the PRC, Chaohu Special Administrative Area was established in 1949 and the Chaohu City was established in 1982.

Physical Features: The terrain of the city is higher in the north and lower in the south. Hills and plains constitute the major part of the land. It has a vast water area of 1,267 square kilometers (489 square miles). It is considered to have the most fertile land in Anhui.

Special Local Products: tea, red melon seed, 'three treasures of Chaohu' (white bait, white shrimp and crab)
- Last updated on Dec. 25, 2019 -
Questions & Answers on Chaohu Travel
Asked by Ckay from KENYA | Sep. 26, 2018 06:07

Reply
We plan to travel a family of 3 with a little one. And we are going to visit Chaohu.
is there any children activities or places we can enjoy? will be there for 2 days. Any recommended hotel?
Answers (1)
Answered by Gabriel from USA | Sep. 26, 2018 21:12

0

0

Reply
Dear, the Insect Ecological Park, located in Guangtang Village, Chaohu Avenue, Huailin Town, is a good place where there are all kinds of insects. Or Taihu Mountain National Forest Park where children can get in touch with nature and breathe clean and fresh air.

Recommended hotels:
Yuanzhou Haoting Hotel, located the intersection of Jinhu Avenue and Laoshan Road, Juchao District, the starting price is about CNY400.

Hanting Hotel, located at the southwestern intersection of East Jiankang Road and Dongtang Road, the starting price is about CNY120 - 150.

Asked by Nabila from FRANCE | Feb. 18, 2018 09:10

Reply
Hi guys, I trying to get to chaohu from Shanghai and I would like to get there by train.
It at any direct train going there from Shanghai ?
Answers (3)
Answered by Justin from SWITZERLAND | Feb. 22, 2018 03:13

0

0

Reply
Sorry to tell you that no train is available. You can take a bus at 8:40 and 17:50 from Shanghai General Bus Station to CH. Oh, btw, the fare is 122RMB and the duration is about 5h.
Answered by Nabila from FRANCE | Feb. 23, 2018 13:41

0

0

Reply
Hi there, thank you so much for your reply. I would like to know if the counters at the train station (Shanghai) are open late night or early day for tickets pick up.
Thank you
Answered by Nicole from USA | Feb. 23, 2018 19:19

0

0

Reply
The counters of train stations are open all day, as I know. But based on the answer by Justin, I guess you are asking the opening hour of bus station? It opens from 5:00 to 22:00.
Asked by Dely Hidalgo from BELGIUM | Oct. 07, 2015 11:43

Reply
Railway timetables mention 2 stations: "Chaohu East" and "Chaohu". Is it correct?
According to the train timetable of travelchinaguide, The East Station is the station for G trains (eg G330 from Huangshan) and the other station is the station for "normal" trains (eg night rain to Xi'an). When I look on Google map for the city, I see only one station. My question: are they two train stations or only one there?
Answers (2)
Answered by Guina from UKRAINE | Oct. 08, 2015 02:07

3

2

Reply
Yes, there are actually two railway stations in this city.
East Railway Station is located at Laoshan Road.
Main Railway Station is located at Taihushan Road, Fenghuangshan Street.
The distance between these two stations is about 3 miles. The East Station's newly opened on June 28, 2015. This may be the reason that you cannot find on Google map.
Answered by Dely Hidalgo from BELGIUM | Oct. 08, 2015 03:13

1

2

Reply
Thanks a lot for this quick and clear answer!
Asked by Rossa from INDONESIA | Mar. 21, 2014 12:02

Reply
Chaohu Lake, Hefei
Hallo, I will plan to Huangshan from Shanghai but I'm interested to drop by the Lake. I would ask whether the end of the month of May I was able to photograph the blue algae and green? If I take the train in the station where should I go?
Answers (1)
Answered by Mike from UNITED KINGDOM | Mar. 24, 2014 22:20

1

0

Reply
Yes, you may be able to take the pictures of the blue algae and green during that time!
If you will leave from Shanghai, you can take a train to Wuhu and then transfer to another train to CH lake and the dropping-off station is named CH Lake Station!
Asked by murielle from CANADA | Feb. 11, 2014 23:46

Reply
how much is the taxi from HFE airport to Chaohu downtown? thanks
Answers (1)
Answered by Miller from USA | Feb. 11, 2014 23:57

0

0

Reply
It is said that hiring a car takes around 200RMB.