Bengbu Travel Guide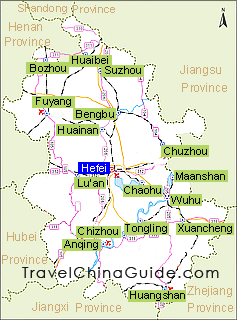 Bengbu Facts
Chinese Name: 蚌埠市 (bèng bù shì)
Population: 3,524,700
Area: 5,952 square kilometers (2,298 square miles)
Nationalities: Han

Location: Situated in the north of Anhui Province, Bengbu is bordered by Huainan City in the south and neighbors Jiangsu Province in the east. The Huaihe River flows through the southern part of the city's territory.
Administrative Division: 4 districts (Bengshan, Longzihu, Yuhui, Huaishang); 3 counties (Huaiyuan, Wuhe, Guzhen)

Useful Telephone Numbers:
Tourist Complaints: 0552-3117202
Weather Forecast: 121
Zip Code Inquiry: 184
Bank of China: 0552-2041247

Attractions

Longzi Lake

Located in the eastern suburb of Bengbu, Longzi Lake Scenic Area is composed of Longzi Lake, Xuehua Mountain, Caoshan Mountain, Xilu Mountain and Zhuizi Mountain. Covering an area of eleven square miles, with over one third of it being the water area, Longzi Lake Scenic Area is famous for breathtaking natural scenery as well as rich historical relics.

Longzi Lake has an indented coastline and deep water. It is surrounded by mountains on three sides. The undulating Zhuizi Mountain and Caoshan Mountain lie on the eastern coast. To the west, Meihua Mountain and Xuehua Mountain are covered with patches of green trees. To the south, there are nine channels which are the source of Longzi Lake.

Moreover, Longzi Lake Scenic Area has many historical relics such as an ancient gingko tree from the Tang Dynasty (618-907), the tomb of Tang He (a great general in Ming Dynasty (1368 - 1644)), Xiyan Temple relic and Linglong Pagoda Relic.



White Milk Spring (Bairu Spring)

Lodged between Jingshan Mountain and Huai River, in the south Huaiyuan County suburbs, White Milk Spring gets the name after its milk white spring water. The spring sprouts gushing mineral-rich water all seasons in the center of Chunyang Temple. It was once called Baigui (White Tortoise) Spring, when people sighted a white tortoise emerges from the spring. Wanghuai Tower stands on the left side of the spring and Shuanglie Temple stands on the right side. The place is beautiful and tranquil. The spring water is suitable for making tea.
Transportation
Its passenger transport west station and the east station as well as the Feiyan express bus station are all located in the Huaihai Road of the downtown area. The city is about two hours' drive to Nanjing and only a bit more than an hour's ride to the capital city of Anhui Province, Hefei.
Weather
-
Bengbu lies between the subtropical humid monsoon climatic zone and temperate semi-humid monsoon climatic zone, enjoying features of both climatic types. Weather in spring is unstable, and winter dry and cold. Plum rain period will last about twenty days during late June to mid-July.

When to Go: spring and summer
Bengbu Travel Tips

History: In prehistorical period, this region was inhabited by groups of tribes. Its present territory partly belonged to several states and kingdoms before the Qin Dynasty (221BC-206BC) unified China. Since then, the city was under the administration of the shires and prefectures in this area.



Physical Features: Situated at the juncture of the Jianghuai Hilly Region and the Jianghuai Plain, Bengbu belongs to the alluvial plain area. Its terrain declines from the south to the north with gentle rolls.



Special Local Products: megranate of Huaiyuan County, crab of the Tuohu Lake, stone carving teapot of Guxian County

In the busiest downtown area, there is an antique and jade market located in the east end of the Nanshan Road. Rosewood furniture, antique and jade wares can be found in this large-scaled trading center. It also has an exhibition hall in the second floor, displaying various collections and handicrafts.
- Last modified on Apr. 26, 2018 -
Questions & Answers on Bengbu Travel
Asked by Gabi from ROMANIA | Feb. 17, 2016 14:40

Reply
Any bars or popular places among foreigners in Bengbu?
I will be working there for a year and as I have lived in China before, I do get the need to be in a more multicultural setting from time to time. thanks
Answers (3)
Answered by Jonno from USA | Feb. 18, 2016 19:26

1

0

Reply
You may go to the Powerlong City Plaza at the crossroad of Yan'an Road and East Tushan Road. You will find many bars, cafes, and clubs there. Have a try! :)
Answered by Bob from UNITED STATES | Mar. 15, 2016 09:17

2

0

Reply
But not many foreigners there. Very few foreigners work or live there. Another beautiful place to visit is along Jiaotong road from the old railway station to the dike of the Huai river, part of the old city. The dike area is usually quiet and peacefull.
Answered by Gabi from ROMANIA | Mar. 18, 2016 11:04

0

0

Reply
Been here about a week and it seems like a very uneventful town. Lett me know if you know of any other foreigners around. Would be happy to meet them. thanks
Asked by rumman from BANGLADESH | Aug. 25, 2014 20:27

Reply
is there any hobby shop where i Can get scale models and plastic kits at Bengbu?
Answers (2)
Answered by Wendy from FRANCE | Aug. 26, 2014 01:34

1

1

Reply
I know a place that sells the plastics models. It is located at No. 414 of Changle Road, BangshanDistrict. You can got there to have a try.
Answered by rumman from BANGLADESH | Aug. 26, 2014 03:02

2

1

Reply
thanks wendy
Asked by Mr.ducruet from FRANCE | Jul. 25, 2010 20:52

Reply
hello
living in bengbu during august i search for nice places to visit, such as museums or other attractions; also would be pleased to meet some english speaking people there! anybody welcome thx
Answers (1)
Answered by Ms.Betty | Jul. 26, 2010 03:13

2

2

Reply
You can go to visit Longzi Lake Scenic Area and White Milk (Bai Ru) Spring.