Chizhou Travel Guide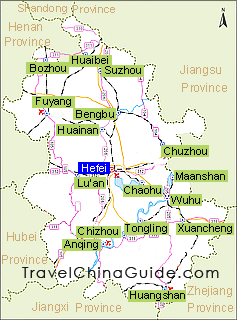 Chizhou Facts
Chinese Name: 池州市 (chí zhōu shì)
Population: 1,622,000
Area: 8,399 square kilometers (3,243 square miles)
Location: in the southwest of Anhui, eastern China
Administrative Division: 1 district (Guichi); 3 counties (Dongzhi, Shitai, Qingyang)
Area Code: 0566
Zip Code: 247000
GDP (2018): CNY 68.49 billion (USD 10.35 billion)

Chizhou is located in the southwest region of Anhui Province, neighboring Tongling in the east and Huangshan in the south. It is separated from Anqing by the Yangtze River and Jiangxi Province by Mt. Lushan. Chizhou has a profound cultural heritage. Many famous ancient Chinese poets, such as Li Bai and Du Mu visited Chizhou and wrote poems. Chizhou has formed its unique Buddhist culture, poetry culture, drama culture and tea culture. Known as the natural oxygen bar, Chizhou is an ideal tourist resort with beautiful ecological environment. It has Mt. Jiuhua, one of the four famous Buddhist mountains in China, and the Guniujiang Nature Reserve, the animal and plant gene pool in east China.
Attractions
Mt. Jiuhua: a national AAAA level scenic and historic interest area, not only boasts a breathtakingly beautiful natural landscape, but also a famous international Buddhist site with profound Buddhist culture reputed as one of the four Buddhist holy mountains in China.
| | |
| --- | --- |
| A Temple on Mt. Jiuhua | Qiyuan Temple |
Guniujiang Nature Reserve: is spoken of as the gene pool of animal and plant life in East China. Guniujiang is main body of the west extensions of Mt. Huangshan, located at the junction of Shitai and Qimen counties in southern Anhui.

Other Scenic Spots: Qiupu River, Dawang Cavity, Penglai Cavern.
How to get to Chizhou
1. Chizhou Jiuhuashan Airport is about 20 km (12 mi) to downtown Chuizhou which operates flights to/from Beijing, Shanghai, Shenzhen... To travel to downtown, passengers can take shuttle bus and city bus.

2. In addition, yachting from Shanghai, Nanjing, Tongling, Anqing, Jiujiang, Hankou, Yichang and Chongqing is another wonderful choice to travel to the city directly.

Note: Chizhou Bus Station is to the west of the Railway Station. This region is the road transport hub of the city. The city's passenger dock is situated in North Changjiang Road.
Weather
-
It bears a subtropical monsoon climate with humid and temperate weather, clear four seasons, sufficient rainfall and enough sunshine. The annual average temperature falls around 16.5

C (61.7

F). May to September is the flood season and it commonly enters the plum rain period in June.

When to Go: Spring and autumn are the best seasons to visit the city.
Chizhou Travel Tips

History: It is a well known historic and cultural city of Anhui Province. It has been about 1,400 years since it as a prefecture began in the Tang Dynasty (618-907). During the late Tang and early Song (907-1279) dynasties, It was left with numerous poems by multitudes of refined scholars.

Physical Features: Chizhou has its southeast part located at the juncture of the ranges of
Mt. Huangshan
and Mt. Jiuhua, its northwest region close to the Yangtze River. The terrain generally declines from the southeast to the northwest and the city can be divided into three morphologic regions: southeastern mountainous region, central hilly region and northwestern plain region.

Special Local Products: Maofeng Tea, polygonatum (medical plant), bamboo articles and stone carving of Mt. Jiuhua.
- Last updated on Apr. 15, 2021 -
Questions & Answers on Chizhou Travel
Asked by Hari from INDONESIA | Oct. 20, 2017 03:16

Reply
How to go to Chizhou from Guangzhou?
Answers (1)
Answered by Ellen from AUSTRALIA | Oct. 22, 2017 19:42

0

0

Reply
Well, you can take a flight directly there, which departs at 8:45 and takes 2 hours.
Or you can take a train there, as I know, there is only one normal train available, which departs at 8:00 from Guangzhou East and takes about 16 hours, CNY319.5 for a hard sleeper, CNY500.5 for a hard one.
Asked by Mike Ruby from USA | Mar. 21, 2017 18:41

Reply
We are expecting to travel from Jiuhuashan to Suzhou via Chizhou.
The morning G trains are at 7:53, 8:43 and 9:32. Will there be a bus from Jiuhuashan to CZ that will connect with these leaving times or do we need to stay overnight in CZ in order to catch a morning train? Thank you.
Answers (1)
Answered by Connie from FRANCE | Mar. 26, 2017 02:09

1

0

Reply
Mike, the earliest bus leaves from Jiuhuashan at 7:00 and it would take around 1h to reach CZ Bus Station. The train station is just opposite the bus station. You should have enough time to catch the 8:43 train.
Asked by Janet from PHILIPPINES | Sep. 23, 2016 23:07

Reply
What's Shanghai bus station for buses going up to Jiuhua Mountain from the Bullet train station?
How do we go there, when we reach chizhou via bullet train from SH?

Thank you
Answers (1)
Answered by Victor from GERMANY | Sep. 25, 2016 21:16

0

0

Reply
You can take high-speed train from Shanghai Railway Station and arrive at CZ Railway Station. The train schedules are 06:02, 06:23, 08:32, 10:21, 12:54 and 13:48. The duration is about 4 hours. After arriving, you can easily find the Long-distance Bus Station nearby. There are many direct coaches that can take you to the Jiuhua Mountain.
Asked by Janet from PHILIPPINES | Sep. 23, 2016 06:08

Reply
Hi we are going to Jiuhua mountain on Nov 2, be staying for 2 nights.
I am wondering if we can lodge at Tiantai Temple. If yes, how can we book?
Answers (1)
Answered by Chad from NEW ZEALAND | Sep. 23, 2016 22:41

0

0

Reply
Yes, as I know, the temple provides accommodation. You need to go there and book it by yourself. I don't know what exactly the fare is. You are advised to the Buddhist when you arriving there. :)
Asked by Janet from PHILIPPINES | Sep. 22, 2016 08:51

Reply
Hi! I need someone to direct me on how to commute to Chizhou Airport from Jiuhua Mountain.
Answers (1)
Answered by David from NEW ZEALAND | Sep. 23, 2016 03:19

0

0

Reply
You can take a shuttle bus to the airport from Jiuhuashan Transport Center. The buses depart at 7:00, 12:00, 13:00, and 16:30. The fare is CNY 20, and the trip takes about 40 minutes.