Shaolin Temple Pictures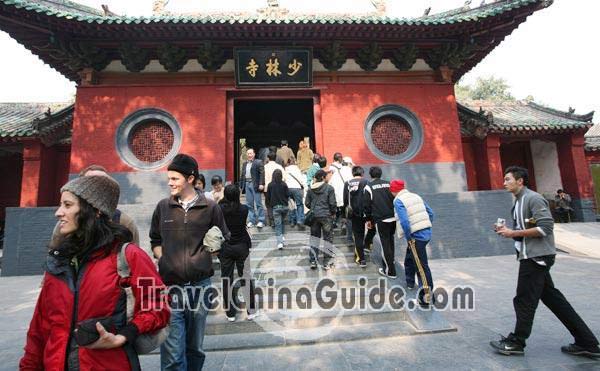 Shaolin Temple is famous for not only its brilliant history but also the wonderful Shaolin martial arts.
The Shaolin Temple, located on the Shaoshi Mountain in the west of Dengfeng County, Henan Province, is the 'ancestor court' of Chinese Zen Buddhism. During the Southern and Northern Dynasties (386-589), the Indian monk Bodhidharma, a profound exponent of Zen Buddhism came to China. Emperor Xiaowendi of Northern Wei gave him a very courteous reception. Later, in 496, the emperor decreed that a Buddhist temple be built on the Shaoshi Mountain and food be supplied to the monks. It is today's Shaolin Temple. Attraction Intro: Shaolin Temple


Related Links:

Video of Shaolin Kung Fu

Brief Intro: Chinese Kung Fu
- Last modified on Feb. 17, 2019 -
Questions & Answers on Shaolin Temple Pictures
Asked by Abdul Shakoor from PAKISTAN | Feb. 15, 2019 10:01

Reply
I would like to visit shaolin temple and other attractive places
I am planning to visit with my family to shaolin temple from Kaifeng? Any suggestions how to go there via kaifeng? any recommended visiting places in Kaifeng and zhengzhou? thanks
Answers (1)
Answered by Anna from USA | Feb. 17, 2019 19:24

0

0

Reply
Hi, you can take a bus from Kaifeng to Zhengzhou Bus Station first, and then take a regular bus to Dengfeng West Station. After that, take a bus directly to Shaolin Temple.

Song Mountain and Henan Museum in Zhengzhou are worthy a visit. Millennium City Park in Kaifeng is also good.
Asked by Remek from POLAND | Apr. 07, 2018 14:53

Reply
I will in Dengfeng in 21-22 April. I want see Shaolin Zen Music Ritual, it will possible?
How much cost ticket and where I can buy it?
Answers (4)
Answered by Makayla from CANADA | Apr. 08, 2018 22:05

0

0

Reply
Yes, you can see the Shaolin Zen Music Ritual. Don't worry. The ticket costs CNY 199, 249, 299, 449 and 899. The online booking page only has Chinese version. Thus you can ask help for your Chinese friends. Or dial 0371-62809111 to book the tickets in advance.

Hope helpful!
Answered by Remek from POLAND | Apr. 09, 2018 00:23

0

0

Reply
Thank you Makalaya. Why are prices so different?
Answered by Makayla | Apr. 09, 2018 00:38

0

0

Reply
The different prices indicates different stand positions.
Answered by Remek from POLAND | Apr. 09, 2018 01:22

0

0

Reply
Thank you
Asked by VIKRAM RANA from INDIA | Jul. 22, 2011 12:23

Reply
I am not totally satisfied by brother CHANG'S answer I roughly want to know the cost of living in
suitable middle class hotels and touring in and around shaolin temple, plese leave the cost of shopping aside .
please estimate the cost in yuans or indian ruppes so that i can have a fair idea. I will be highly obliged for feeding of this information
Answers (1)
Answered by Ms.BL2022 from CHINA | Jul. 22, 2011 22:35

0

0

Reply
Well, a double room in a middle class hotel, not a star one costs about rmb200 per night or less. The room should has TV, air-conditioner, bath room and free internet access.
Rmb100 per person and per day for food is also enough, if you don't eat luxuriously. Then, another big cost is the adnmission fee, which is 110RMB.
Asked by VIKRAM RANA from INDIA | Jul. 21, 2011 13:57

Reply
I am a an employee of state bank of india and i want to visit shaolin temple with my wife what i
have to do and how much would be spent in indian rupess if i stay in china for a week.
Answers (1)
Answered by Chang from CHINA | Jul. 21, 2011 23:12

0

0

Reply
If you'll go to there, better visit the Longmen Grottoes too, which is not far. You have to do taste the Chinese dumplings, Jiaozi there.
About the cost, it is really hard to say. It depends on what level of hotels are you going to stay and how many cities and sites are you going to visit, will you shop a lot...
Asked by Mr.Andy | Mar. 23, 2011 21:33

Reply
hi ,
i am planning trip in october national day holiday ... i am flying to zhengzhou from shanghai ... i would like to hire a mountain bike to cycle to songshan ... can you advise if its better to go direct from airport oryto go into zhengzhou town
andy

Answers (1)
Answered by Mr.John | Mar. 24, 2011 22:06

0

0

Reply
Better to go from Zhengzhou. You may spend 2 hours by bus from Zhengzhou to Songshan, it is a challenge to ride there.