Zhengzhou Train
Zhengzhou is one of the central cities in China with a large and complex rail system - Zhengzhou Railway Hinge. It is regarded as the heart of the Chinese Railway System, lying at the meeting point of the Beijing-Guangzhou Railway Line, Lianyungang-Lanzhou Railway Line, Beijing-Hong Kong High-Speed Rail Line and Xuzhou-Lanzhou High-Speed Rail Line.

There are five train stations in Zhengzhou, among which the North Station is for freight only and the rest four (the Main Station, East Station, South Station and West Station) are mainly for passenger transport. The latter four stations are all high speed railway stations and they operate high speed trains to many large cities all over China, such as Beijing, Shanghai, Xi'an, Guangzhou, Changsha, Wuhan and Shenzhen. The table below shows the travel duration comparison between bullet trains and normal ones:
| Destination | Ordinary Ones | Bullet Ones |
| --- | --- | --- |
| Beijing | 6-13.5h | 2.5-4h |
| Shanghai | 9-15h | 4-5.5h |
| Xi'an | 6-8.5h | 2-3h |
| Luoyang | 1.5-2 | 40-50m |
| Guangzhou | 15.5-21.5h | 5.5-7h |
| Changsha | 8-12.5h | 3-4.5h |
| Wuhan | 4-8h | 2-3.5h |
| Shenzhen | 19-27h | 6-7.5h |

See detailed Zhengzhou Train Schedule



Major Rail Lines from Zhengzhou to:

Although bullet trains are faster and more comfortable, passengers sometime prefer to choose an ordinary one for an overnight trip so that they can reach their destinations in the next morning. In this way, it saves much money and lets travelers make the best of their time. For example, train nos. Z202, 1488, K118, K180, K158, K402 and K280 are fine choices for Beijing; nos. K362, K154, K236, K1104 and K284 are for Shanghai and nos. T123, Z97, Z89 and Z35 are for Guangzhou.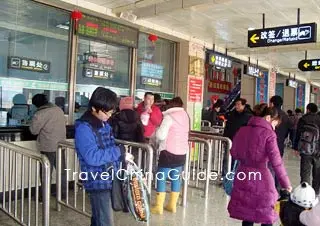 Ticket Window
Purchase Ticket
Passengers can buy tickets at the ticket windows upon arrival at the rail station; or book in advance from reliable agencies like TravelChinaGuide
China Train Booking Center
.
It is located in the city center (at no. 82, Ermalu of Erqi District), around 454mi (730km) from Beijing Railway Station and 997mi (1,605km) from Guangzhou Railway Station. This station is a railway hub connecting many cities in south and north China by normal and high speed trains Accompanied by the operation of Beijing-Guangzhou High Speed Railway on Sept. 28, 2012, the station began to serve high speed type to Beijing West, Guangzhou South, Shenzhen North, and Wuhan.



Transportation: Buses no. 1, 2, 4, 8, 12, 13, 26, 28, 29, 32, 34, 38, 65, 67, 76, 81, 85, 91, 93, 95, 101,136, 138, 206, 519, 553, 729, 966, 985, B12, B17, B20, B21, B60, Y801, Y802, Y803, Y804, Y805, Y806, Y807, Y808, Y809, Y810, Y811, Y812, Tourist Line 16; subway line 1



Services and Facilities


Luggage Storage:
1. Left-luggage Counters/Offices: Four counters are available. Two are located at the South and North Exits of the station, and the other two can be found at the entrance of the main building of the station and in the Ticketing Hall. For each luggage below 22 pounds (10 kg) it costs CNY3/day; if over the 22 pounds (10 kg), the charge is CNY4/day.
2. Electric Lockers: They are available at all Waiting Hall. Passengers need to pay CNY10 for the first four hours' storage with a large locker, and CNY5 with a small one. For each additional two hours' storage, CNY2 is charged.


Information Desk: The Information Desk is located in the entrance to the waiting hall, and staff is available 24 hours a day.

Transportation: Buses no. 47, 85. 129. 162; subway line 1

Bus Routes: 12, Xingyang 1, Xingyang 2, Xingyang 9, Xingyang 19
South Railway Station
It is unopened yet. Being addressed around 3.7mi (6km) eastwards from T2 of Xinzheng International Airport in the Airport Comprehensive Economic Experimental Zone, this station was started to be constructed since late 2014. Right at the meeting point of Zhengzhou-Wanzhou Rail Line and Zhengzhou-Hefei Rail Line, intercity trains to Nanyang, Sanmenxia and Shangqiu are expected to be opened in the future.

Bus Routes: 3, 129, 213, 283
North Railway Station
Located at Shakou Road, Jinshui District, the North Station is only for freight. It is a significant rail marshalling station throughout China with the largest freight volume in Asia.

Bus Routes: B2, 70, 97
Train Ticket Offices in the City for your reference:
| Ticket Office | Opening Hours | Address | Bus Routes |
| --- | --- | --- | --- |
| Daxue Road Office | 08:00 - 17:00 | No. 6, Daxue Road, Erqi District | Nos. 4, 46, 63, 82, 111, 201, 216, 217, 256, 277, 317, 552, 903, 904, 906, Y804, Y815, Y821, Y866 |
| Dongfanghong Office | 08:00 - 18:00 | No. 35, Zhengxing Street, Erqi District | Nos. 4, 8, B21, 34, 67, 76, 81, 101, 102, 105, 108, 138, 305, Y801, Y804, Y808, Tourist Line 51 |
| South Songshan Road Office | 08:00 – 22:00 | No. 69, South Songshan Road, Erqi District | Nos. B11, 58, 84, 287, 301, 559 |
| Chengdong Road Office | 08:00 – 18:00 | No. 94, Chengdong Road, Guancheng District | Nos. 2, B17, 52, 58, 65, 80, 603, 727, Y801 |
| Renmin Road Office | 08:00 – 22:00 | No. 66, Renmin Road, Guancheng District | Nos. 2, 52, 58, 65, 89, 98, 152, 178, 518, Y801, Y810 |
| Hongqi Road Office | 08:00 – 18:00 | No. 39, Hongqi Road, Jinshui District (near Yiyuan Hotel) | Nos. 27, B50, 64, 86, 93, 105, 211, 292, Y811 |
| West Huaihe Road Office | 08:00 – 20:00 | No. 1, West Huaihai Road, Zhongyuan District | Nos. B11, 20, 63, 82, 83, 84, 126, 138, 203, 559, Y802 |
| Shangdu Road Office | 08:00 – 18:00 | No. 53, Shangdu Road, Baisha Town, Zhengdong New Area | Nos. 14, 521, 985 |
- Last modified on Aug. 15, 2019 -