Zhengzhou Metro Maps

Lines in Operation:

Line 1
: Henan University of Technology - New Campus of Henan University

Line 2
: Liuzhuang - Nansihuan

Line 3
: Henan Sports Center - Yinggang

Line 4
: Laoyachen - Langzhuang

Line 5
: Yueji Gongyuan – Yueji Gongyuan (Loop Line)

Line 14
: Xushui - Lianhu

Chengjiao Line
: Nansihuan – Xinzheng International Airport
Line Under Construction or Planning:

Line 6: Longzihu East – Nansanhuan
Zhengzhou Subway Planning Map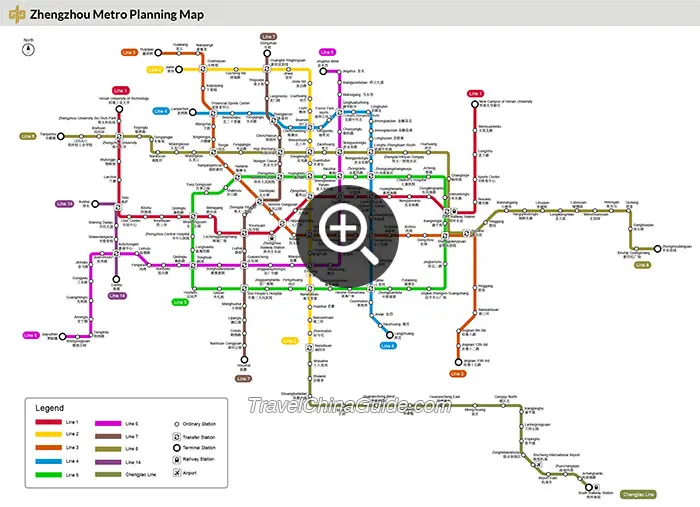 Back: Zhengzhou Map
- Last updated on Jan. 10, 2022 -
Questions & Answers on Zhengzhou Metro Maps
Asked by Anna from POLAND | Oct. 26, 2019 19:18

Reply
How to get from Henan university of Technology to the city centre?
Answers (1)
Answered by Judy from CANADA | Oct. 28, 2019 19:58

0

0

Reply
Could you be more specific, like what place you want to go in downtown? There are many buses around the university you can take.
Asked by Datou from SINGAPORE | Mar. 12, 2019 00:28

Reply
Hi I wonder how do I visit these places from Zhengzhou Guanhutun (关虎屯)MRT?
1) Shaolin Temple
2) Longmen Grottoes & White Horse Temple
3) Yin Xu Archeological sites

I will travel to & fro from my friend's place at 金水区, 农科路花园路, 鑫苑世家 to these places on different days.

Thanks for all suggestions.
Answers (4)
Answered by Mackenzie from FINLAND | Mar. 15, 2019 00:47

0

0

Reply
1. Take metro line 2 to Zijingshan Station and transfer to metro line 1 to Erqi Square Station, Exit F. Walk southwest around 1km to get to ZZ Central Bus Station. There are several coaches to Shaolin Temple.
2. Take the coach from the Central Bus Station to Luoyang first. Then take a taxi to Longmen Grottoes and White Horse Temple.
3. Take metro line 2 to Liuzhuang Station, Exit D2. Then walk south around 400 meters to get to North Coach Station. Take the coach to anyang first. Then take a taxi to the scenic area.
Answered by Datou from SPORE | Mar. 15, 2019 02:46

0

0

Reply
Thanks Mac. May I know how long will it take for route 3 Yinxu Archeological sites?
Answered by datou from SINGAPORE | Mar. 17, 2019 21:21

0

0

Reply
Hi I heard that the direct coach to Shaolin Temple is from Central Bus Station. Wonder if the nearest metro is ZZ Railway Station/ Er Qi Square Station?

Answered by Mackenzie | Mar. 17, 2019 22:53

0

0

Reply
The nearest one is the railway station on metro line 1. The distance is around 630 meters.
In addition, the coach to Yinxu Archeological Sites takes around 2.5 hours on the way.
Asked by Andy from SINGAPORE | Dec. 05, 2018 20:23

Reply
I think i'll take the train, from the Zhengzhou airport to Yanzhuang
Then walk to Sofitel. May i know the duration of the journey?

thanks
Answers (1)
Answered by Darren from AUSTRALIA | Dec. 07, 2018 00:34

0

0

Reply
It would take about 1.5 hours.
Asked by Brady from PAKISTAN | Sep. 23, 2018 01:36

Reply
I will land at Beijing Capital airport at 23:00pm on 26 September 2018
then i need to go to West railway station to take train to zhengzhou.
should i wait at the airport and take shuttle bus 7 in the morning or take a taxi at night to west railway station and buy ticket and wait at railway station ?
Answers (1)
Answered by Gey from FRANCE | Sep. 25, 2018 01:47

0

0

Reply
You are suggested to wait till next morning since the last train from Beijing west departs at 20:00.