Zhenjiang Railway Station
Zhenjiang Railway Station operates both high speed trains and normal speed trains to/from Shanghai, Nanjing, Hangzhou, Wenzhou and etc. It is about 4 kilometers (2 miles) from city center, about 6 kilometers (4 miles) from Zhenjiang South Railway Station and about 80 kilometers (50 miles) from Nanjing Lukou International Airport.
Address: No.73, West Zhongshan Road, Runzhou District.

Zhenjiang Railway Station Train Schedule
High Speed Train Schedule
(Last Update on Apr 20, 2022)
To
Trains
Duration
Ticket Fare (CNY)
First/ Second Class Seat

Shanghai

G7589, G9257 at 09:01 and 13:20
1h23m - 1h55m
CNY 174.5/ 109.5
USD 27/ 17

Nanjing South

D375, D374, D5505, D5508...
7 departures from 09:12 to 20:22
0h19m - 0h51m
CNY 44/ 27
USD 7/ 4

Suzhou

G7589, G9267, G9257 from 09:01 to 13:20
0h45m - 1h14m
CNY 114.5/ 69.5
USD 18/ 11

Hangzhou

G7589 at 09:01
2h31m
CNY 302/ 183
USD 48/ 29

Hefei

G9264, G9258 at 16:31 and 17:50
1h22m - 3h38m
CNY 161.5/ 101
USD 25/ 16

Shenzhen North

D375, D374 at 09:12 and 09:34
9h43m - 10h5m
CNY 1,078/ 674.5
USD 170/ 106

Ningbo

G7589 at 09:01
3h38m
CNY 422/ 254
USD 66/ 40

Xuzhou

G9268, G7590 at 15:02 and 20:22
1h59m - 2h19m
CNY 251/ 157
USD 40/ 25
Normal Speed Train Schedule
(Last Update on Apr 20, 2022)

The above schedule is for reference only. For real-time schedule and ticket booking, please click the arrival stations.
See more
Zhenjiang Schedule
,
Zhenjiang to Shanghai Train
Station Plan of Zhenjiang Railway Station
Zhenjiang Train Station consists of two station buildings: the south and the north station buildings which are connected by an underground passage. Both the two station buildings have two floors: the ticket office is in the first floor and the waiting room is in the second floor. The north square and the south square of the railway station are linked through the overpass. Hence, through either of the two squares, passengers can get to the platforms.
How to Get to Zhenjiang Railway Station
There are five bus stops near the railway station which can be reached by any of the buses below.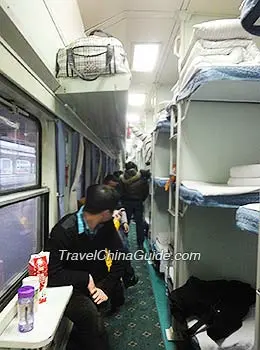 Inside a Hard Sleeper Carriage
The Railway Station South Square: 18, 28, 36, 40, 42/K42, 53, 73, 81, 82, 91, 96, 212, 221/K221, and 226.
The Railway Station North Square: 2, 3, 4, 24, 32, 86 and 302.
The Railway Station North: 22, 23, 31, 82, 91, 92, 101, 105, 133, 201, 212, 215, 221/K221, 602 and 606.
The Railway Station (North): 5, 10, 15, 23, 31, 33, 92, 105, 118, 123, 204/K204, 601, 602, 603 and 605.
Wanda Square: 11, 17, 42/K42, 113, 115, 211, 213, 302, Ningzhen Route A and Ningzhen Route B.
Take city bus 53 to Zaolin Road South, then walk south along Zaolin Road for about 100 meters (110 yards) to get there.
Or take a taxi to get there. The ride will need about 15 minutes and cost about CNY15.
Passengers can take Airport Shuttle Bus Zhenjiang Route in the south of the South Square. The airport bus departs at 5:30, 8:00, 9:30, 11:30, 13:30, 16:30 and 17:30. The ticket fare is CNY 55 and the duration is about 1.5 hours.
How to Get to Famous Scenic Spots
Or passengers can get there by taxi. The taxi costs around CNY35 and the duration is around 25 minutes.
If take a taxi to go there, the ride will need about 10 minutes and cost around CNY10.
Ancient Xijin Ferry Street
Take city bus 2 to get there directly.
Passengers can also go there by taxi. The taxi fare would be around CNY10 with duration of about 10 minutes.
Print

- Last modified on Apr. 20, 2022 -
Questions & Answers on Zhenjiang Railway Station
Asked by Sicily from POLAND | Jun. 29, 2020 19:11

Reply
Are Zhenjiang station and Zhenjiang South station the same?
We will take train to Ninghai, which station should I select, do you have the updated schedules?
Answers (1)
Answered by Veronica from USA | Jun. 30, 2020 17:57

0

0

Reply
Zhenjiang and Zhenjiang south are two different train stations. If you go to Ninghai, then you can go to Zhenjiang station, there are two trains leaving from Zhengjiang station to Ninghai. They are D3135 08:34/13:53, G7571 14:31/ 18:55.
Asked by Noelle from AUSTRIA | Aug. 12, 2019 19:06

Reply
How frequently is the train to Nanjing Station from Zhenjiang Station?
What is the costs?
Answers (1)
Answered by Roderick from USA | Aug. 13, 2019 19:34

0

0

Reply
Searching on this website, I can see 30 high speed trains a day between this two stations. It is a very short trip, only 20min on the way. Second class seat is CNY29.5 per ticket and CNY44.5 for first class seat. There are some business class seats for sale too which costs CNY92.5 per ticket.
Asked by Nadine Hall from UK | Sep. 15, 2018 05:51

Reply
Getting to Hainan Island
I will be getting the train to zhanjiang and then need to decide how to get to Hainan Island. I've heard conflicting stories of the best way. I arrive at 1pm and could get the 00:12 train to Haikou meaning sailing through the night.

Is it worth waiting for day light to get the ferry, is it a nice ferry journey? also I heard that if you get the train you don't get to see the views, if this is true would I be better off getting a bus?

I'm a bit confused as the best route and mode of transport so any advice you can give would be much appreciated.
Answers (1)
Answered by jinka | Sep. 22, 2018 00:29

0

0

Reply
It is better to take ferry instead of train. If you take the train, you could not get out of the train during the sailing.