Lijiang Railway Station
Lijiang Railway Station is about 6 miles (10 km) from
Lijiang Old Town
and 12 miles (20 km) from
Lijiang Airport
. From there, people can overlook the Old Town and appreciate the
Jade Dragon Snow Mountain
. Came into service on August 17th, 2011, it is the second largest train station in Yunnan after
Kunming Railway Station
.
Address: Shangji Village, Yulong Naxi Autonomous County

Schedule and Ticket Booking
Currently, the station serves trains running on Qujing-Kunming and Kunming - Lijiang railway lines, destinations including Kuming, Dali, and Qujing.

See also Lijiang Train Schedule



Major Rail Lines from Lijiang to
High Speed Train Schedule
(Last Update on Apr 25, 2023)
To
Trains
Duration
Ticket Fare (CNY)
First / Second Class Seat

Kunming

D8774, D8774, D9854, D9854...
14 departures from 08:00 to 18:42
3h2m - 3h59m
CNY 351/ 220
USD 52/ 32

Dali

D8124, D8128, D8132, D8150 from 07:30 to 20:20
1h32m - 2h15m
CNY 127/ 80
USD 19/ 12
Normal Speed Train Schedule
(Last Update on Apr 25, 2023)

The above schedule is for reference only. For real-time schedule and ticket booking, please click the arrival stations.
| | |
| --- | --- |
| Lijiang Railway Station | Entrance to Waiting Hall |
Station Plan
Its terminal, with a construction area of 3 acres (11,821square meters), is a two-storey building in typical Naxi style. The two floors are connected with each other by two escalators and walking stairs.


2F: no.2 waiting room, toilet, hot drinking water


1F: ticket office, no. 1 waiting room, left luggage office, a small supermarket, toilet, hot drinking water

In front of the terminal, there is a square with a bus stop, taxi stands, and parking lots for private vehicles. Buses stopping here include railway station special lines 4 and 16, and bus no.18.

How to get to the train station from Lijiang Old Town

Arrival by bus:
At Station Bus Stop: 4, 16, 18
At Nankou Industrial Zone: 26
Passengers arriving by bus will get off at the west side of the front square. For those with a ticket in hand, enter the station directly to find the correct waiting room. For those without, go to the ticket office on 1F to purchase a ticket first and then enter the waiting room to wait for departure.

Arrival by taxi:
If arriving by taxi, passengers will be dropped off at the front square.
From Lijiang Old Town: It takes about 30 minutes and costs around CNY30.
From Lijiang Airport: It takes about 40 minutes and costs around CNY55.
Ticket Check and Boarding
Check points are set up inside the waiting rooms. Passengers should read the tickets carefully to know where to have their tickets checked. Afterwards, follow the direction boards to the platforms to board. Passengers on 1F will get to platforms 2 or 3 by entry passage and those on 2F will arrive at platform 1 by a bridge.

How to exit and leave the station
When arriving, passengers should go to the front square to take bus or taxi to leave the station.

Leave by bus:
Bus station can be found in the front square. Passengers should confirm their routes first and then take buses to the destinations.

Leave by taxi:
Taxi stand is located in the front square. It is easy to reach. Watch out of the private vehicles here. The official taxis are mostly in green and grey.

Transportation to other places:

Lijiang Old Town:
Take special line 4 to Guchengkou Station, and then walk 470 yards to the destination.

Old Town of Shuhe
:
Take railway station special line 16 to Qili Street (Shangrila Avenue), then change to bus line 5 to Shuhe Bureau, then walk about 470 yards to get there.

Lijiang Airport:
Take railway station special line 16 to Fuhui Market, then walk to Lantian Hotel to take an airport shuttle bus to get there. The shuttle bus departs from 06:30 to 22:00 every 30 minutes. Duration is about 30 minutes and ticket fare is CNY20.
Facilities and Services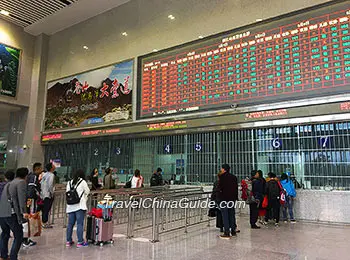 Ticket Office

Ticket Office:
There are 17 ticket windows in total. However, only 3 of them are opened on usual days. The opening hours are from 07:20 to 9:00, 12:00 to 15:00 and 17:20 to 23:30.

Waiting Hall:
Inside the terminal, there are two waiting rooms equipped with 1,200 chairs. One is on the first floor, leading to platforms 2 and 3; the other on the second floor and connected with platform 1. Passengers can find out their waiting room by checking the schedule listed on the four large LED screens. Hot water and washroom are available inside the waiting rooms.

Left Luggage Service:
They are available both inside and outside the terminal. The price is around CNY5 to CNY10 per piece per day based on the size of luggage. It is not advisable to leave one's valuables there.
Print

- Last updated on Apr. 25, 2023 by Brenda Lian -
Questions & Answers on Lijiang Railway Station
Asked by Woon from MALAYSIA | Feb. 20, 2023 00:54

Reply
How can I go to Shangri-La from Lijiang by train? hope the high speed train is ready.
I am planning to visit Yunnan this year. Would like to visit Kunming, Dali, Lijiang and Shangri-la,

Thanks.
Answers (1)
Answered by Kelly | Feb. 20, 2023 19:02

0

0

Reply
The railway from Lijiang to Shangri-la is expected to be finished this year. Currently, only bus runs between.
Asked by kambalah from PHILIPPINES | Jan. 03, 2020 21:39

Reply
What direction should I tell taxi driver, I staying at Chen Jie inn at lijiang old town, ty
Answers (1)
Answered by Nataly | Jan. 05, 2020 17:31

0

0

Reply
There is only one train station in Lijiang, you just need to tell the driver you need to go to the train station.
Asked by guest from EGYPT | Jul. 11, 2019 02:30

Reply
How can I go to Shangri-La from Lijiang by train?
It did not give any result when I search online. Please help!
Answers (3)
Answered by TravelChinaGuide | Jul. 11, 2019 19:32

0

0

Reply
Thank you for your inquiry.

However, there is no rail service in Shangri-La yet. Currently, passengers can only take a bus or flight to Shangri-La. From Lijiang, you can consider a bus service which takes around 4 hours to reach Shangri-La. There are a few buses a day, you may get accurate bus information and buy bus ticket directly on spot.

Answered by Andy from THAILAND | Aug. 10, 2019 19:04

0

0

Reply
May i know if i can buy bus ticket at the train station or have to go to separate spot for bus. And where is the bus ticket?thank you so much

Answered by Addy | Aug. 11, 2019 20:55

0

0

Reply
Bus tickets are not sale in railway station. You need to go to Lijiang Long Distance Bus Center instead. The address should be No. 25 Kangzhong Street.
Asked by Vladimir from RUSSIA | Dec. 05, 2018 06:57

Reply
Lost and Found
I lost my camera at the railway station. Is there any lost and found service or any contacts of the railway station?
Answers (2)
Answered by Bill | Dec. 06, 2018 01:45

0

0

Reply
Sorry to know that but it seems you need to go there in person. The Information desk may able to help.
Answered by Vladimir from RUSSIA | Dec. 06, 2018 02:32

0

0

Reply
Thank you. Unfortunately I'm far from the station now and I don't have any opportunity to visit the station in person.
Asked by Kathleen from USA | Nov. 04, 2017 02:28

Reply
Is there luggage porter in lijiang station to help with heavy luggage ?
Answers (1)
Answered by Mr. Martin Lee from CHINA | Nov. 04, 2017 22:50

0

0

Reply
Yes, you could find the porter at any station.