Mani Stone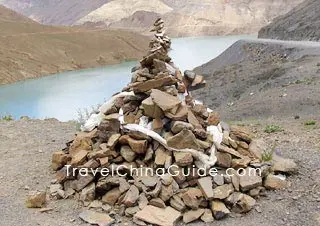 Mani Stone Mound
Travelers to Tibet may find mani stones and mani stone mounds almost everywhere, in monasteries, beside villages, crossing, along paths and on mountains. Sometimes they are decorated with sheep and yak horns. Usually the universal mantra, Om Mani Padme Hum, is inscribed on these smooth stone plates, pebbles and rocks. Images of deities and great adepts and sutra texts are also common themes. Followers will drop a piece of Mani stone to the mound every time when they pass a Mani stone mound. That equals to praying or murmuring sutra texts. Thus, the mani mounds are growing taller every year.
In Qinghai, the largest Mani stone mound in the world is located in Xinzhai Village of Yushu Tibetan Autonomous Prefecture. Reportedly, the first Rinpoche (Living Buddha) of Jiana settled in Gujie Monastery in Xinzhai and built a Mani mound there. Also called Jiana or Xinzhai, Mani Stone Mound became bigger and bigger in the following 200 odd years, consisting of 2.5 billion stones. Tens of thousand of the mound are particularly precious which are engraved with words of law, calendar calculation, art theory, sutra texts and Buddha carvings.
Mani stones are regarded sacred as the sacrifice to the Buddha. In Tibetan area, Mani stones in different colors, shapes with different images and texts engraved can be seen everywhere. They showcase the artistic charm of Tibetan culture. Mani stone is called Man Zha in Tibetan, meaning Sanskrit mandala. In the vast land of Tibet with sparse population, Mani stone mounds become the prayer halls and shrines for the local.
Mani Stone handicraftsmen are peasants or herdsmen in spring, summer and autumn. They only engrave stones in winter. Long ago, Buddha paintings, incantations and Buddhist mottos are the main content. Enlightened by pictorial sutras from other countries, mani carving with both inscriptions and images were also made for illiteracy folks. There are commonly two kinds of Mani mounds: one is piled by rocks of different sizes and the other is characterized by blocks and pebbles carved with inscriptions and sculptures, which are upbuilt in an undulating line.
| | |
| --- | --- |
| Mani Stone Carved with Inscription and Image | Mani Stone Engraved with Mantra |
Tibetan people build these unique works of art to show their piety to their deities and the Buddha's teachings. Upon encountering a mani stone mound, local people circumambulate it clockwise as a prayer offering for health, peace, and protection.

Tibetan Buddhism
- Last updated on Jul. 18, 2022 -