Prayer Wheel and Flag
Prayer Wheel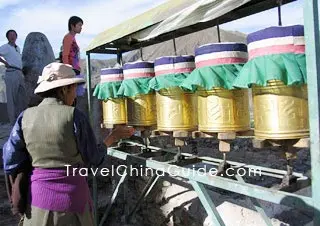 Prayer Wheels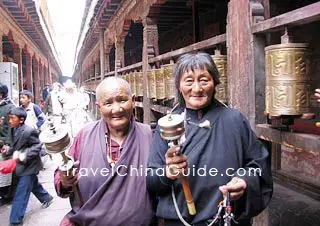 Prayer Wheel in hand
Prayer wheels, called Chokhor in Tibetan, are very common religious objects in Tibet. A hand held prayer wheel is a hollow wooden or metal cylinder attached to a handle. Om Mani Padme Hung mantras are printed or etched in relief on the cylinder. Attached to the cylinder is a lead weight with a chain, which facilitates the rotation. Tibetans use prayer wheels to spread spiritual blessings to all sentient beings and invoke good karma in their next life. They believe that every rotation of a prayer wheel equals one utterance of the mantra, thus the religious practice will in return help them accumulate merits, replace negative effects with positive ones, and hence bring them good karma. The religious exercise is part of Tibetan life. People turn the wheel day and night while walking or resting, whenever their right hands are free while murmuring the same mantra. Buddhists turn the wheel clockwise. Bon followers turn the wheel counter clockwise.
Prayer wheels vary in size and type. Not all of them are hand held. It is common for bucket-sized prayer wheels to be lined up on wooden racks along walking paths circling monasteries and other sacred sites, for the benefit of visiting pilgrims. Larger water, fire, and wind prayer wheels are built so that they are empowered by the flowing water, the flaming light, and the blowing wind which drive them, and can later pass their positive karma to all who touch them.

Prayer Flag

The fluttering prayer flags can often be found along with piles of mani stones on rooftops, mountain passes, river crossings, and other sacred places. Prayer flags are actually colorful cotton cloth squares in white, blue, yellow, green, and red. Woodblocks are used to decorate the prayer flags with images, mantras, and prayers. Usually at the center of a prayer flag, there is an image of the Wind Horse which bears the Three Jewels of Buddhism. On the four corners of the flag, are images of Garuda, Dragon, Tiger, and Snow Lion which are the four sacred animals representing the four virtues of wisdom, power, confidence, and fearless joy respectively. Sometimes auspicious Buddhist symbols can be found on the edges. In the blank spaces between the images, prayers and mantras are printed.

| | |
| --- | --- |
| Prayer Flags near the Namtso Lake | Prayer Flags in Yumbu Lakang |
There are two kinds of prayer flags, the horizontal ones called Lungta in Tibetan and the vertical ones called Darchor. Horizontal prayer flags are squares connected at the top edges with a long thread. The less used vertical prayer flags are usually single squares or groups of squares sewn on poles which are planted in the ground or on rooftops. Tibetans believe the prayers and mantras will be blown heavenward as offerings to their deities and will bring benefits to the one who hangs them, his neighborhood, and all sentient beings, even flying birds. However, if the flags are hung on the wrong astrological dates, they will bring only negative results. And the longer it hangs, the greater the obstacles which will arise. Old prayer flags are replaced with new ones annually on Tibetan New Year.

Tibetan Buddhism
- Last updated on May. 26, 2023 by Catherine He -