Stupa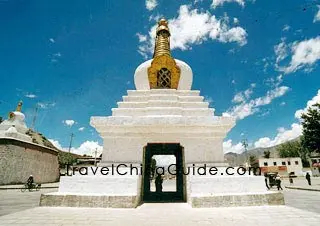 Stupa on the Potala Palace Square
Stupa (Chorten in Tibetan) is an important religious monument in Tibet. This unique religious architectural form expresses significant religious symbolism and presents Buddha's physical presence. It generally consists of three parts; a whitewashed base, a whitewashed cylinder and a crowning steeple or shaft. The square base foundation, representing the Buddha's lotus throne, symbolizes earth, the state of solidity and five forces (faith, concentration, mindfulness, perseverance and wisdom. The four stepped base may or may not have openings. Above the base is a square or hexagon four stepped pedestal which represents The Buddha's crossed legs. Seated on the base is the cylinder, representing his torso. This symbolizes water, the state of fluidity and seven essential conditions of enlightenment: concentration, effort, equanimity, flexibility, mindfulness, joy and wisdom. Sometimes a stupa has a shield like grillwork in one face. This allows relics of high lamas, statues and other items to be put inside. Between the cylinder and the crowning steeple, there is a square box, called Harmika, which represents the Buddha's eyes. It is considered to be the residence of the gods, symbolizing the eightfold noble path. The crowning steeple, the Buddha's crown, is usually hand-made of brass and/or covered with gold leaf. It is segmented into 13 tapering rings, a parasol and a twin symbol of the sun and the moon. Those rings, representing fire and the thirteen steps of enlightenment, successively symbolize ten powers of the Buddha and three close contemplations. The stylized parasol, representing wind, wards off all evil. At the top of the steeple is the twin symbol of the sun and the moon, which represent wisdom and method respectively. A flaming jewel may be found atop the twin symbol, symbolizing the highest enlightenment.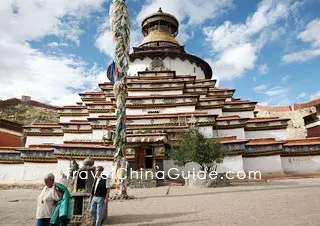 Stupa in Palkhor Monastery
Stupas always house items that Buddhists hold sacred. Sutra scripts, Buddha statues, Tsa-Tsas, hair clippings, fingernails, relics and cremation ashes of saints are usually enshrined in them along with jewels, herbs and other objects. They are sometimes used as tombs in which mummified bodies of high lamas are buried.

Stupas may also be built in commemoration of high Lamas as a sign of merit accumulation, or for their funerals. Building a stupa and any other work done on it are considered of work of the highest purity and merit. Buddhists always show their devotion by circling the stupa clockwise. Doing this can also accumulate merit. The size and style of stupa may vary, from the large ones commonly seen in monasteries and on road passes, to portable ones many Tibetan people carry with them as sacred objects and amulets.
| | |
| --- | --- |
| Stupa in Samye Monastery | Stupa in Ta'er Monastery |

Tibetan Buddhism
- Last updated on Jul. 18, 2022 -