Can I Take My Bike on a China Train?
Bikes are banned on trains in China, including foldable types, but there are three ways for passengers to carry bicycles for a rail journey:
1. Use the railway consignment service
2. Deliver the bicycle by China Railway Express
3. Dismantle and box the bike to take it onboard as luggage if allowed
How to consign a bike onto a China train
Step 1: Fill in the consignment note and luggage label at the consignment office of the railway station with your ID certificate used for booking the train ticket like a passport;
Step 2: Weigh the bike and issue consignment bill;
Step 3: Pay the bill;
Step 4: Claim your bicycle at the consignment office of the arrival station with the consignment bill and your ID certificate
Luggage Consignment Office
at Xi'an Railway Station

The staff is moving the consigned
luggage onto a train.

Consignment Fee
The fee is not included in the ticket and is calculated by weight and journey distance together. For instance, if the bike is 55 pounds (25 kg), the consignment fare from Beijing to Shanghai is around CNY 50 with the distance of 900 miles (1,450 km).
Please note that if consigned as a complete bike, it will be charged as 55 pounds (25kg) even if it is less; if disassembled and put in a box, it will be charged by the actual weight.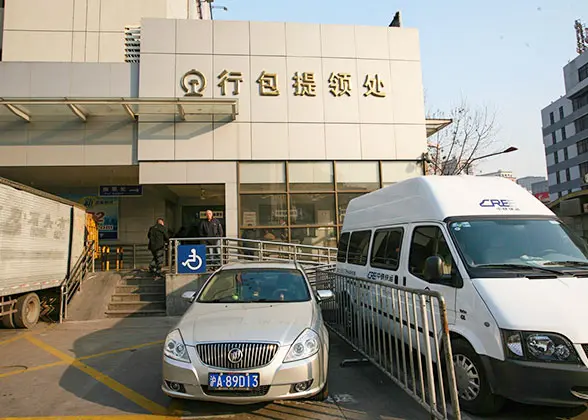 Luggage Claim Office
at Shanghai Railway Station

Handle the consignment 1-2 days prior
If you are going to take a non-bullet train, usually your bike will be transported by the same one. But bullet trains do not have a luggage carriage. In that case, your bicycle will be transported by either an earlier or a later train. If the departure or arrival railway station does not operate non-bullet trains, you need to go to another station operating them to handle/ claim the consignment. Thus, we advise you to handle the consignment 1-2 days prior to your departure, so the bike will be there when you arrive. The arrival station keeps the luggage for 3 days for free.



Other Tips:
1. The consignment office is usually by the entrance/exit of the railway station.
2. The consignment note and luggage label are in Chinese. If you do not know Chinese, show your bike and ticket information to the staff and ask them to fill them for you.
3. Your bike will be squeezed in the luggage carriage with other items and it's quite normal some accessories like the bell, light, and pedals gets loose or lost and the bicycle gets some scratches. Passengers are advised to take apart the small accessories and wrap the rest. The consignment office offers wrapping service for a certain charge.
4. Insurance on the bicycle is accepted and the fare is 0.5% of its value.

Deliver a bike by China Railway Express (CRE)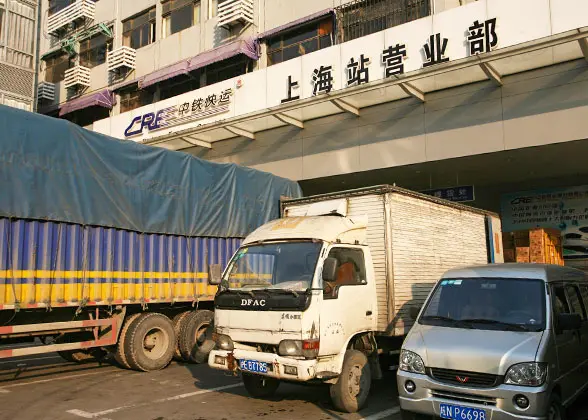 China Railway Express
at Shanghai Railway Station
China Railway Express (CRE) is actually a delivery company, shipping customers' luggage by rail. In addition to the "station to station" service which has not much difference with the consignment service, the delivery company offers "door to door" service, which means they can pick up or deliver the luggage from or to your required address. It charges more than the consignment service. If you want to use the service, please log into the 95306.cn website or call the hotline 95306; however, they are all in Chinese, so you may need help from a Chinese friend.
Besides, if the bike is properly packed, other delivery companies can also ship it for you.
How to take a bike on a China train as luggage
First, you need to take the bicycle apart, even if it is a folding one. After being disassembled, you can put the small accessories in a hard box or a bike travel case/bag. The box or case/bag should be less than 63 inches (160 cm) by width, length and height.
However, the "bike" may still be rejected as not all stations allow this. So you are advised to confirm it beforehand with the staff of the departure station.
After getting onboard successfully, you may find the luggage shelf not big enough. If it is a seat carriage of a high speed train, you may put the "bicycle" in the luggage closet between two carriages or behind the last row of seats. If it is a seat carriage of a non-bullet train or a sleeper carriage, you may put it under the seat or berth.
- Last updated on Apr. 19, 2021 -
Questions & Answers on Can I Take My Bike on a China Train?
Asked by y8966 from SINGAPORE | Oct. 30, 2019 19:45

Reply
Foldable bike ~15kg
Can i take my foldable bike (folded and packed in a bag nicely) onboard the high speed train from Hangzhou>Huzhou>Yixing>Suzhou>Shanghai>Jiaxing>Hangzhou? the overall size is slightly larger than a normal luggage, but definitely not oversized, pls advise, thank you.
Answers (1)
Answered by Raleigh | Oct. 31, 2019 03:33

0

0

Reply
There is no standard answer. By policy, bike is not allowed in train carriage as luggage, no matter foldable or not. However, some stations may let you in if they are strict with this policy. It is more likely depending on the staff in charge.
Asked by Lararan from THAI | Aug. 02, 2018 21:28

Reply
consighment service office hour?
I travel with my bicycle and some trains that I take departure or arrival in early morning or late night.
So I would like to know the office time for plan my trip. Thank you


Answers (1)
Answered by Tina from INDIA | Aug. 03, 2018 02:42

0

0

Reply
The office should work the same time as the station as long as there are still normal ride departs or arrive at the station. But I think I used to read some where that it would be better to arrange the consignment in advance (maybe even one or two days) so that you can make sure your bike will be at the destination when you get there.
Asked by Nicolas MT from CANADA | Sep. 05, 2017 11:29

Reply
Can I use the luggage service on the train from Yuangshuo top Guilin?
I'm doing a bike ride from Guilin to Yuangshuo and would like to get back to Guilin after (without biking).

I would to use the train and bring the bike with me. Is it possible?
Answers (1)
Answered by Fergus from SINGAPORE | Sep. 05, 2017 21:18

0

0

Reply
bike is not allowed in the carriage and there is no goods carriage on high speed rides as well. I guess you need to use an express service instead
Asked by Meghna from INDIA | Jul. 07, 2017 05:04

Reply
TV
Can I take a TV(55 inches) in a D train in China?
Answers (3)
Answered by Liberg | Jul. 08, 2017 02:32

0

0

Reply
It is too large, you could not take it on the train.
Answered by Meghna from INDIA | Jul. 08, 2017 09:11

0

0

Reply
What about 49 inches?
Answered by Keren | Jul. 09, 2017 01:43

1

0

Reply
It should be ok if its length is within 63 inches and weight is within 44 pounds. But you should packed it well when boarding the train.
Asked by jasneet ahuja from INDIA | Mar. 04, 2017 07:41

Reply
Can we Take foldable wheelchair in high speed train in china
Answers (1)
Answered by Mr. Marcelo from MEXIO | Mar. 05, 2017 01:57

0

0

Reply
surely, you could. You could ask help at the station.