Toilets on Chinese Trains
Passengers will see two types of toilets on Chinese trains: western style normally on high speed trains and squat type commonly seen on normal trains. They are located at the two ends of each carriage, and all are equipped with a small hand sink and a mirror. Only the washrooms on high speed trains provide toilet paper, hand sanitizers and disposable toilet seat covers, and they run out quickly, so it is best to bring your own to save trouble.
Toilets on Chinese High Speed Trains- Mostly Western Style
Normally, on high speed trains, all the washrooms are equipped with western style toilets. In a few cases, the restrooms of some second class carriages are equipped with a western style on one end and a squat type on the other end. High speed trains also provide barrier-free restrooms for the disabled, which can be found in carriages No.5, No.7 and No.15. Such restrooms are also equipped with baby care tables.

All of the washrooms provide essential hygiene products including toilet paper, hand sanitizers and disposable toilet seat covers. However, in case the hygiene products run out in the middle of the trip, it is wise to bring your own.
Western Style Toilet
on a China High Speed Train

The green lights indicate
the toilets are vacant.
Toilets on Normal Speed Trains- Normally Squat Style
Normal trains mostly have squat toilets. Only the deluxe soft sleeper cabins have private restrooms with western style toilets. In rare cases, some soft sleeper carriages have a western style one on one end and a squat one on the other end. Only a few normal trains are equipped with barrier-free restrooms. Toilet paper, hand sanitizers and disposable toilet seat covers are generally not provided, so you need to take them with you.

How can I tell if the toilet is vacant or not?
There are lights at each end of the aisle, which can be seen easily by all passengers in the carriage. If the light is green or off, it is a signal that the washroom is empty; and when the light turns red, it means that the restroom is occupied at the moment. You can also tell whether the restroom is vacant or not by the light above the door of the restroom or the small lock window on the door handle. The light or the lock window will turn red when there is someone inside the restroom.

How clean are the toilets on Chinese trains?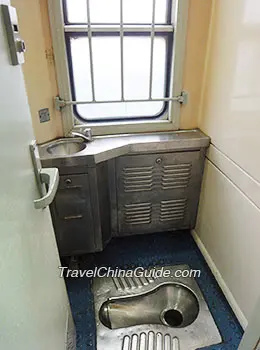 Squat Toilet
on a Chinese Normal Train
Generally speaking, the restrooms on high speed trains are relatively clean. However, in the restrooms of some normal trains, you may need to hold your nose. This is because the washrooms are used more frequently due to its longer journey time and larger numbers of passengers, and also not cleaned as often as those on the high speed trains. The washrooms are cleaned and sterilized before departure. Sometimes, the washrooms on overnight sleeper trains will be cleaned at night.

6 Tips on Chinese Train Toilets
1. Most washrooms have bilingual signs, so they are user-friendly to English speakers.
2. The running water supplied in washrooms is undrinkable. You can get boiled drinking water from the water boiler at one end of the carriage.
3. Shower facilities are not available in the washrooms. Outside the washrooms, there are wash basins for passengers to wash their hands and faces.
4. The washrooms are usually crowded during the 7:00 - 8:00 and 21:30 - 22:30 time periods, so it is recommended you wash up earlier or later to avoid the queues.
5. Some older models of normal trains are not equipped with a toilet waste collection system, so the washrooms may be closed when they stop.
6. In the Spring Festival travel rush, the washroom may be out of use because it is full of passengers with standing-room-only tickets.



Further Reading:
Facilities on China Trains
Facilities on High Speed Trains
China Train Travel - A Beginner's Guide
- Last updated on Aug. 29, 2022 -