Endorsed by New York Times
The New York Times Travel Supplement has named our company as being in their opinion a large and reliable Chinese travel agency. Details
What Our Clients Say
Hi Wendy/Kelly,
We very much enjoyed your services in Beijing. Overall, it was a good experience. Your guide and driver were very accommodating in this respect. We will likely make use of them again if we travel to China in the future.
Warmest regards,
Joe
April 14, 2014
More China Tour Reviews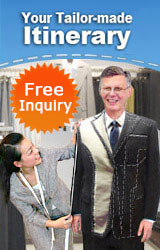 Step 1:

Enquiry

Step 2:

Get a quote

Step 3:

Free changes

Step 4:

Payment

Step 5:

Confirmation
Toolkit
Real time weather forecast of major cities.
Join us at
Holding a US passport and transiting Beijing with a 7 hours layover before my connection...

Nope, you can wander at the airport freely. You can even get out of the airport for a visit if you like. That's what 72 hours free transit means.

Seven Stars Park
We are member of:

We accept:

Security: