Endorsed by New York Times
The New York Times Travel Supplement has named our company as being in their opinion a large and reliable Chinese travel agency. Details
What Our Clients Say
Hello Ruby,
We were very satisfied with the tour you arranged for us in Beijing. It was good value for the cost. The sites we saw were most interesting. Our visit was hampered by severe smog but we could see that Beijing is really a very beautiful place to visit.
Susan
October 27, 2014
More China Tour Reviews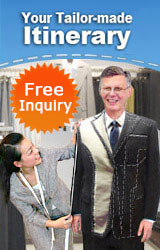 Step 1:

Inquiry

Step 2:

Get a quote

Step 3:

Free changes

Step 4:

Payment

Step 5:

Confirmation
Tripadvisor awards the 2014 Winner to TravelChinaGuide. See our detailed China Tour Company Reviews.
Toolkit
Real time weather forecast of major cities.
Join us at
Is there a shuttle bus from the Shenzhen North train station to Hong Kong Airport?

Yes, there are direct buses from the north station to HKIA and eight coaches are in operation every day.
We are member of:

We accept:

Security: