Endorsed by New York Times
The New York Times Travel Supplement has named our company as being in their opinion a large and reliable Chinese travel agency. Details
What Our Clients Say
Dear Kina,
Everything was really wonderful. The trip to Lhasa and Tibet, the whole organization, the guide and the driver. Never forget this memories and impressions.
Best regards
Martin
July 21, 2014
More China Tour Reviews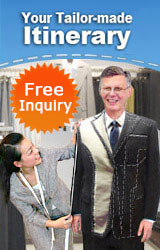 Step 1:

Inquiry

Step 2:

Get a quote

Step 3:

Free changes

Step 4:

Payment

Step 5:

Confirmation
This is the saddest week in the history of civil aviation, with 3 air crashes happened one after another. TravelChinaGuide feel so sad about the tragedies and want to send our deepest condolence to the victims and their families! Hope the deceased rest in peace, and the living be brave!
Toolkit
Real time weather forecast of major cities.
Join us at
what was the purpose of the terracotta warrior?

The Terracotta Warriors were a form of funerary art buried with the emperor; their purpose was to protect the emperor in his afterlife.

Seven Stars Park
We are member of:

We accept:

Security: