Endorsed by New York Times
The New York Times Travel Supplement has named our company as being in their opinion a large and reliable Chinese travel agency. Details
What Our Clients Say
Dear Kelly,
Overall we're very happy with the tour. The guide was friendly, helpful, knowledgeable and certainly is an understanding person. Last but not least, we're looking forward to return to your country and will surely consider your company again. Thank you.
Frankie
April 27, 2015
More China Tour Reviews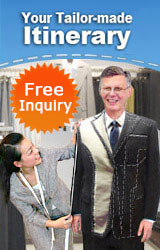 Step 1:

Inquiry

Step 2:

Get a quote

Step 3:

Free changes

Step 4:

Payment

Step 5:

Confirmation
At least 3,900 people were killed in a huge magnitude 8.1 earthquake in Nepal on April 25th. The tremors were felt even in Tibet and India. Condolences and sympathy to the victims and pray for the rescue!
Toolkit
Real time weather forecast of major cities.
Join us at
Is there a subway line to nanyuan airport?

No, there is no direct subway line leading to the airport, but there are shuttle buses in service.

Chinese Dumplings
We are member of:

We accept:

Security: