Years of the Dragon
| | | |
| --- | --- | --- |
| 02/03/1916-01/22/1917 | 01/23/1928-02/09/1929 | 02/09/1940-01/26/1941 |
| 01/27/1952-02/13/1953 | 02/13/1964-02/01/1965 | 01/31/1976-02/17/1977 |
| 02/17/1988-02/05/1989 | 02/05/2000-01/23/2001 | 01/23/2012-02/09/2013 |
| 02/10/2024-01/25/2025 | 01/28/2036-02/14/2037 | 02/14/2048-02/01/2049 |
What is my zodiac animal sign?
The dragon enjoys a very high reputation in Chinese culture. It is the token of authority, dignity, honor, success, luck, and capacity. In ancient China, this creature was thought to speed across the sky with divine power. Emperors entitled themselves exclusively as 'dragon'; their thrones were called 'dragon thrones', their clothes 'dragon gowns'.

Strengths
People under the sign of the dragon are lively, intellectual, energetic and excitable. They often can be leaders and try to go for perfection. When they meet with difficulties, they are not discouraged. They are magnanimous, romantic and sensitive about their reputation. They usually have great ambition and an ingenuous personality. They hate hypocrisy, gossip and slander. They are not afraid of difficulties but hate to be used or controlled by others.

Weaknesses
They are a little arrogant and impatient, while dragon women can be over- confident. Sometimes, 'dragons' are unable to control their moods very well due to being eccentric, tactless, fiery, intolerant and unrealistic. They may feel blank about the future. There is no lack of romance in their life over all, but they seldom give true love. Therefore, they do not usually show disappointment in love. They may criticize others for their inefficiency at work. They have a nature ardent to excess and couldn't withstand setbacks which make them flee away. If they overcome these defects, they can have a brighter future.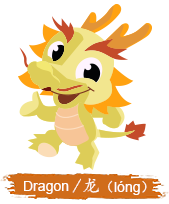 Horoscope and Numerology Elements
Earthly Branch of Birth Year: chen
Wu Xing (The Five Elements): tu (earth)
Yin Yang: yang
Auspicious Directions: west, north, northwest
Lucky Colors: golden, silver, hoary; Avoid red, green, purple, black
Lucky Numbers: 1, 7, 6; Avoid 9, 8, 3
Lucky Flowers: bleeding heart vine, larkspur
Zodiac Sign Compatibility - Best match: rat, monkey, rooster; Avoid ox, rabbit, dog

Celebrities Born in the Year of the Dragon
Sigmund Freud, Joan of Arc, Bruce Lee, Louisa May Alcott, Susan B. Anthony, Pearl Buck, Theodore Seuss Geisel, Bernard Shaw, Pat Schroeder, Florence Nightingale, Robin Williams, John Lennon, Nicholas Cage, Mae West, Sandra Bullock, Reese Witherspoon, Russell Crowe, Keri Russell, Freddie Prinze Jr., Melissa Joan Hart, Salvador Dali, Frank Sinatra, Rihanna, Vanessa Hudgens, Michael Cera, Rupert Grint, Brooke Hogan, Calista Flockhart, Haley Joel Osment, Alexa Vega, JC Chasez, Liam Neeson, Rumer Willis, Ronaldo Luiz Nazario De Lima, Emperor Zhu Yuanzhang of China's Ming Dynasty (1368 - 1644), Deng Xiaoping

Fortune Fortelling in 2014
Overview: The general fortune for dragon people is not bad in 2014, the Year of the Horse. There are several things requiring their attention though: care more about the physical condition of themselves and their family, especially the seniors; it is not a good idea to visit a patient or attend a funeral of someone they may be not that familiar or close with; make a good preparation for work and investment, and they are expected to have satisfactory gains.

Career: In general, they are busy and enterprising with job and are expected to welcome good opportunities. They will have a chance to be promoted, but there is more than one candidate. They should be competitive to win the opportunity, but no tricks are acceptable. They are also advised to keep clear and wise in making certain decision for team work and investment. As long as they are not impulsive, they may gain more achievements in career in the second half of the year.
Wealth: Dragon people enjoy good financial fortune in the second half of the year, for both the jobholders and the businesspeople, but in the first half of 2014, it will be a little hard to earn money. Meanwhile, there will be much competition in the first half of 2014, when it is suggested to be thrifty and make a wise use of the capital in hand. For the whole year, they should not make risky investment and lottery can just be played for fun instead of a way of making money.
Relationships: Their fortune in love life is fine. In August and November, singles can try their best to seek their love. If possible, let their family, relatives, friends and colleagues be matchmaker. For those in love, there will be many minor arguments, but they should be tolerant to each other. If things go well, they are suggested to select an auspicious date to get married. Married people should avoid extramarital affair, especially during social activities, or their family and career will both be affected.
Health: Generally, their physical condition will be good, except some unexpected discomforts due to the tiring job. Therefore, they should do regular exercise in spare time. If there are dragon seniors in a family, regular health examination should be followed. If they feel a little uncomfortable, go to see a doctor early. For adolescents, they should be careful when boating or swimming, and avoid going to dangerous areas in case of accidents!


| | |
| --- | --- |
| | Lanterns on the Xian City Wall |
Fortune Telling in 2013
Overview: They finally get through 2012 with bad fortune and welcome a comparatively good year. However, no good constant fortune comes to them this year. Sometimes they feel it is hard to make achievements. All in all, they should get help if they meet with difficulties. Fluctuant emotions are their most challenging barrier in 2013.

Career: They will have an influence on their career during the second half year. Businesspeople may be hindered by a loss or the old customers will not continue with their cooperation. Therefore, they need try hard to find new business partners. For job-hoppers it can be better to develop themselves in the original companies to reach a smoother career life. The dragon civil servants and employees in foreign companies or state-owned companies should seize the opportunities to achieve improvement.
Wealth: To make ends meet comes first in 2013. They should think twice before spending a large amount on investments, or they may suffer a great loss. To earn money seems to be harder; therefore, money should be spent on what is most needed.
Relationships: Couples appear to be apart in their minds because of mutual mistrust or disapproval, so they need communicate more with their partners. They also need to be more considerate to their partners. Singles will meet some people they have affections for, but it seems that the most suitable one is hard to pursue.
Health: They may have weak immunity in 2013, especially the stomach. Therefore, when dining outside, roasted food should be avoided. Healthy diets have to be cultivated in case of infectious diseases. Much attention needs to be paid when driving to prevent from being hurt by sharp items.