Chinese Zodiac - Monkey
Years of the Monkey
| | | |
| --- | --- | --- |
| 02/20/1920-02/07/1921 | 02/06/1932-01/25/1933 | 01/25/1944-02/12/1945 |
| 02/12/1956-01/30/1957 | 01/30/1968-02/16/1969 | 02/16/1980-02/04/1981 |
| 02/04/1992-01/22/1993 | 01/22/2004-02/08/2005 | 02/08/2016-01/27/2017 |
| 01/26/2028-02/12/2029 | 02/12/2040-01/31/2041 | 02/01/2052-02/18/2053 |
The monkey is a clever animal. It is usually compare to a smart person. During the Spring and Autumn Period (770 BC – 476 BC), the dignified official title of marquis with the pronunciation 'Hou', was the same as the monkey's. The monkey was thereby bestowed with auspicious meaning. Pictures of it are pasted on walls and doors to bring good fortune in officialdom.

Strengths
There are more erratic geniuses in their character and life. Those born in the Year of the Monkey are lively, flexible, quick-witted and versatile. They love moving about and sports. Being talented problem solvers, they are self-assured, sociable and innovative, with competent practical ability. They are even willing to put their own business aside to help others. They have strong desire for knowledge and have excellent memories. When communicating, they do not like to be controlled and have a strong desire to present themselves. They will show amazing creativity in their work.

Weaknesses
They are probably to be successful but they are sometimes agreeable. If they can get into something immediately, they will be discouraged. They are jealous, suspicious, cunning, selfish and arrogant sometimes, and they tend to look down upon others. If they are not impatient and mouthy, they can gain more achievement.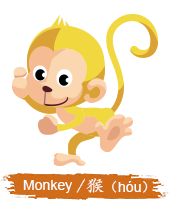 Horoscope and Numerology Elements
Earthly Branch of Birth Year: shen
Wu Xing (The Five Elements): jin (metal)
Yin Yang: yang
Auspicious Directions: north, northwest, west
Lucky Colors: white, golden, blue; Avoid: red, black, grey, dark coffee
Lucky Numbers: 1, 8, 7; Avoid: 9, 2, 5
Lucky Flowers: chrysanthemum
Zodiac Sign Compatibility - Best match: rat, dragon, snake; Avoid: tiger, pig

Celebrities Born in the Year of the Monkey
Leonardo da Vinci, Charles Dickens, George Gordon Byron, Yao Ming, Celine Dion, Tom Hanks, Will Smith, Halle Berry, Christina Aguilera, Diana Ross, Elizabeth Taylor,Truman, Alice Walker, Michael Douglas, Owen Wilson, Daniel Craig, Mick Jagger, Julius Caesar, Bette Davis, Annie Oakley, Eleanor Roosevelt, Betsy Ross, Cuba Gooding Jr., Gisele Bundchen, Kim Cattrell, Nick Carter, Patricia Arquette, Alyson Stoner, Christina Ricci, Cole Sprouse, Demi Lovato, Dylan Sprouse, Miley Cyrus, Mitchell Musso, Nick Jonas, Selena Gomez, Empress Wu Zetian of China's Tang Dynasty (618 - 907)

Fortune Foretelling in 2014
Monkey people should be independent in 2014, the Year of the Horse, especially in career. They won't get any assistant from others in the job, so they have to overcome all difficulties by themselves in most cases. They should strictly abide by laws and regulations in case of being trapped in a series of troubles. It is suggested not to visit a patient or attend a funeral, unless he or she is very close to you. Love life fortune of them goes well in the year, so they are expected to find their soul mates.

Career: Generally, their career fortune is good enough, but they should be careful to avoid from being trapped by mean people in the mid-year. Therefore, they have to recognize good guys and bad guys and had better not believe others easily. Otherwise, they may confront some problems in the job. Frankly, they may not gain as much as they deserve in the job, but if they keep on working hard in their position and maintain a good relationship with colleagues and cooperators, they will eventually make great achievements.

Wealth: The financial fortune for monkey people is not so good. They should handle large amount of money very carefully in case of loss, traps even lawsuits. If any member in their families feels uncomfortable, he or she needs to see a doctor early. Otherwise it will turn to a terrible disease which will cost much more. To make any investment in lottery or stock, they'd better do that in early 2014 and they will enjoy a good profit. Business people should be cautious that their competitors may rob the market with mean tactics.

Relationships: Their love fortune in the first half of the year will not be that smooth, but it will get better and better in the second half. Sometimes they cannot manage the relationship well because of the stress from their career. In this case, it is suggested to spend more time in communicating with their mates. Married people should keep a proper distance with a person of opposite gender to avoid affecting their own marriage. Singles should calm down to select their "The One" for fear of being cheated.

Health: In general, they will feel well, but some unexpected injuries should be concerned. Driving safety should be ensured and traveling outside should be well prepared in advance. Keep regular sports and a healthy diet to keep fit. Food to clear the lung and reduce the internal heat is recommended. They also should drink little alcohol to avoid stomach diseases.