Chinese Zodiac - Year of the Monkey

2016 is the Year of the Monkey according to Chinese zodiac. The Year of the Monkey starts from Feb. 8, 2016 (Chinese New Year / Spring Festival) and lasts to Jan. 27, 2017.
Years of the Monkey
…1920, 1932, 1944, 1956, 1968, 1980, 1992, 2004, 2016, 2028…
| | | |
| --- | --- | --- |
| 02/20/1920-02/07/1921 | 02/06/1932-01/25/1933 | 01/25/1944-02/12/1945 |
| 02/12/1956-01/30/1957 | 01/30/1968-02/16/1969 | 02/16/1980-02/04/1981 |
| 02/04/1992-01/22/1993 | 01/22/2004-02/08/2005 | 02/08/2016-01/27/2017 |
| 01/26/2028-02/12/2029 | 02/12/2040-01/31/2041 | 02/01/2052-02/18/2053 |
The monkey is a clever animal. It is usually compare to a smart person. During the Spring and Autumn Period (770 BC – 476 BC), the dignified official title of marquis with the pronunciation 'Hou', was the same as the monkey's. The monkey was thereby bestowed with auspicious meaning. Pictures of it are pasted on walls and doors to bring good fortune in officialdom.

Personality: Strengths
There are more erratic geniuses in their character and life. Those born in the Year of the Monkey are lively, flexible, quick-witted and versatile. They love moving about and sports. Being talented problem solvers, they are self-assured, sociable and innovative, with competent practical ability. They are even willing to put their own business aside to help others. They have strong desire for knowledge and have excellent memories. When communicating, they do not like to be controlled and have a strong desire to present themselves. They will show amazing creativity in their work.

Personality: Weaknesses
They are probably to be successful but they are sometimes agreeable. If they can get into something immediately, they will be discouraged. Their shortcomings on the characteristics are jealous, suspicious, cunning, selfish and arrogant sometimes. They tend to look down upon others. If they are not impatient and mouthy, they can gain more achievement.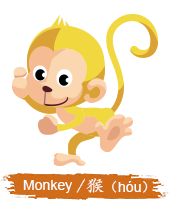 Horoscope and Numerology Elements
Earthly Branch of Birth Year: shen
Wu Xing (The Five Elements): jin (metal)
Yin Yang: yang
Auspicious Directions: north, northwest, west
Lucky Colors: white, golden, blue; Avoid: red, black, grey, dark coffee
Lucky Numbers: 1, 8, 7; Avoid: 9, 2, 5
Lucky Flowers: chrysanthemum
Zodiac Sign Compatibility - Best match: rat, dragon, snake; Avoid: tiger, pig

Celebrities Born in the Year of the Monkey
Leonardo da Vinci, Charles Dickens, George Gordon Byron, Yao Ming, Celine Dion, Tom Hanks, Will Smith, Halle Berry, Christina Aguilera, Diana Ross, Elizabeth Taylor,Truman, Alice Walker, Michael Douglas, Owen Wilson, Daniel Craig, Mick Jagger, Julius Caesar, Bette Davis, Annie Oakley, Eleanor Roosevelt, Betsy Ross, Cuba Gooding Jr., Gisele Bundchen, Kim Cattrell, Nick Carter, Patricia Arquette, Alyson Stoner, Christina Ricci, Cole Sprouse, Demi Lovato, Dylan Sprouse, Miley Cyrus, Mitchell Musso, Nick Jonas, Selena Gomez, Empress Wu Zetian of China's Tang Dynasty (618 - 907)

Fortune Foretelling in 2015
The fortune of monkey people gets satisfying in 2015, the Year of the Sheep. They may be very busy at work, but all is worthy and they will finally achieve success. For those who want to work in other fields or abroad and who intend to change a job, they will probably get a good chance. In the second half of the year, to cooperate with others may help them be fulfilled and this will be an important turning point of their life. When feeling isolated, they should work as a volunteer, take some easy courses or travel outside. Monkeys will keep a harmonious relationship with their boss and colleagues, who may help them deal with unexpected challenges and frustrations.

Career: They will be fortunate in career, especially for males. They may make great progress so that some colleagues may be jealous. The corresponding arguments may happen, in which case they should be bearable. Monkeys born in the year of 1980 and 1992 may be given a chance to get a better job or work in other areas where they can make more achievements. As well as that, monkeys may get a promotion if they work hard and keep a good relationship with all colleagues. The only problem is that their physical condition may be not so good that the working status is more or less influenced.

Wealth: Their money fortune is good in January, May and October and slightly weak in March, July and September. For a large amount of investment, it is suggested not to make the final decision in the middle of the year in case of a great loss. Anyway, the income may increase a lot in 2015, both for the working class and businesspeople. A conservative money plan is required and much attention should be paid when making a risky investment.

Relationships: Singles have luck in love life in 2015. If they participate in more group activities or enlarge their social circle, they can easily find a relationship. Lovers should balance their work and love life, because they may take the risk of losing their love due to busy work. If their relationship is stable, this is a good year for marriage and a brave proposal will help. Couples are suggested to spend much time together; otherwise, unexpected extramarital affairs may take place. Monkeys should also note that some unpleasant relationship problems with friends, colleagues and other people may fall upon January and July.

Health: Minor illness like cold and fever may happen to them sometimes, but it will not have a severe influence. In January and July, they should avoid traveling as well as extreme sports like bungee jumping and roller coaster. They should also be careful in driving and in using sharp metals in these two months. In the whole year, sufficient rest and regular exercise are required.

Study: Monkeys make great progress in study this year. Parents should not put much pressure on them. When they get good performances, give them some material or spiritual awards. This will encourage them more. They don't like to be compared with other children, including their own siblings.