Chinese Zodiac - Year of the Dog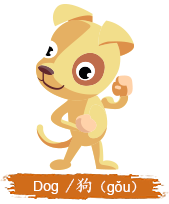 Chinese: 狗 gǒu
Years of the Dog: 1922, 1934, 1946, 1958, 1970, 1982, 1994, 2006, 2018, 2030
Dog is man's good friend who can understand the human's spirit and obey its master, whether he is wealthy or not. The Chinese regard it as an auspicious animal. If a dog happens to come to a house, it symbolizes the coming of fortune. The invincible God Erlang in Chinese legend used a loyal wolfhound to help him capture monsters.

Earthly Branch of Birth Year: Xu
Wu Xing (The Five Elements): Tu (Earth)
Yin Yang: Yang
Years of the Dog
Jan.28,1922-Feb.15,1923
Feb.14,1934-Feb.3,1935
Feb.2,1946-Jan.21,1947
Feb.18,1958-Feb.7,1959
Feb.6,1970-Jan.26,1971
Jan.25,1982-Feb.12,1983
Feb.10,1994-Jan.30,1995
Jan.29,2006-Feb.17,2007
Feb.16,2018-Feb.4,2019
Feb.3,2030-Jan.22,2031
Lucky Signs for Dog:
Lucky Numbers: 3, 4, 9
Lucky Colors: green, red, purple
Lucky Flowers: rose, oncidium, cymbidium orchids
Lucky Directions: east, southeast, south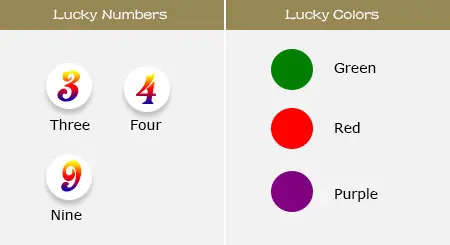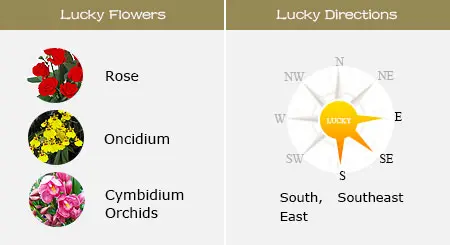 Things Should be Avoided:
Unlucky Numbers: 1, 6, 7

Unlucky Colors:

blue, white, golden

Unlucky Direction:

north, west
People born in the Year of the Dog are usually independent, sincere, loyal and decisive according to Chinese zodiac analysis. They are not afraid of difficulties in daily life. These shining characteristics make them have harmonious relationship with people around.
Strengths
Valiant, loyal, responsible, clever, courageous, lively
Weaknesses
Sensitive, conservative, stubborn, emotional
Best Matches: Rabbit
They are born to be a perfect match. Similar personality traits and common hobbies add much fun to their love relationship. They can understand each other and face difficulties with enough patience.
Bad Matches: Dragon, Sheep, Rooster
Different sense of worth cause many conflicts in their daily life. Both of them are not willing to share inner true feelings. The lack of effective communication and trust won't bring to a happy and relaxing marriage life.
See more about Chinese Zodiac Sign Compatibility
Generally their fortune is stable in 2015. However, their temper will be of ups and downs, which more or less affects their work efficiency. They are likely to be in troubles, but everything will be handled if remaining tolerant. Females have better fortune than males for they are easier to gain help when in need. Entering 2016, they will be always surrounded by good luck. Their luck predicition is wonderful, except that they may have some conflicts with their partners.

They have various personality traits based on twelve western astrological signs, like genuine Aries, assiduous Taurus, attentive Gemini, romantic Cancer, loyal Leo, decisive Virgo, creative Libra, kind Scorpio, honest Sagittarius, prudent Capricorn, energetic Aquarius and wise Pisces.
Blood Type O: They are brave, clever, honest and optimistic. Outstanding work abilities and good tempers make them harvest a lot in early and middle lives.
Blood Type A: Helping others with all efforts is their biggest virtue. Extensive and stable interpersonal relationship can provide much necessary help to their career.
Blood Type B: They always try to achieve success by their own efforts. Honesty and optimism are their shining points.
Blood Type AB: With high self-control and prudence in their nature, they always obtain bosses' recognition in early and middle ages.
Celebrities Born in the Year of the Dog
Winston Churchill, Benjamin Franklin, Bill Clinton, Herbert Hoover, Golda Meir, Voltaire, Marcel Proust, George Gershwin, Jane Goodall, Socrates, Lucy Maud Montgomery, Prince William, Michael Jackson, Madonna, Mariah Carey, Jennifer Lopez, Anna Paquin, Brad Renfro, Ellen DeGeneres, Heather Graham, Jessica Biel, Kelly Clarkson, Kirsten Dunst, LeAnn Rimes, Leelee Sobieski, Queen Latifah, Ryan Cabrera, Shirley McLaine, Susan Sarandon, Thora Birch, Uma Thurman, Dakota Fanning, Moises Arias, Andre Agassi, Confucius, Sun Quan (King of Wu in China's Three Kingdoms Period 220 - 280), Li Yuan (the first emperor of the Tang Dynasty 618 - 907), Zhou Enlai (the first Premier of PRC)