Guangzhou Travel Guide
Guangzhou (Canton), a prosperous metropolis full of vigor, is the capital city of Guangdong Province located along the south coastline of China. Being an excellent port on the Pearl River navigable to the South China Sea, and with fast accessibility to Hong Kong and Macau, the city serves as the political, economic, scientific, educational and cultural center in Guangdong area.
Being the first cities benefited from the Reform and Opening Up policy since 1978, the city acts as the pioneer of the economic development of the country, with thousands of large, small and medium-sized enterprises, which offer more job opportunities and make the city a heavily populated area. The city is especially prosperous in commerce, tourism, dining, finance and real estate. For travelers, this place shows much attraction through its famous sights such as the Five Ram Statue in Yuexiu Park, Pearl River and White Cloud Mountain.


Know more about Guangzhou Facts.



Passport holders of 51 countries and regions including USA, UK, Canada, Australia, France, Germany, Italy, Portugal, Brazil, Mexico, etc. are granted a visa-free stay of up to 72 hours when taking an international transfer via Guangzhou Baiyun Airport.
Read details about 72-Hour Visa-Free Transit.



Attractions

Tours

More China Tour Packages
Guangzhou One Day Tour
: visit Dr. Sun Yat-sen's Memorial Hall, Temple of Family Chen, Six Banyan Trees and Shamian Island
City Sightseeing
: 3 days visit to Dr. Sun Yat-sen's Memorial Hall, Yuexiu Park, Temple of the Six Banyan Trees, Qingping Market and Shamian Island
Hiking Routes
: Information about hiking to Shunde, Xiqiao Hill, Lotus Hill, White Cloud Mountain and Nankunshan Forest Park.

Transportation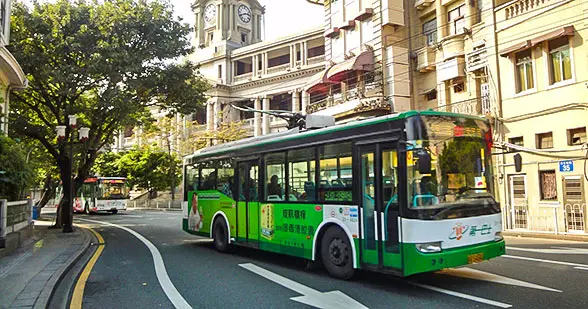 Guangzhou, the south gate of China, has a satisfying transport system radiating to the whole country and even the world. It has direct flights with Los Angeles of US, Vancouver of Canada, London of UK, Paris of France, Amsterdam of the Netherlands, Sydney and Melbourne in Australia, Singapore, Kuala Lumpur of Malaysia, Bangkok of Thailand, and many other Asian destinations. If you are already within China, a wide range of vehicles can facilitate your trip to and from the city, including the planes, trains, long-distance buses and ships. The urban transportation is generally good due to the orderly planning roads and the developed city-buses, taxis and subways.
-

Maps

Dining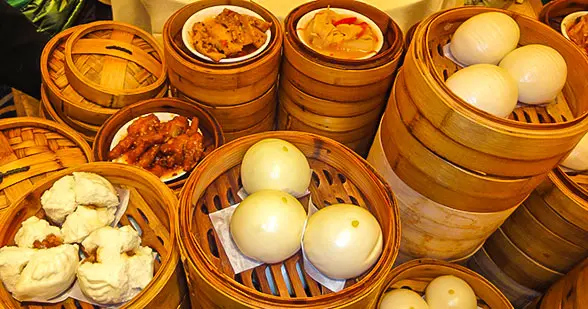 Guangzhou is considered as the paradise for gourmands in south China. Its dish represents well the
Cantonese Cuisine
, which is one among the most famous eight Chinese cuisines. A large amount of time-honored restaurants and quality new restaurants serve various authentic local dishes, snacks and drinks. The most popular restaurants gather around the old city area, including the Dongshan District, Yuexiu District and Liwan District. Panfu Road, West Jiangnan Road and East Huifu Road are recommended food streets for tourists to feel the local eating customs such as Yam Cha (Drinking Tea), having various kinds of soup or delicious Sampan Porridge.

Shopping
With the fame of the shoppers' heaven with ton of quality goods at affordable prices, the city is prosperous with various kinds of commercial streets. Shangxiajiu Road, Beijing Road and Shifu Road commercial area, full of time-honored brands and modern shopping malls, is the most traditional and popular among the locals. Yide Road is the best choice for seafood and dried food. Wende Road is the right place for curios and tourist souvenirs. For those seeking for clothes and current fashions, Baima Clothes Market, World Trade Mall and Teemall should not be missed.

Nightlife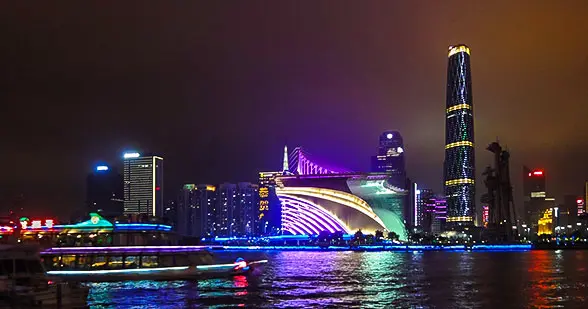 The city offers wide choices of nightlife hangouts. For visitors fond of lively parties, the three bar streets are recommended, namely the Huanshi Road which is favored by foreigners and white collars, Yanjiang Road located along the Pearl River and popular among the young, and Baietan area which is developed from a village and today more like a night fair. For tourists who want to have a tranquil nighttime, to enjoy a cruise on the Pearl River or watching the enchanting night scene from the White Cloud Mountain are wonderful.

Travel Tips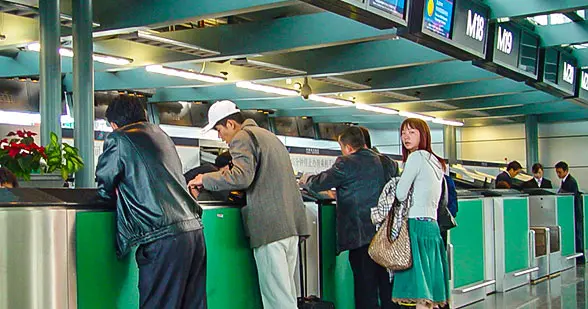 To make your visit to this city easy and pleasant, we offer practical travel tips for your reference. You may be interested in the following topics:
Area Code
Zip Code
Post Office
Banks
Universities & Institutes
Foreign Consulates
Public Security
Festivals
Canton Fair