Guangzhou Taxi & Water Bus

By Taxi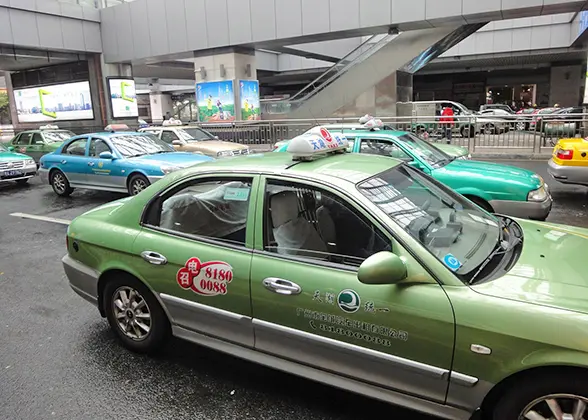 Local Taxi

As more and more people immigrated to Guangzhou looking for better work and the population increased to over 11 million, the urban transportation faced big challenges. Fortunately, the municipal government has made improvements. Numerous public bus lines radiate to all corners of this city. Thanks to the existing four subway lines and the newly built one, citizens and travelers can arrive where they would like to on time.

At present, there are 84 taxi companies in the city with more than 16,000 taxis in different colors, including the colors of yellow, blue, maroon and gold. Among those taxis, the yellow taxis of the Baiyun Taxi Company, the blue taxis of the Guangjun Group and the maroon taxis of Guangzhou Transportation Group are the most reputed.

The local taxi charges CNY10 for the first 2.5 kilometers (1.6 miles), and CNY2.6 for succeeding kilometers. You can bargain with the driver if you take a taxi at night. From the Railway Station to Guangzhou New Baiyun International Airport, the taxi charge costs about CNY100; from the East Railway Station to Baiyun Airport, you need to pay about CNY150; from the Railway Station to the East Rail Way Station, the fee is around CNY25; from Fangcun Bus Station to Baiyun Airport, about CNY120 would be paid.

Tips: 1. It is very difficult to see an empty taxi in peak hours. In order to find an empty one more easily, you can wait at the special pick-up points for taxis. With the number of more than 230, the special pick-up points for taxis are signed and very easy to find.
2. Taxi complaint hotline: 020-83600000.



By Water Bus

Water Bus
Being a part of Guangzhou public transportation system, the water bus plays a significant role in the local public system. From September, 2013, twelve water bus lines will run along the channels of the Pearl River in the city, supplying residents and tourists with a more convenient transport service. 26 piers are scattered along the Pearl River.
Two kinds of water buses have been newly put into use. One type is like a yacht in appearance, having three decks, two ordinary decks and one sightseeing deck. It can hold about 99 to 199 people on one water bus. The other type, having two decks, is a passenger ship and it can hold about 199 people at maximum. A water bus is not only used as ferryboat but is also a good choice to enjoy the beautiful scenery along the Pearl River. During the sail, you can see lots of characteristic architecture. Compared with the Pearl River Night Cruise, the cost of water bus is much cheaper.For convenience, the water bus company installed GPS automobile station reporters at different piers. In this way, passengers could know the arrival time of these buses. This kind of transportation is quite popular. It is planned that about 18 water bus lines will be in operation from 2016.

The twelve lines operate now are:
| | |
| --- | --- |
| Route | Ferry Terminal |
| S1 (Jinshazhou - Xidi) | Jishazhou, Shiweitang, Huangsha, Xidi |
| S2 (Fangcun – Zhongda) | Dayuanshuaifu, Fangcun, Xidi, Tianzi, Zhongda |
| S3 (Ruyifang - Shiweitang) | Ruyifang, Tanwei, Shiweitang |
| S4 (Xidi - Haizhuang) | Xidi, Aozhou, Haizhuang |
| S5 (Yuzhu - Shenjing) | Whampoa Military Academy, Yuzhu, Hunagpu Xinzhou, Shenjing |
| S6 (Huangsha – Yongxing Street) | Huangsha, Fangcun, Yongxing Street |
| S7 (Tianzi - Fangzhi) | Tianzi, Fangzhi |
| S8 (Shengzong - Qiankou) | Shengzong, Diankou |
| S9 (Baixianke - Baihedong) | Baixianke, Baihedong |
| S10 (Yuzhu - Changzhou) | Yuzhu, Changzhou |
| S11 (Huangsha – Guangzhou Tower) | Huangsha, Dayuanshuaifu, Guangzhou Tower, |
| S12 (Changzhou – Haixinsha) | Changzhou, Yuzhu, Haixinsha |
Tip: It is very safe to take them. Each water bus is equipped with enough life jackets and sea-sickness medicine and the like.
Operation Hour: 07:00 to 18:00
Interval: 20 minutes during peak time and 30 minutes in other time
Fare: It is CNY 2 for deck one, but it is CNY1 if one travel between two adjacent ports. For the water bus line S11, it is CNY 6 for a single trip and CNY10 for a round trip on the sightseeing deck. Guangzhou Transportation Smart Card can be used for taking the boat.
Available city buses to the major ferry piers:

| | |
| --- | --- |
| Zhongda | 8, 11, 121, 131a, 131b, 182, 229, 24, 247, 266, 272, Guangzhou Sightseeing Bus Line 1, Tourism Bus Line 2, Night Line 6, Night 42 |
| Tianzi | 1, 4, 57, 128, 186, 194, 208, 219, 236, 544 |
| Xidi | 1, 128, 131, 186, 208, 217, 219, 236, 281, 31, 38, 521, 538, 556, 57, 64, Tourism Bus Line 2 |
| Fangcun | 19, 52, 64, 181, 206, 217, 309, 838, 812 |
| Guangzhou Tower | 262, 468 |
| Jinshazhou | 290, 55, 830 |
| Huangsha | City Bus Line 19, Subway Line 1, Foshan Special Line 2218, Foshan Special Line 2277 |