Beidaihe Scenic Area
Beidaihe Scenic Area
Beidaihe Scenic Area, the famous summer resort, is located in the southwest of Qinhuangdao City. It belongs to the warm temperate zone, with a damp monsoon climate and four distinct seasons, neither too hot in summer nor too cold in winter. In the whole year, there are only 7.6 days averagely that the daily maximum temperature is over 86F. The lowest temperature is seldom below 50F even in winter due to the warm Bohai Sea current. Therefore, it is suitable for all year round travel, though, the best time to visit is from May to October.

It's estimated that there are about 6,600 hectares forest and more than 9 acres wetlands here. Advantageous ecological environment makes it a birds' paradise. In every spring and autumn, or more specifically middle March to late May and early September to middle November, numerous birds migrating between Siberia and Southern China use Beidaihe as an important and suitable resting place during the long-distance flying. During that period of year, tourists can appreciate the grand scenery of flocks of red-crowned cranes and white storks flying and chirping in the sky. Nowadays, this scenic area can be honored as 'Chinese Mekka for Bird-Watching'.

With the total length of about 14 miles (22.5 kilometers), the long coastline to its south has soft sand and sea water of moderate salinity, making it an excellent place to sunbathe and swim. Many modern holiday villas and public bathing places have been established, where you can taste local snacks and delicious seafood, ride in a speedboat, or relax in a ballroom dancing. If you want to get away from the masses, a stroll on the pebbled sand will bring you close to nature.

In the central area of the scenic area is a great attraction called Tiger Stone Park. It has many huge rocks looking like a herd of tigers. Standing on any of the rocks gives you a deep enjoyment of the beauties of nature. The sea breeze pushing against your face, the waves beating the rocks and the vast sea will make you feel refreshed and energetic. This is a good spot for photography.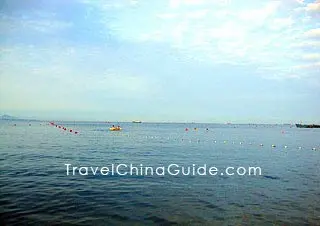 To the east another famous attraction is the Yingjiao Stone – a 66-feet (20 meter)-high rock like an eagle perched on the cliff. Because groups of doves nest in the cracks there, it is also called
Dove Nest Park
. The Yingjiao Pavilion on the top is famous as a place to watch the sunrise.
The pine-covered
Lianfeng Mountain
, which backs on to Beidaihe beach, comprises three peaks, the east peak, middle peak, and the west peak. Taking the secluded path you can reach Sea-view Pavilion (Wanghai Ting) at the top of the hill, where you can best appreciate the vast sea and the scenery around the mountain. At the foot of Lianfeng Mountain is a beautiful park named Lianhuashi (Lotus Stone Park) because of the many unexpectedly huge lotus shaped stones.
Beside the above mentioned beautiful natural scenery, the
Safari Park
is a popular place for children. More than 5,000 animals can be found in there. Among them, rare animals such as African lions, black swans and Siberian tigers attract much attention. Tourists can feed and take photos with animals under the guidance of animal keepers. This will be an awesome experience.
Now, this area attracts more and more attention from around the world with more than 4 million people traveling here every year. Add this scenic area to your itinerary and you will not regret your decision.
Transportation:
1. From Beidaihe Railway Station: Take public bus no.5 or 22, and get off at Beidaihe Haibin Bus Station.
2. From Qinhuangdao Railway Station: Take public bus no. 34 to get to Haibin Bus Station.

Beidaihe Community:

Travel Reviews

Photo Album