Harbin Ice and Snow Festival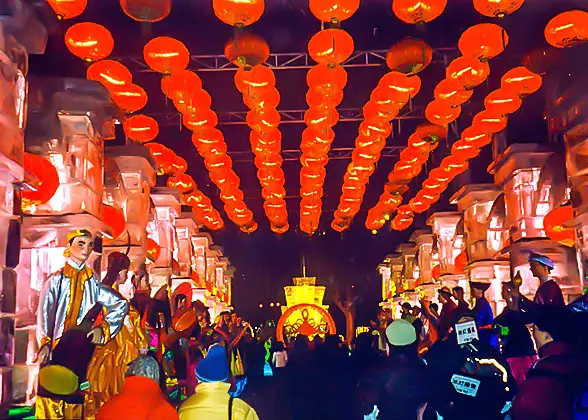 Harbin Ice and Snow Festival

Harbin Ice Festival Tour
: 4 Days
Harbin Ice Festival provides the visitors each year a whole new world of ice and snow. The 31st Harbin International Ice and Snow Festival will be held from January 5, 2015 and last for over one month. The best collections of ice artworks were exhibited in the following five main places:
Ice and Snow World
Ice Lantern Garden Party
Sun Island Scenic Area
Yabuli International Ski Resort
Zhaolin Park
The Festival, established in 1985, is held annually from January 5 and lasts for over one month. Harbin is the capital city of Heilongjiang Province and this is China's original and greatest ice artwork festival, attracting hundreds of thousands of local people and visitors from all over the world.
The city's location in northeast China accounts for its arctic climate which provides abundant natural ice and snow. Subsequently, the 'Ice City' of Harbin is recognized as the cradle of ice and snow art in China and is famous for its exquisite and artistic ice and snow sculptures. The fabulous Ice Lantern Festival was the forerunner of the current festival and is still the best loved part of the overall event in the opinion of all who go to that city each year.
The Derivation of the Ice Lantern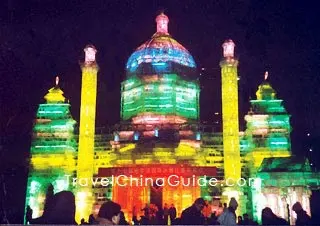 Ice sculptures
The first Ice lanterns were a winter-time tradition in northeast China. During the Qing Dynasty(1644 - 1911), the local peasants and fishermen often made and used ice lanterns as jack-lights during the winter months. At that time these were made simply by pouring water into a bucket that was then put out in the open to freeze. It was then gently warmed before the water froze completely so that the bucket-shaped ice could be pulled out. A hole was chiseled in the top and the water remaining inside poured out creating a hollow vessel. A candle was then placed inside resulting in a windproof lantern that gained great popularity in the region around the city.
From then on, people made ice lanterns and put them outside their houses or gave them to children to play with during some of the traditional festivals. Thus the ice lantern began its long history of development. With novel changes and immense advancement in techniques, today we can marvel at the various delicate and artistic ice lanterns on display.



Today's Ice Lantern
Nowadays, ice lantern in broad sense refers to a series of plastic arts using ice and snow as raw material combining ice artworks with colored lights and splendid music. The specific patterns of ice lantern include sculptures, ice flowers, ice architectures and so on.
The Sun Island Park is the site of the Snow Sculpture Exposition displaying a wonderful snow world. It has the world's largest indoor ice and snow art museum and it opens to the public from November every year.
Ice and Snow World came into being in 1999 and is one of the world's largest ice architecture parks. The inspiration for the ice and snow sculptures there usually is derived from traditional Chinese fairy tales or world famous architectures such as the Great Wall, the Egyptian Pyramids, etc.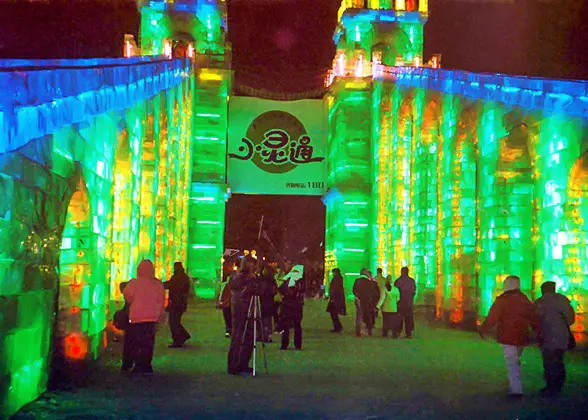 Ice and Snow Festival in Zhaolin Park
Zhaolin Park
is a 'must see' during the Ice Festival because it has a traditional program that shows the most excellent ice lanterns. With water, lights and the natural ice from the Songhua River running through this city as the material, the ice lanterns are made by freezing water, piling up ice or snow, then carving, enchasing, decorating, etc. The ice lantern park touring activities have been held here annually since 1963 and is said to be one of the most wonderful 35 tourist attractions in China. There are numerous pieces of ice artworks in the park arranged in groups according to different themes depicting Chinese classic masterworks, European folktales and customs and so on. A great variety of objects such as buildings, gardens, flowers, waterfalls, European-styled churches, lions, tigers, dragons are carved from ice. In the daytime, the ice sculptures are magnificent and verisimilitude. Moreover, with the interspersion of the sparkling colored lights embedded in the sculptures at night, the park becomes a glorious and amazing ice world.
Today, the Ice Festival is not only an exposition of ice and snow art, but also an annual cultural event for international exchange. Every year, there are many ice sculpture experts, artists and fans from America, Canada, Japan, Singapore, Russia, China, etc. gathering in this city to participate ice sculpting competitions and to communicate with each other in the ice and snow world. Also, Harbin ice lanterns have been exhibited in most of China's main cities as well as in many countries in Asia, Europe, North America, Africa and Oceania. For more than 40 years, the city's local natural resource of ice and snow has been fully explored to provide joy and fun for visitors to the city. Now during the festival, many sporting competitions are also popular including ice-skating, sledding and so on. Weddings, parties and other entertainments are now very much a feature of this ice world, adding their own contribution to the celebrations of this great festival of art, culture, sports and tourism.
Admission Fee:
Sun Island Park
(Snow Sculpture Art Exposition)
Ice and Snow World
Zhaolin Park
(Ice Lantern Garden Party )

CNY 240 for adults
CNY120 for children between 1.2-1.4 meters
Free of charge for children under 1.2 meters

Combo ticket:
Type A: CNY260 including the entrance ticket and the sightseeing bus
Type B: CNY528 including the entrance ticket and Russian performances

At other time: CNY 30 (just admission fee)

09:00 – 12:00
CNY150 per adult
CNY120 per child above 1.2 meters

12:00 – 21:00
CNY330 for adult during New Year's Day, Spring Festival and Lantern Festival
CNY300 for adult in normal days except the above three festivals
CNY160 for Harbin citizens only on Mondays (except festivals and holidays)
CNY160 for child above 1.2 meters
CNY160 for the seniors with a valid proof
Free for the seniors with a valid proof and children under 1.2 meters

CNY150 per adult

Free for the elderly over 70 years old with a valid proof

Free for children under 1.2 m in height

Opening Time:
from Jan. 5th, 2015 to the end of Feb. 2015
from Jan. 5th, 2015 to the end of Feb. 2015
from Jan. 5th, 2015 to the end of Feb. 2015
Operating Hours:
08:00-17:30
09:00-21:00
09:00-21:00
Bus Route:
29, 80, 85, 88
88, 125,126
8, 53, 74, 83, 113, 114, 206

Harbin Bus Search

The 31st Ice and Snow Festival Highlights (2015)
It will fall upon January 5th, 2015 and last till the end of February, 2015, covering three important Chinese festivals – New Year's Day,
Spring Festival
and
Lantern Festival
. Based on the theme of "Ice-snow Fascinating Harbin, Charming Chinese Dream", a variety of activities about ice and snow, concerning tourism, culture, fashion, the economy and trade and sports, will welcome all tourists. People can enjoy beautiful ice sculptures and snow arts in the Sun Island Scenic Area, Ice and Snow World, Zhaolin Park and Central Street. In addition,
St. Sophia Church
,
Harbin Polarland
and Songhua River are also worth a visit during the festival.
☆ 2015 activities schedule for your reference:
Type
Activity
Time
Place
Art
The 21st National Snow Sculpture Competition
Dec. 23rd~26th, 2014
Sun Island Snow Expo
The 7th International College Students Snow Sculpture Competition – Inspiration Snow Dream
Jan. 4th~7th, 2015
Harbin Engineering University
The 29th International Ice Sculpture Competition
Jan. 6th, 2015
Zhaolin Park
Culture
The 31st Group Wedding Ceremony on the Ice
Jan. 6th, 2015
Zhaolin Park
The 27th Hundred-Flower Dance Contest of senior people
Jan. 9, 2015
People's Stadium
Tourism
The 27th Sun Island Snow Sculpture Art Exposition
Dec. 23rd, 2014 for trail operation and officially opening on Jan. 5th, 2015 till the end of Feb. 2015
Sun Island Scenic Area
The 20th International Snow Sculpture Competition
Jan. 9th, 2015
Sun Island Scenic Area
The 3rd China and Russia Snow Sculpture Dual Meet
Around late Jan. 2015
Sun Island Snow Expo
The 41st Ice Lantern Garden Party and the opening ceremony
Dec. 26th, 2014 for trail operation and officially opening on Jan. 5th, 2015 till the end of Feb. 2015
Zhaolin Park
The 5th Ice & Snow Happy Valley Early
December 25 till Feb. 2015
along the Songhua River (Jingjie to Jiuzhan)
Changling Lake Winter Fishing Festival
December 25, 2014
Changling Lake Scenic Area
Economy & Trade
2015 Cold Zone Exposition
Jan. 5th~8th, 2015
International Convention & Exhibition Center
International Covenant of Ice and Snow
Jan. 6, 2015
Friendship Palace
Sports
International Ice Hockey Invitational Competition
Jan. 2015
Ice Hockey Gym
The 8th International Friendship Cities Badminton Invitational Competition
Jan. 2015
Ice Training Base
International Winter Swimming Invitational Competition
Jan. 5th and 6th, 2015
Jiuzhan Park
Shuttlecock Invitational Competition

Jan. 2015

Ice Training Base
International Friendship Cities Tae Kwon Do Invitational Competition
Jan. 2015
People's Stadium
Winter Fishing Open Competition
Jan. 2015
Dingxiang Island
National Ice Hockey League
Jan. 2015
Ice Hockey Gym
National Cross-country Skiing Championship
Feb. 2015
Wujimi Ski Resort
National Alpine Skiing Championship
Mar. 2015
Wujimi Ski Resort