Embassy of the People's Republic of China in the Republic of Turkey

Visa Application Form of PRC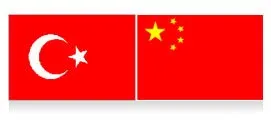 Ambassador: Mr. Yu Hongyang
Address: Golgeli Sokak No. 34, 06700 Gaziosmanpasa/Ankara, 06700, Turkey
Tel: +90-312-4360628
Fax: +90-312-4464248
Email: chinaemb_tr@mfa.gov.cn



Economic & Commercial Counselor's Office
Address: Horasan Sokak No.8, 06700 Gaziosmanpasa-Ankara
Tel: +90-312-4377107
Fax: +90-312-4466762
Email: cncomo@mofcomcn.com



Consular Districts: Except Bursa Province, Izmir Province

Consulate-General of the PRC in Istanbul
Consul General: Mr. Gu Jingqi
Address: Ahi Çelebi Cad. Çoban Çeşme Sok. No:4, Tarabya, Sarıyer, İstanbul
Tel: +90-212-2993731, 2992634
Fax: +90-212-2992633
Email: chinaconsul_ist_tr@mfa.gov.cn
Consular Office: Tel: +90-212-2992188, Fax: +90-212-2992855
Economic & Commercial Office: Tel: +90-212-2992631, Fax: +90-212-2992632
Administrative Office: Tel: +90-212-2996385



Consular Districts: Bursa Province, Izmir Province

Note: From June 1, 2007, individual applicant can't apply for F, X, Z, and Group L. These visas should be applied by Travel Agencies authorized by Chinese government.



Announcement of Change of Fees
According to the principle of reciprocity, since June 1, 2007, the Embassy of the PRC there have adopted the revised fees for Turkish nationals as following: USD 20 for Group L per person, USD 25 for Single-Entry; USD 35 for Double-Entry; USD 50 for Multiple-Entry with 6-Month Validity; USD 75 for Multiple-Entry with 12-Month Validity; USD 10 for Express Service Fee of Group L per person.



Application to Hong Kong Special Administrative Region (HKSAR)
Turkish nationals possessing any kind of valid Turkish passport can enter Hong Kong without a visa if they go here for tourism and business and stay here up to 90 days. If any Turkish national intends to go to the mainland from Hong Kong, he or she is required to gain a Chinese visa before departing.



Please contact Embassy of Turkey in China if Turks are in troubles there.



Related Chinese Embassies in Asia: Turkmenistan, Abu Dhabi, U.A.E, Uzbekistan