Mount Taishan (Tai Shan)
The leader of the 'Five Sacred Mountains', Mt. Tai is located in the center of Shandong Province, lying across the cities of Tai'an, Jinan and Zibo. Its main peak, Jade Emperor Summit, which is within Tai'an City, is about 1532.7 meters (5,029 feet) high.
The mountain was once called Mt. Daishan, Mt. Daizong or Mt. Taiyue and was renamed Mt. Taishan in the Spring and Autumn Period (770BC-476BC). It epitomizes splendid Chinese culture and was listed in the World Natural and Cultural Heritage List of UNESCO in 1987.
In ancient times, the first thing for an emperor to do on ascending to the throne was to climb Mount Taishan and pray to heaven and earth or their ancestors. It was said that 72 emperors of different dynasties made pilgrimages here. These special ceremonies and sacrifices earned the mountain widespread fame. In addition, many poets and literary scholars also visited the mountain to gain inspiration. The grandiose temples, the numerous stone inscriptions and stone tablets are the best testaments to these visits. Mt. Tai also played an important role in the development of Buddhism and Taoism.
Taishan Mountain is a natural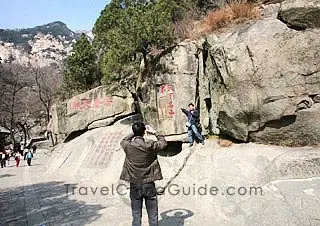 museum abounding with cultural relics and artworks. Heavenly Queen Pool, Red Gate Palace, Mid-Heaven Gate, Azure Cloud Temple are powerful examples. Stone carvings include the Buddhist Diamond Sutra in Jing Shi Valley, the Scripture of Mt. Tai and the Mo Ya Tablet.
Besides historic relics, this mountain boasts unique natural scenery too. The lofty peaks, deep valleys, spectacular waterfalls, enchanting rocks and the centuries-old pines and cypresses will undoubtedly encourage you linger with no thought of leaving. The four wonders here are Sunrises from the East, the Sunset Glow, the Sea of Clouds and the Golden Belt along the Yellow River. It would be a great pity to miss the four wonders.
There are four ascents here.
East Route
This route is considered to be the Imperial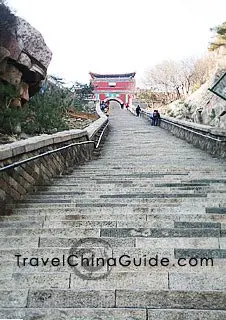 Route because the emperors all took this way to make sacrifices. With elegant natural scenery, palaces, stone inscriptions are also scattered along the winding path. You set off from Dai Temple, and then you will see Dai Zong Archway, Red Gate Palace, Jing Shi Valley, Hu Tian Pavilion and Eighteen Bends, etc. Dai Temple is the place where emperors stayed and offered their sacrifices. The temple was built in the Han Dynasty and expanded in the Tang and Song Dynasties. After several renovations, it has become the biggest and most complete temple on the mountain.
There are 6000-plus steps along this route and it takes about four hours at an average to reach the peak. This classical route is an ideal choice for most people.
West Route
The west route is made up of two parts. The first part is the highroad from the Heaven and Earth Square to Mid-heaven Gate. The other part is the cable way from Mid-heaven Gate to the top of the mountain. This route is well equipped with modern facilities and is the most fashionable way to reach Jade Emperor Summit. Attractions concentrated on this route are Heaven and Earth Square, Black Dragon Pool, Tomb of General Feng Yuxiang and Longevity Bridge, etc.
Peach Blossom Ravine Route
This route is the most conven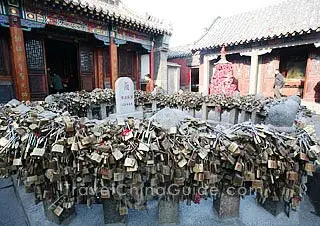 ient way to climb the mountain, especially for tourists who drive or take a bus from northern places. Peach Blossom Ravine can be accessed by taking the No.104 national highway, then setting off from the big parking lot by bus to the cable-car stop. From there you reach the top in a few minutes. The ropeway is designed for sightseeing from the air giving a clear view.
The best time to take this route is in spring and summer. The flourishing peach blossom, falling petals and limpid steams will make you feel like you are in heaven.
Tianzhu Peak Route
Just as its name implies, Tianzhu Peak was named because it is shaped like a candle, with a pine tree standing on top like a flame. This route is the most rugged one and is suitable for the adventurous. You will enjoy General Peak, Eight Immortals Cave, Big Tianzhu Peak and Small Tianzhu Peak, etc. It is also a better way to appreciate the pine trees in Hou Shi Wu (a spot where most of the old pine trees are growing).
Taishan Mountain is a perfect combination of natural scenery and cultural relics and is well worth visiting.
Admission Fees:

1. Entrance Ticket:
Feb. 1 to Nov. 30: CNY 127
Dec. 1 to Jan. 31: CNY 102

2. Peach Blossom Ravine:
CNY 50 (opening from 08:00 to 17:00)

3. Dai Temple:
CNY 30 (opening from 08:00 to 17:00)

Cable Cars:
1. Mid-heaven Gate Cable Car: CNY 100 for a single trip
Opening time: April 1 to October 31: 07:00 to 17:30; November 1 to March 31: 08:00 to 17:00.

2. Taohuayuan Cable Car: CNY 100 for a single trip
Opening time: April 1 to October 31: 07:00 to 17:00; November 1 to March 31: 08:30 to 17:00.

3. Houshiwu Cable Car: CNY 20 for a single trip
Opening time: April 1 to October 31: 08:30 to 16:00; and closed from November 1 to March 31.

Sunrise Timetable
January- June
Month
Day
Jan.
Feb.
Mar.
Apr.
May
Jun.
1st
07:15
07:05
06:34
05:49
05:09
04:45
11th
07:15
06:55
06:20
05:35
04:59
04:43
21st
07:11
06:44
06:05
05:21
04:51
04:43
July-December
Month
Day
July
Aug.
Sep.
Oct.
Nov.
Dec.
1st
04:47
05:07
05:33
05:57
06:25
06:55
11th
04:52
05:16
05:41
06:05
06:35
07:04
21dt
04:59
05:24
05:49
06:15
06:46
07:11

Recommended Mt. Taishan Tour:
Jinan - Qufu - Mt. Tai: 4 days Shandong tour from Jinan to the hometown of Confucius and Mt. Tai