Nanchang Transportation

Getting There



By Air

Airport Code: KHN


Location: It is located in Lehua Town, about 26 kilometers (about 11 miles) north of the downtown area.


Brief Intro: As the largest airport in Jiangxi Province, Nanchang Changbei International Airport was opened in 1999 and operated its first international air route in 2004. With the terminal covering a total area of 27,141 square meters (6.7 acres), the airport is capable of handling 2,000,000 passengers per year and 1,100 at peak hours. It is now connected to over 20 domestic cites and offers international air routes to Singapore and Kuala Lumpur.


Airport Hotlines: 0791-3961126-9, 0791-7112217


Luggage Inquiry: 0791-7112226


Emergency Center: 0791-7112213


Transportation: Shuttle buses operate between the airport and the Civil Aviation Hotel (No.589 Hongcheng Lu). The charge is CNY15 per person. The trip will take you about half an hour.
Tel: 0791-8898720


Air ticket sales braches:
Airport branch: No.1 counter in the Waiting Building
Civil Aviation Hotel branch: No.589 Hongcheng Lu
Dinggong Lu branch: No.28 Dinggong Lu



By Train

Built in 1996, the Nanchang Railway Station is about three kilometers (about 1.9 miles) from the downtown area. Trains leave here for Beijing, Shanghai, Xian, Chongqing, Shenyang and other cities. Take the No.5, No.2, or No.9 public buses to get to the railway station.

On June 9th, the first tourist special train from Nanchang to Tibet will start operation. Like other trains running on the Roof of the World, the tourist train is prepared with best facilities. Twelve carriages that can hold 400 passengers are all fitted with soft sleepers. Considering the high altitude of Qinghai-Tibet area, some special facilities are added. Except for the oxygen giving system, there are 400 oxygen masks for each passenger to relieve altitude stress. Anyone who wants to take the trip should have a health checkup in a regular hospital first. The entire journey will take 11 days with a fare of CNY3970. As there is no direct train to Tibet from Nanchang, visitors have to change trains in Xining. They can enjoy the magnificent Mt. Tanglha, glacier, and grassland as well as the mysterious Hoh Xil Natural Reserve on the way.



By Long-distance Bus

The road system in Nanchang is fairly good. National roads No.105 from Beijing to Zhuhai, No.320 from Shanghai to Kunming, and No.316 from Fuzhou to Lanzhou intersect here making it very convenient to get in or out of the city. Major transport companies are the Chang'an Transport Company Limited, the Nanchang Long-distance Bus Station, and the Xufang Bus Station. Buses from the first two stations primarily leave for Nanjing, Shenzhen, Hefei and other cites outside Jiangxi Province; and those from Xufang Bus Station go to cities, towns and counties within Jiangxi Province.



By Water

Water routes here consist of the Gan River, the Fu River, Elephant Lake, Qingshan Lake, and Aixi Lake. Nanchang Port is the biggest port on the Gan River and also the most important water transportation transfer point in Nanchang City. From the port you can travel by yacht or the Jinggang Shan and Tengwang Pavilion passenger ships to visit Poyang Lake , Stone Bell Hill , Poyang Lake Bird Protection Area , Dagu Hill and other attractions.



Getting Around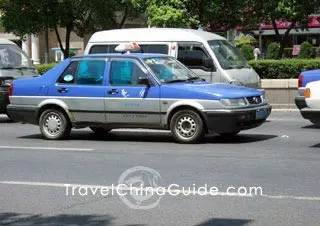 By Taxi

Most taxis are the Volkswagon Santana model; some others are the Volkswagon Jetta or the Citroen.ZX. The flat rate fare is CNY 6 (CNY6.6 after 11:00 pm.) for the first two kilometers (about 1.2 miles) plus a distance surcharge of CNY2 for each extra kilometer.



By City Bus

There are over 40 city bus routes in Nanchang City. Almost all the attractions within the city can be reached by bus. The service operates from 6:00 in the morning to 7:30 in the evening. Generally speaking, the ticket fare is CNY1 for non-air-conditioned buses and CNY2 for air-conditioned ones.