Pingyao Transportation -- Getting There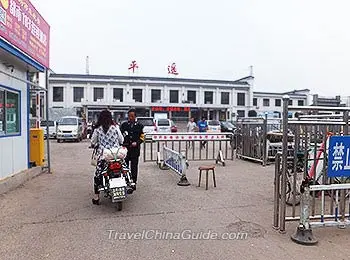 Pingyao Railway Station
Situated in central Shanxi, Pingyao County is 94 kilometers (58.4 miles) southwest of Taiyuan, 616 kilometers (382.8 miles) southwest of Beijing, 543 kilometers (337.4miles) west of Xian, 758 kilometers (471 miles) east of Tianjin and 2390 kilometers (1485 miles) to Guangzhou. Owing to the passing-by Tong-Pu Railway, No.108 National Highway, Dong-Xia Road, Fen-Tun Road and Dayun Highway, it has quite a convenient transportation.
With fourteen towns and villages in all under its prefecture, the county covers an area of 1,260 square kilometers (486.5 square miles). The 2.25 square kilometers (556 acres) broad Old City is the epitome of the local history. As one of the World Cultural and Natural Heritages in China, this Old City now is quite a hot tourism spot. What's convenient is that the Railway Station and the Bus Station are located adjacent to the Old City. You can easily get into the Old City as soon as you arrive there by train or long-distance bus.
Tips: Since the county is not far away from Taiyuan, Taiyuan City can be taken as a transfer station for your trip to other cities around China.

By Air
There is no airport in the county. If you would like to go there by air, the Taiyuan Wusu Airport (TYN) which is 90 kilometers (56 miles) away from the old city may be the best choice. After reaching the Wusu airport, you have two ways to get here: by long-distance bus or by train.

By long-distance bus:
Upon arrival at Taiyuan airport, take a taxi with a fare of about CNY 50~60 (the toll on the way is included) to Taiyuan Passenger Transport Center on Yingze Avenue first. There, long-distance buses to Pingyao are available from 06:40~18:30 with an interval of 20 minutes.
Or take bus no. 201 from airport to Jiannan Bus Station. In the station, there are buses heading for Pingyao charging CNY 12. It would cost about 2 hours.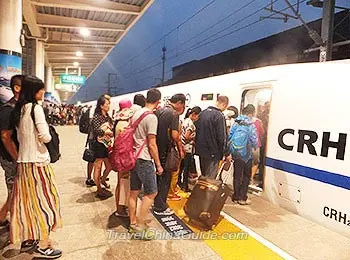 By train:
First, you can take the city-buses in the airport directly to get to Taiyuan Railway Station. Bus No.201, No.901 and No.901z are available to send you to the railway station. After, take an ordinary train to the county.

Or take a taxi to Taiyuan South Railway Station, which takes about CNY 20. After, change to a high speed train to the county.

By Train
There are two railway stations in the county:

Pingyao Railway Station:
It is situated in the Zhongdu Road not far away outside the West Gate of the Old City. Trains to and from cities like Beijing, Chengdu, Xian, Chongqing and Taiyuan are available in this station. For the railway station is not large, every day only one pair of trains to/from Beijing are available here. There is respectively one train to and from Chengdu, Xian and Chongqing stops over here.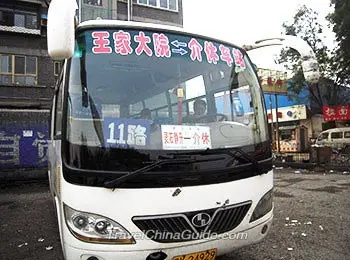 Long-Distance Bus
Outside the station, there are battery cars available for you to get to the Old City. It charges about CNY 1~3 per person per time.
Inquiries number of the railway station: 0354-5673197



Pingyao Ancient Town Railway Station:
It has been put into use with the operation of Datong-Pingyao-Xian High Speed Train since July 1st, 2014. Bullet trains to/from Beijing, Taiyuan and Xian are easily accessible here. Situated between Houji Village and Liangzhao Village, it is about 5 miles (8 km) to the southwest of the Ancient Town and 6.2 miles (10 km) to the southwest of the Railway Station. Starting here, passengers can take bus line 103 to reach the Ancient Town and Railway Station.

By Long-distance Bus
Long-distance Bus Station is located not far from the southwest of the Railway Station. Buses here mainly head for Taiyuan City and nearby counties. Here is some detail information:
| | |
| --- | --- |
| Bus to | Leaving time |
| Taiyuan | From 06:40~18:30 every day with an interval of 20 minutes |
| Yuci | 09:00, 10:00, 13:00, 14:30 |
| Jiexiu | From 08:00~18:00 every day with an interval of 30 minutes |
Tips: In the square in front of Railway Station, there are also buses to and from Taiyuan.
The tourist bus between the Old City and Qiao's Compound is available near north gate of the Old City.