Pingyao Travel Guide
Pingyao County is 58.4 miles (94 km) southwest of Taiyuan. With an area of 486.5 square miles (1,260 sq km), it has five towns and nine villages under its prefecture. This small county was not noted for charming natural scenery but some magnificent residences in ancient traditional styles.

As the birthplace of the Jin Businessmen (one of the two famous business groups during the Ming (1368-1644) and Qing (1644-1911) dynasties), it played quite an important role in the economic development of Shanxi during that period. The first Chinese exchange shop was opened there. Then, for the next hundred years, the city was home to almost all of the large exchange shops in the country. To a certain degree, the city was to China during the eighteenth century what Wall Street is to the US.

It is no longer economically prosperous, but the grand Pingyao Old City, completely constructed a thousand years ago, is well kept. It was listed in the World Cultural Heritage in 1997, together with the Zhenguo Temple and Shuanglin Temple in the vicinity. Wandering along the Ancient Ming and Qing Street and rows of residences inside the old town, you can experience its former glory.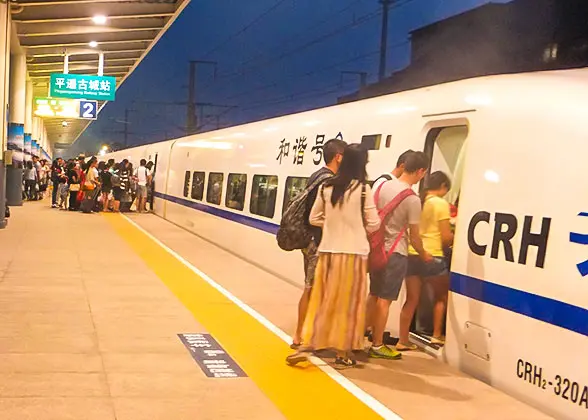 There is no airport for this town. Its closest airport is Taiyuan Wusu International Airport. Trains and long-distance buses are the main vehicles for arriving Pingyao. Those who want to use trains can find ordinary trains from Beijing, Taiyuan, Chengdu, Chongqing, Xian, and Lanzhou as well as bullet trains from Beijing, Taiyuan, Xian, and Yuncheng. Long-distance buses are also convenient.
-
Flour-made food is the main and common local food. Different kinds of noodles and snacks are served in the old town. Among the local snacks, Wantuo and Kao Laolao enjoy high reputations. In addition, beef and yam are famed, which can be tasted in almost all restaurants here.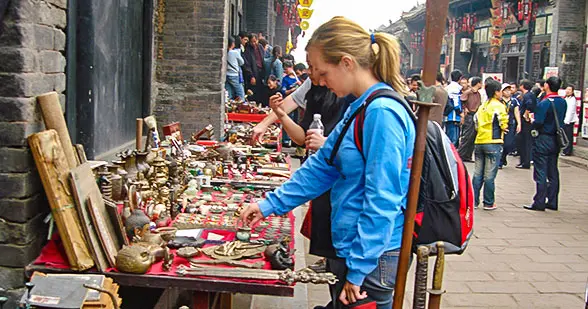 As an ancient trade center, local shopping is convenient all the time. In the old city, some small but distinctive stores are scattered, where travelers can buy exquisite souvenirs. Cured beef, polished lacquer ware, and hand-made shoes are popular. Department stores and supermarkets are built out of the Old City and visitors can go there for picking up some daily necessities.
Antique Hotels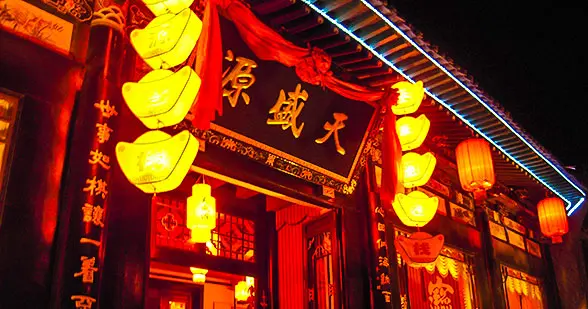 Local hotels are unique. Many of them are delicately constructed and decorated in a Ming and Qing style, comfortable and easy for visitors to appreciate the authentic flavor of old times. Yide Hotel is highly recommended when staying in this ancient city. It is situated in a quiet little alley just a few minutes' walk from South Street (Nan Dajie), the main street of the Ancient City. It is a beautifully renovated courtyard house built in 1736 by a wealthy merchant during the reign of Emperor Qianlong. Besides, Yunjincheng Folk Hotel and Tian Yuan Kui Guesthouse are also good choices.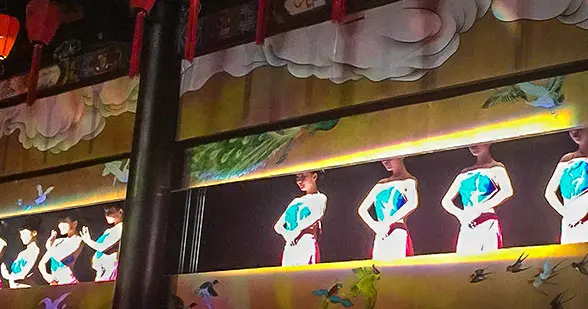 Local folk performances, acting in ancient style, are attractive and they offer you good chances to know the local history and culture. Keeping an original life style, nightlife is not vibrant as that in large cities, but there are still a few bars in the old town.
Travel Tips
Basic Facts:
Area: 486.5 sq miles (1,260 sq kilometers)
Population: 490,000
Area Code: 0354
Zip Code: 031100
Useful Numbers:
Fire: 119
Police: 110
Ambulance: 120
Tourism Ticket Complaints: 0354-5690000
Price Complaint: 12358
Customer Complaint: 12315
Passenger Transport Complaints: 0354-5670270
Book Store
Xinhua Book Store
Address: No.145, Shuncheng Road
Hospital
People's Hospital
Address: No.61, Shuguang Road
Post Office
Old City Branch:
Address: No.5, West Avenue

The County Branch:
Address: No.6, Shuguang Road