Taiyuan Transportation

Air
Taiyuan Wusu International Airport is one of the most important airports in Shanxi Province. Nowadays, 20 airlines operate 81 domestic air routes to some major cities including Beijing, Tianjin, Shanghai, Chengdu and Xian. The airport also has 13 international flights, connecting the city with Frankfurt, Paris, London, New York and San Francisco with a stopover in Beijing, and Singapore, Kuala Lumpur and Pulau Pinang with a stopover at Guangzhou.

Train
The city is a major stop along Datong-Pingyao-Xian High Speed Railway, Taiyuan-Jiaozhou, and Shijiazhuang-Taiyuan Railways. Taiyuan Railway Station and South Railway Station are two main passenger transport stations in this city.

Trains in Taiyuan Railway Station can take passengers to almost all major cities in China, such as Beijing, Datong, Shanghai, Nanjing, Wuhan and Guangzhou. It is located at No. 2, South Jianshe Road, Xiaodian District. One can take public bus no. 901, 901 Branch and 902 to get to the station.

As a large rail transport hub in northern China, South Railway Station is located at Xiaodian District. Trains in this station are mainly high speed types that bound for Beijing, Xian, Pingyao, Shijiazhuang, Zhengzhou and Wuhan. Public buses no. 51, 501, 502, 807, 824, 849, 861 and 868 can take you to the station.
| | |
| --- | --- |
| Taiyuan Railway Station | Bullet Train to Taiyuan |

Long-distance Bus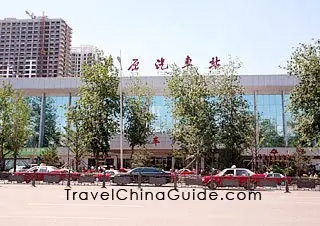 Long-distance Bus Station
There are lots of highways that link this city with neighboring and far-away cities and provinces. So this city has consummate long-distance bus transportation system and five main bus stations, taking passengers to big cities and hot tourist destinations in China.


City Bus
Taking public buses is a popular and convenient means of transport, with 230 bus lines covering most part of this city. Wuyi Square, Railway Station, and Coach Station are main bus transfer stations.



Bus Categories
Public buses in this city are identified by numbers and generally classified into the following nine categories:
1. Downtown Regular Lines: 1 – 99
2. Trolleybus Lines: 101 – 199
3. Suburban Lines: 201 – 399
4. Mini Bus Lines: 401 – 450
5. Village Lines: 451 – 499
6. Night Lines: 501 – 599
7. Tongye Company Bus Lines: 601 – 699
8. Tonghang Company Bus Lines: 801 – 899
9. Inter-city Bus & Inter-county Bus Line: 701 – 799



Ticket Price
The ticket price varies depending on the category of different bus lines. Downtown regular lines charge CNY 1 per person. Suburban Lines, inter-city bus & inter-county bus line charge CNY 2, CNY 2.5, CNY 3, and CNY 4 according to the distance. Using transportation card can enjoy half price.



Buses to Popular Destinations
1. Public buses No. 308 or 804 in front of the Railway Station are heading for the Jinci Temple. The ticket fare is CNY 2.5.
2. Public buses No.55, 820, 843 or 873 can take tourists to Twin Pagoda Temple.
3. Tourists can take bus no. 10 or 25 to get to Liu Xiang Shopping Street.
| | |
| --- | --- |
| Bus Stop and Bus | Taxi |

Taxi
So far, the city has approximately 8,300 taxis. Most of them are in red and easy to be figured out. The service rate is cheaper than in some big cities. In the daytime, the price is CNY 8 for the first 1.9 miles (3 kilometers), and CNY 1.1 for every succeeding kilometer. At night from 21:00 to 05:00 the next morning, the fare is CNY 8.6 for the first 1.9 miles (3 kilometers), and CNY 1.3 for every succeeding kilometer. Additionally, CNY 1.1 (CNY 1.3 in night) will be added for every five minutes of stop time and CNY1 fuel surcharge will be paid per journey.
Distance & Reference Fare from Wuyi Square (City Center):
Destination
Distance
(KM)
Reference Fare
(CNY)
Night Time
(CNY)
Airport
15
20-25
25-30
Jinci Temple
25
30-35
35-40
Chongshan Monastery
3
8
8.6

Note: one kilometer is about 0.6 mile.