Taiyuan Transportation

Getting There



By Air
Built in 1939, Taiyuan Wusu Airport is one of the most important airports in Shanxi Province. Direct flights are available here to some major cities including Beijing, Tianjin, Shanghai, Chengdu, Guilin, Nanjing, Shenyang and Xian. Taiyuan has opened to five international air lines since July, 2005 with flights connecting the city with Frankfurt, Paris, London, New York and San Francisco with all of these flights making a stopover in Beijing. Flights linking the city with Singapore, Kuala Lumpur and Pulau Pinang now are available through Guangzhou New Baiyun Airport.
The Wusu Airport has been under an expansion program since March, 2006 and is due to be finished at the end of 2007. The new airport will become an international airport and will serve the Beijing Olympic Games in 2008 as a supplementary airport to Beijing Capital International Airport.

By Train
Taiyuan is the starting point of Taiyuan-Jiaozhou line and the terminus of the Beijing-Taiyuan and Shijiazhuang-Taiyuan lines. Trains from here link large cities such as Beijing, Shanghai, Tianjin, Guangzhou, Xian, Chengdu and Baotou.
Taiyuan Railway Station is located to the east of Yingze Avenue and you can get there via bus No. 1, 5 and 21. The ticket office is situated at the south of railway station.

The South Railway Station is located on Jinyang Street of Xiaodian District. As one of the largest stations along Shijiazhuang-Taiyuan and Datong-Pingyao-Xian high speed railway lines, it mainly operates high speed trais to/from Beijing, Shijiazhuang, Pingyao, Xian, Wuhan, and Guangzhou, etc.
| | |
| --- | --- |
| Taiyuan Railway Station | Train to Taiyuan |

Long-distance Bus
There is also an expressway operating between Taiyuan and Yuanping with this route offering convenient links to Wutai Mountain. The long-distance bus station at the Yingze Dajie provides tourist buses to Wutai Mountain with the bus fare being about CNY 43. There are also buses to Overhanging Temple in Hunyuan County and the Yingxian County Wooden Pagoda is also available from here. Outside the Dianli Dasha there are buses heading for Datong City directly, taking about five hours at a cost of CNY 70. Furthermore, expressways linking the city with Gujiao and Wenshui are also available.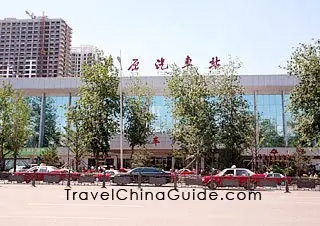 Long-distance Bus Station
There are coaches heading for Datong from Taiyuan Railway Station at a cost of about CNY 72. You can take the coach to Pingyao from Jiannan Coach Station, and from Taiyuan Coach Terminal to Datong City of Shanxi. Please be careful not confuse one with the other when taking the coach.
Taiyuan is near to Pingyao Ancient City and you can take a coach from the Coach Station on the Yingze Dajie (Yingze Avenue). The whole journey takes about two hours with a fare of CNY 20.
You can get to Wutai Mountain by coach from the Taiyuan Long-Distance Bus Station. There are coaches running to Wutai Mountain every 30 minutes from the station. The whole journey takes between four and five hours with the price of about CNY 45.

Getting Around

Public Bus
The road conditions in the city are rather good, so the transportation is convenient. There are public buses No. 308 and 804 in front of the Railway Station Square heading for the Jinci Temple. The ticket fare is CNY 1 for 308 and CNY 2 for 804.
| | |
| --- | --- |
| Bus Stop and Bus | Taxi |

Taxi
The taxi fare is CNY 7 for the first three kilometers (1.9 miles) and CNY 1 for the succeeding kilometer.
The taxi types are various from Charade to Santana and the Hongqi, and fares are the same for each model.