Hangzhou Xiaoshan International Airport

Airport Code:
HGH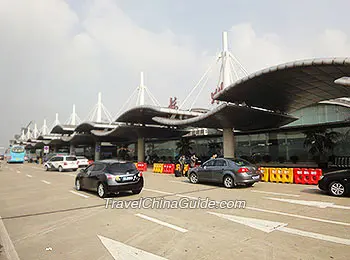 Hangzhou Xiaoshan International Airport

Location:
Hangzhou Xiaoshan International Airport is about 27 kilometers (about 16.8 miles) away from Wulin Square, center of the city, 15 kilometers (about 9 miles) to Xiaoshan District.

Brief Intro
: Xiaoshan International Airport is considered a Garden Airport due to its verdant setting and floral gardens and is one of the most important territorial airports in China. It currently attracts 193 airlines that offer flights to 94 cities and regions at home and abroad.

Hangzhou Flights
(brief introduction & flight search)

From Jan. 30, 2016, 144-Hour Visa-Free Policy is available to facilitate passport holders of 51 countries and regions when making an international transfer via Xiaoshan Airport. Passengers can enter and exit from this airport,
Nanjing Lukou Aiport
or any port in Shanghai.
Read details about
144-Hour Visa-Free Transit
.

Airline Companies
Air China (CA), China Southern Airlines (CZ), China Eastern Airlines (MU), Xiamen Airlines (MF), Hainan Airlines (HU), Shenzhen Airlines (ZH), Shanghai Airlines (FM), Shandong Airlines (SC), Sichuan Airlines (3U), United Eagle Airlines (EU), Okay Airways (BK), Eaststar Air (8C), China United Airlines (KN), China Express Air (G5), Yangtze River Express (Y8), Grand China Express (GS), Donghai Airlines (J5), Dragon Air (KA), Asiana Airlines (OZ), Japan Airlines (JL), All Nippon Airways (NH), Air Hong Kong (HX), Air Macau (NX), Airasia (D7), China Airlines (CI), Eva Air (BR), Transasia Airways (GE), Mandarin Airlines (AE)

Tips: Check-in counters of both domestic and international flights will be closed 40 minutes before departure except for Hangzhou to Amsterdam flights which will close 60 minutes prior to departure time.

Airport Terminal Buildings

Terminal A (International Terminal): It was opened to use on July 3rd, 2010. From this date on, all the international and regional flights have been moved to operate in it which is to the south of Terminal B, the former Terminal Building. There are two levels in the building-the Arrival Level and the Departure Level. Covering an area of about 96,000 square meters, the building is as large as five of the former international waiting hall of Terminal B. There are altogether 2 check-in areas with 48 Check-in Counters in it. The most attractive things in the new building are no doubt the Duty Free Stores. The prices of the famous brands are as low as the Duty Free Stores in Hong Kong.

Terminal B: All of the demostic flights to and from the airport.
There are altogether three levels in it. The first level is a parking lot that can park around 200 cars, the second level is the Arrival Hall and the third level is the Departure Hall.

Airport Transportation
For passengers to and from this airport, both shuttle buses and taxis are available. At present, there are shuttle buses to over 20 directions, including downtown Hangzhou, Xiaoshan District, Shaoxing (Keqiao), Yiwu, Jinhua, Suzhou, Qingtian, Zhuji, Hengdian, Huzhou, Xinchang, Shengzhou, Jiaxing, Haining, Yongkang, Jiaojiang, Luqiao, Wuzhen, Anji, Shangyu, Linping, Quzhou and Linhai.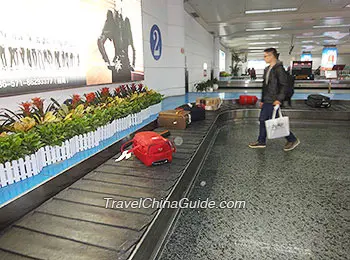 Pick up Luggage, Hangzhou Airport

Airport Services and Facilities
Baggage Claim, Baggage Carts, Baggage Packing, Storage and Lost & Found, Currency Exchange, etc.

Transit Guide (I=International Flight D=Domestic Flight)

I to I Transit
As international flights are all operated out of the Terminal A now, passengers with on-going boarding passes just need to affirm their boarding gate information on the display screen or by asking the staff, and then walk to the Departure Level and wait for your flight at the correspondent waiting area. If you don't have your next boarding pass, you need to claim your luggage and go to International Departure Level to finish the boarding procedure. All international flights are in Terminal A.

I to D Transit
Passengers with on-going boarding passes need to pass Quarantine, Customs and Security Screening before going to Terminal B Domestic Waiting Level for your next flight. If you don't have your next boarding pass, you need to do the International Arrival procedure and claim your luggage, and then go to Terminal B and finish the Domestic Departure procedure.

D to I Transit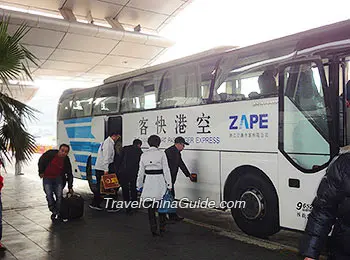 Hangzhou Airport Intercity Bus
Passengers who transfer from a domestic flight to an international one need more than 1.5 hours for transit. If you have your next flight's boarding pass, you just need to affirm your boarding gate information and then walk to the International Waiting Hall in Terminal A and wait for your flight. If you don't have a boarding pass, you need to claim your luggage and finish the International Departure procedure and wait for your flight at the correspondent waiting area in Terminal A.

D to D Transit
When transferring from one domestic flight to another, passengers with on-going boarding passes just need to disembark and walk to the corresponding waiting hall to wait for your next flight. Passengers without boarding passes need to claim their luggage and find the check-in counter and finish the procedure for Domestic Departures.

Tips:
1. Passengers can ask the ground service staff for help when need to transit flights.
2. For passengers that need to wait overnight for a transit, you can wait in the hotels around the airport. Most of the hotels have free shuttle service to and from the airport.