Tsim Sha Tsui
↵

The Avenue of Stars has been closed for renovation since Oct. 8, 2015. It's estimated that the renovation works will be finished by the end of 2018. Therefore, visitors won't be able to go there for sight-seeing during the renovation period.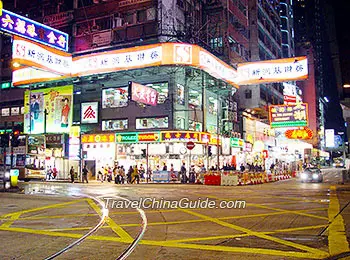 Nathan Road, leading road of Tsim Sha Tsui
Known as 'the paradise of shoppers', Hong Kong is famous for its fast developing economy. Visiting this modern metropolis, you could feel its vibrancy and have a good understanding of the local culture. In Hong Kong, there are many prosperous areas, and among them, Tsim Sha Tsui, located in the south of Kowloon Peninsula, is one of the most famous.
As one sentence describes, it is a concentration of stores, shopping malls, restaurants and office buildings. Whenever you walk in the street, you will be confronted by heavy traffic and the crowd of citizens and visitors. But everything is very orderly.
Nathan Road is the leading road of Tsim Sha Tsui area. Meanwhile, other streets radiate from there. Many international brands are grouped in those streets. Especially, the Park Lane Shopper's Boulevard which is intended for shopping, and young people like to roam there to buy some fashionable clothes. For those visitors who like to buy cosmetics, going to the cosmetic stores in Granville Road and Harbor City will bring them more surprise.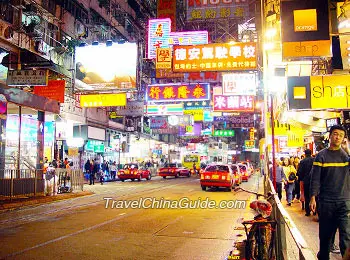 Nathan Road
Also you can have a full vision of the
Victoria Bay
in this area, and the recommended attractions are the Avenue of Stars and Tsim Sha Tsui Beach. The Avenue of Stars was designed according to the one built in American Hollywood. The list of honored stars of Hong Long was inlaid into the surface of avenue. The beach seems more charming in the evening. Varied neon lights mingle together to make the night become another colorful world.
Additionally, the Hong Kong Museum of Art, the Hong Kong Space Museum and the Cultural Center lie here. All those things make Tsim Sha Tsui be an area of entertainment, shopping and education. So the visitors to go to Hong Kong should not miss visiting here.
Catering: Steamed dumplings, steamed stuffed buns, cakes, soup, seafood dishes, etc.
How to get there: Hong Kong MTR can lead to the area directly, or take the Star Ferry to the destination. And the traffic in Hong Kong is quite convenient, so you can reach your destination very easily.

→Avenue of Stars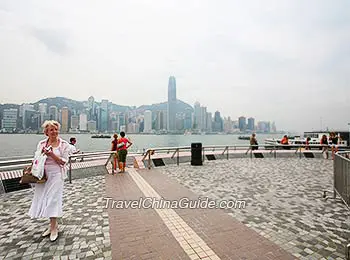 Avenue of Stars, Kowloon
The Avenue of Stars, located in Tsim Sha Tsui East, Kowloon, was built to showcase local movie industry, its history, movie stars and those working behind-the-scenes. It is a waterfront promenade, 440 meters (481 yards) long, extending from the Hong Kong Museum of Art to the New World Centre. Completed in April of 2004 at a cost of HK$40,000,000, its architecture was modeled after the Avenue of Stars of Hollywood, USA.
There are 73 movie celebrities' tablets inlaid on the surface of the avenue. 30 celebrities also left their handprints on their tablets, including Jackie Chan, Jet Lee, and Andy Lau. Standing on the avenue is a 3-meter bronze statue of Kung Fu Star Bruce Lee. Hong Kong was the starting point of his movie career. He left here for Hollywood and made several very famous Kung Fu movies enjoyed by audiences around the world.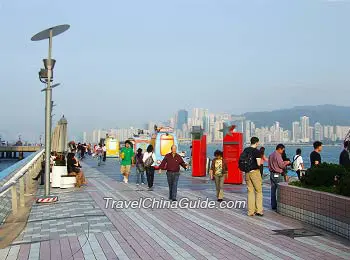 Avenue of Stars
At the entrance to the avenue stands a bronze simulation of an Oscar statue and a small stage for performances. Walking along the avenue, visitors can find many snack shops, souvenir booths, some statues relating to movies and benches to sit and rest. There are roaming "Star Ambassadors" on roller skates, offering assistance when needed.
Promenading on the avenue, there are great views of the famous Victoria Harbour. At night, it is a good place to watch the performance of 'A Symphony of Lights'.
How to get there:
1. Take the subway and get off at Tsim Sha Tsui East Station. Go out of the station from Exit E.
2. Take the ferryboat to your destination at the Star Ferry Pier.