Hong Kong Disneyland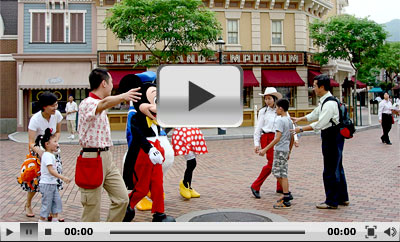 As the newest Disneyland in the world, it is a must-see because of its special attractions and the inimitable sense of Chinese culture. Walking into it, you feel you are in a wonderland. Accompanied by Mickey Mouse and other Disney friends, you start a fantastic and magical journey. With unique scenic spots and Disney Theme Hotels, you can go escape from the real world, and make your dreams come true. The availability of delicious Chinese and Asian food is also a lure for many visitors and Disney fans.
The first theme park you might come across is 'Main Street, U.S.A.'. Entering Main Street, you will be amazed by the delicate buildings, dim gas lamp and Paddy Wagon passing by. Antique taxicabs, Railroad and the City Hall transports you back to America of the early 20th century. There are Chinese elements here too. Plaza Inn, the first Chinese restaurant in Main Street, complete with 19th Century Chinese table service. With the image of cartoon heroine Mulan everywhere, you come to the conclusion that Mulan is really at home now. Market House Bakery and Main Street Corner Cafe are also good places for you to enjoy. Lingering in Emporium and Main Street Mercantile, having a look in The Curiosity Shop and Silhouette Shop, you will surely find timeless treasures.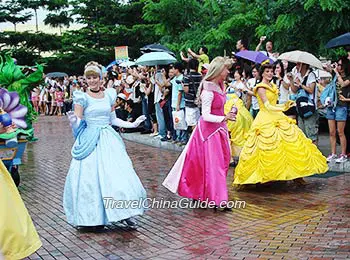 Hong Kong Disneyland
If you feel courageous, try Adventureland. Guided by a brave captain, Jungle River Cruise will take you into the heart of hidden regions. Hippos, cobras, elephants, orangutans and startling jungle events are waiting for you. As an attraction originally conceived by Walt Disney fifty years ago, it has been given an entirely new appearance with exciting 21st century Disney magic especially for the one in Hong Kong! Festival of the Lion King will keep your eyes glued on the show. Adapted from Disney's animated classic 'The Lion King', this colorful pageant of music and dance is just like a classic music drama because of its consummate performers, costumes and exotic scenery. This is a show that will appeal to all ages. Traveling by raft in the Rivers of Adventure, you land at your destination: Tarzan Island. Exploring Tarzan Island and visiting Tarzan's Treehouse reminds you of the story of this human child raised by gorillas. After your travel to Tarzan Island, follow the rhythm of jungle drums to find the secret of Liki Tikis. Once you are in the circle, the refreshing blasts of water will surprise even the hardiest explorer. Tahitian Terrace Restaurant and River View Cafe here will make you feel satisfied to dine in the jungle. You can even buy a jungle leaf in Professor Porter's Trading Post as a keepsake.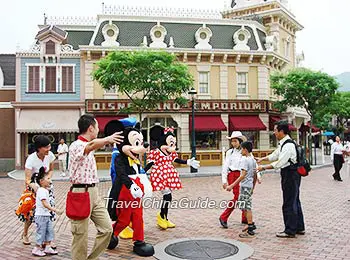 Have you ever been touched by Cinderella's extraordinary story and Winnie the Pooh's adventures in the forest? Have you ever wanted to be a princess such as Snow White or Sleeping Beauty? Do you still remember the little Flying Elephant and Alice in Wonderland? Don't hesitate to come into Fantasyland. Cinderella Carrousel, The Many Adventures of Winnie the Pooh, Sword in the Stone, Mad Hatter Tea Cups, Sleeping Beauty Castle, Dumbo the Flying Elephant and Snow White Grotto to make all your storybook dreams come true. You can also join Mickey Mouse, Donald Duck and many other friends at a dizzying 3-D attraction in Mickey's PhilharMagic. Wearing special glasses, you can lie on the magic carpet with Aladdin and smell the flavor of Donald Duck soup. Watch carefully and don't forget you are a part of the program; otherwise you might be sprinkled by the soup! The most fantastic place must be The Golden Mickeys at Disney's Storybook Theater. Adapting all the Disney classics into a 25-minute musical drama, mixing acrobatics and special effects, this will make you stop blinking. In the theater, Tarzan swings quickly on the rigging, just like the fan on the ceiling. When The Little Mermaid Ariel appears, the whole theater is submerged by bubbles descending from the ceiling; you really feel that you are at sea. Mulan practicing martial arts and traditional flag dances show the combination of eastern and western culture.
Leave the fairytale wonderland perfectly contented; you can step into Tomorrowland. Screaming in Space Mountain, you will have no time to appreciate the sparkling stars because of the exciting roller coaster. In Buzz Lightyear Astro Blasters, you can fly in your space capsule and fight against the aliens with your space gun. If you are weary of the breathtaking attractions, Orbitron is a good choice for you to fly above Tomorrowland and take a rest. After space traveling, take a break at Starliner Diner and Comet Cafe to enjoy some 'earth' cuisine that you can not taste in outer space. Also, Space Traders and Star Command Suppliers will gives you a chance to do some space shopping. Don't forget to watch the Grand Parade and Firework Play after a whole day's play!
When night falls, you crash out at a choice of Disney Theme Hotels all with unparalleled accommodation. Whether you are at the Victorian style Disneyland Hotel or being a big star in Disney Hollywood Hotel, the magic of Disneyland can never stop!
Come to the resort, you can find the golden past and the glorious future!

Park Opening Hours:
10:00 to 21:00 (weekends)
10:30 to 21:00 (weekdays)
The firework Show: 20:00 at the Sleeping Beauty Castle
Flights of Fantasy Parade: 15:30 (weekdays); 13:00, 16:00 (weekends)
Thinker Bell Castle Illumination: 19:30



Park Tickets:
| | | |
| --- | --- | --- |
| Ticket Types | One-Day Ticket | Two-Day Ticket |
| General (aged 12-64) | HK$ 499 | HK$ 680 |
| Child (aged 3-11) | HK$ 355 | HK$ 480 |
| Senior (aged 65 or above) | HK$ 100 | HK$ 170 |
Notes:
Children under 3 are free.
Two-Day Tickets are valid on any two days within one 7-day period, except designated days.
The price of Standard Day Ticket and Designated Day Ticket are the same. Designated ticket is date stamped and valid only on that specified date. Standard Day Ticket is valid on all days within validity period except designated days.
Ways to purchase the tickets
1. Book online through the official website of the resort.
2. Purchase the tickets on the day of visit at the Main Entrance, Ticket Booths or Guest Relations Windows, opening daily from one hour before the park opens.
3. Purchase tickets at the Ticket Express located at the MTR Hong Kong Station (Tung Chung Line Concourse). Opening hour: 09:00-21:00 on Monday to Friday, 09:00-17:00 on weekends and public holidays.
4. Hotel guests of Hong Kong Disneyland Hotel or Disney's Hollywood Hotel can has ticket reserved at front desk during visit.
More ways to get One Day tickets
1. Purchase tickets at all Circle K outlets in city.
2. Purchase Ticket at The Magic of Disneyland at Terminal 2 of HK International Airport. Open daily from 09:00 to 21:00.

Transportation:
Located on Lantau Island near the airport, there are easy accesses to the resort. Yon can take Disney Resort Line, car, taxi, public bus or coach.
By Disney Resort MTR Line: Travel by MTR network and change for Disney Resort Line at Sunny Bay Station. It takes about 23 minutes from HK International Airport, 30 minutes from MTR Kowloon Station and 33 minutes from MTR Hong Kong Station. The MTR line operates from Sunny Bay from 06:15 - 00:45, from the Resort Station from 06:20 - 00:40. The frequency is about 4-10 minutes.
By Bus: Bus R11 (to North Point) and R22 (to Yau Tong) operate daily 15 - 45 minutes after the fireworks display in the evening, Bus R33 (to Tuen Mun Railway Station) and R42 (to Tai Wai Railway Station) operate 20 minutes after the fireworks display. In Sundays and public holidays, Bus R33 and R42 run from Tuen Mun and Tai Wai to the Resort Public Transportation Interchange at 09:00, 09:20 and 09:45. Visitors can also take any 'A' or 'E' bus routes to Lantau Link Toll Plaza and change with route R8, which runs every 10-25 minutes from 06:00-00:05 to the site.
By Cross-boundary Bus: There is shuttle coach service from Huanggang to the resort from Monday to Friday & public holidays.
By Taxi: Three types of taxis are available to get there, Urban Taxi (red), New Territories Taxi (green) and Lantau Taxi (blue). Blue one is the cheapest but only operates in all areas in Lantau Island. Red one can operate in almost all over Hong Kong, but the most expensive. Approximate taxi fares from some urban areas to the resort are listed here for reference:
| | | | | | | | |
| --- | --- | --- | --- | --- | --- | --- | --- |
| To/From | Fare | To/From | Fare | To/From | Fare | To/From | Fare |
| Central | HK$ 230 | Wan Chai | HK$ 220 | Causeway Bay | HK$ 230 | North Point | HK$ 235 |
| Aberdeen | HK$ 260 | Stanley | HK$ 285 | Repulse Bay | HK$ 265 | Hung Hom | HK$ 170 |
| Tsim Sha Tsui | HK$ 175 | Jordan | HK$ 165 | Yau Ma Tei | HK$ 175 | Mong Kok | HK$ 180 |
| Kowloon Bay | HK$ 200 | Wong Tai Sin | HK$ 160 | Sha Tin Town | HK$195 | Tsing Yi | HK$ 115-125 |
| Tsuen Wan | HK$ 135-145 | Tuen Mun Town | HK$ 170-180 | Lok Ma Chau | HK$ 225-235 | Sunny Bay | HK$ 20-25 |
| Tai O | HK$ 205 | Mui Wo | HK$ 175 | Ngong Ping | HK$ 195 | HKIA | HK$ 100-110 |