Reservation Center
1-800-315-3949
(USA&Canada)
1-800-665-977 (AU)
0-808-189-1339 (UK)
800-840-9555
(Mainland China)
Tel:(+86) 29 8523 6688-555
China Flights
TravelChinaGuide - leading China tour operator, offers both real time flight schedule and ticket booking service with favored discount and quick response.
China Domestic Flights

Hong Kong & Macau Flights

International Flights
to/from China
Top Deals

Loading...

What's On
Read More

Guangzhou Local Low-cost Airline to Start Business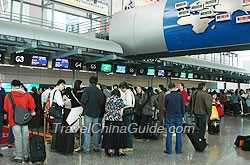 Guangzhou local low-cost airline, 9 Air will start business on the coming December 2nd. Its first departure will be from Guangzhou to Zhanjiang at the cheapest price of CNY 9 (excluding airport fee and jet fuel surcharge). Later, more low-priced tickets at CNY 9, CNY 99, CNY 199, and CNY 299 will be offered. It is predicted that its overall fare will be 20% - 30% lower averagely than other airlines.
9 Air is the first low-cost airline in southern and central China. At the beginning of operation, it will mainly operate domestic routes. Afterward, routes to southeast and northeast Asia will be operated.
In addition, the company will adopt accumulative flight delay insurance. Passengers holding the insurance will get compensation when a plane delays, which will be CNY 100, CNY 200, CNY 400, and CNY 500 for delay of 2 hours, 3 hours, 4 hours and 5 hours respectively.

Kunming - Taiyuan - Datong Flight to be Opened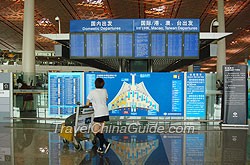 Lucky Air will start operating Kunming - Taiyuan - Datong flight since the coming December 2nd. Flight 8L9863 is scheduled to leave Kunming Changshui International Airport at 09:50 every Tuesday, Thursday, and Saturday, arrive at Taiyuan Wusu International Airport at 12:40, depart from Taiyuan at 13:40 and reach Datong Yungang Airport at 14:20; 8L9864 is planned to depart from Datong at 15:00 the same arrival day, arrive in Taiyuan at 15:45 and leave at 16:30, and finally return back to Kunming at 19:20.