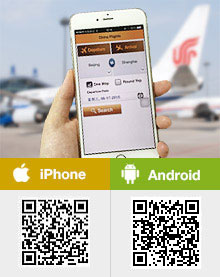 Top Deals

Loading...
What's On

Jinan-Kunming-New Delhi Flight Will Be Opened
Shandong Airlines declares that since November 13th, 2015 it will open a route from Jinan, Shandong Province to New Delhi, with a layover in Kunming, Yunnan Province. The route is served by Boeing 737-800 on every Monday and Friday. The plane departs from Jinan at 06:30 and arrives in New Delhi at 16:30 with a stop in Kunming from 09:50 to 11:30; it leaves New Delhi at 17:30, gets to Kunming at 22:00, takes off at 22:55 and arrives in Jinan at 01:50 next day.

Beidaihe Airport to Be Opened
On November 5th, 2015, the airport in Beidaihe, a famous summer resort in Qinhuangdao City of Hebei Province, will be put into test run. After the commissioning, Beidaihe International Airport will be opened officially by the end of 2015. At that time, there will be 23 domestic flights running to and from Harbin, Chengdu, Haikou and other cities and seven international routes between Beidaihe and Russia, South Korea and so on.
Read More