Reservation Center
1-800-315-3949
(USA&Canada)
1-800-665-977 (AU)
0-808-189-1339 (UK)
800-840-9555
(Mainland China)
Tel:(+86) 29 8523 6688-555
China Flights
TravelChinaGuide - leading China tour operator, offers both real time flight schedule and ticket booking service with favored discount and quick response.
China Domestic Flights

Hong Kong & Macau Flights

International Flights
to/from China
Top Deals

Loading...

What's On

China's 2014/15 Winter-Spring Season Flight Schedule to be Conducted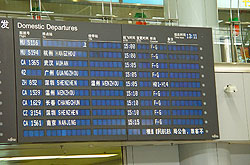 From the coming October 26
th
to March 28
th
, 2015, China civil navigation will conduct the 2014/15 winter-spring season flight timetable, when 37 domestic air routes, 2 Hong Kong air routes, 2 Taiwan air routes and 23 international air routes will be added.
According to Civil Aviation Administration of China, 35 China airlines will operate 51,771 flights per week during this season, among which 50,602 are for passenger transport, increased by 6.9% compared with the same period of last year.
The newly opened domestic air routes are mainly between small cities like Aba, Dazhou, Tongren, Yushu, Libo, Mianyang, Baise, Qianjiang, Foshan and Hami and large cities including Beijing, Guangzhou, Shanghai, Xiamen, Chongqing, Shenzhen, Lasha, and Lanzhou, etc.
The new Hong Kong, Taiwan air routes are routes of Kunming-Hong Kong-Xishuangbanna, Hong Kong-Yantai, Taichung-Hefei, and Wuhan-Tainan.
The new international air routes include those between Beijing and Osaka, Asahikawa; Shanghai and Auckland, Asahikawa; and Urumqi and Chimkent.

Hangzhou - Xian - Paris Air Route Open on September 3
rd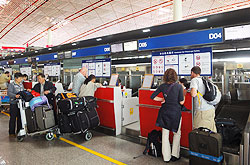 A new air route, Hangzhou - Xian - Paris, has been opened by China Hainan Airlines on September 3
rd
, which departs every Wednesday and Saturday. Flight HU7907 departs from Hangzhou Xiaoshan International Airport at 20:50, arrives at Xian Xianyang International Airport at 23:10 and leaves at 01:00 the next day, and finally arrives at Paris Charles de Gaulle Airport at 06:55. The returning HU7908 departs from Paris at 14:25 and arrives in Xian at 06:45 the next day; the plane leaves Xian at 08:45 and arrives in Hangzhou at 10:50. The plane used is airbus 330-200, equipped with 36 business class seats and 186 economic class seats.