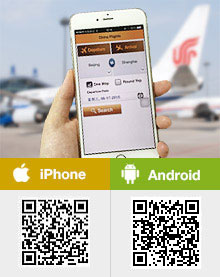 Top Deals

Loading...
What's On

Beijing-Montreal Direct Flight Opened
On September 29th, 2015, a direct air route operating between Beijing and Montreal has been be opened by Air China. With the opening of this route, Montreal became the third Canadian city that directly connects China by air, following Vancouver and Toronto. The plane takes off from Beijing at 13:00 on Tuesday, Friday and Sunday respectively and arrives in Montreal at 13:50. The plane returns from Montreal to Beijing at 16:20 and arrives at 18:00 of the next day. (Note: All time points here follow the local time.)

Fuzhou-Sydney Direct Flight Going to Be Opened
On September 17th, 2015, Xiamen Airlines announces a direct air route running between Fuzhou, Fujian Province and Sydney will be opened since November 29th, 2015. This route, served by Boeing 787, will be the first direct route that connects Fujian and Australia. The plane is due to take off from Fuzhou at 22:10 on Tuesday, Thursday and Sunday respectively and arrives in Sydney at 10:30 of the next day. The plane returns from Sydney to Fuzhou on Monday, Wednesday and Friday, departing at 12:00 and arriving at 18:20.
Read More