Reservation Center
1-800-315-3949
(USA&Canada)
1-800-665-977 (AU)
0-808-189-1339 (UK)
800-840-9555
(Mainland China)
Tel:(+86) 29 8523 6688-555
China Flights
TravelChinaGuide - leading China tour operator, offers both real time flight schedule and ticket booking service with favored discount and quick response.
China Domestic Flights

Hong Kong & Macau Flights

International Flights
to/from China
Top Deals

Loading...

What's On
Read More

Direct Flight between Kunming and Paris Opened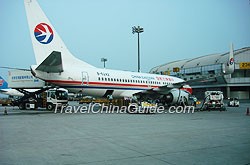 China Eastern Airlines has opened the direct air route between Kunming and Paris since December 18th. MU773 departs from Kunming Changshui International Airport at 00:05 and arrives in Paris Charles de Gaulle Airport at 05:50; MU774 leaves Paris at 11:50 and gets back to Kunming at 06:00 the next day (all time mentioned is local time). They are operated every Monday, Thursday and Saturday with duration of 12 hours 50 minutes. The aircraft used is A330-200 (A33E), equipped with 30 business class seats and 204 economic class seats.

Spring Airlines to Operate Tianjin - Jeju and Tianjin - Yancheng - Shenzhen Flights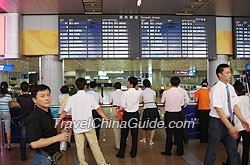 Spring Airlines, China's first low-cost airline will operate air routes between Tianjin and Jeju since December 21st, and between Tianjin and Shenzhen with a stop in Yancheng since December 25th. At the beginning of operation, the cheapest ticket fare between Tianjin and Jeju will be CNY 9, between Tianjin and Yancheng be CNY 99 and between Tianjin and Shenzhen be CNY390.
Both air routes will be in service every Monday, Wednesday, Friday, and Sunday. Tianjin - Jeju: 9C8913 departs from Tianjin at 19:30 and arrives in Jeju at 21:25, 9C8914 leaves Jeju at 13:35 and returns back to Tianjin at 16:05; Tianjin - Yancheng - Shenzhen: 9C8510 departs from Tianjin at 20:05, arrives in Yancheng at 21:30 and gets to Shenzhen at 00:55; 9C8509 departs from Shenzhen at 12:45, leaves Yancheng at 15:50, and arrives in Tianjin at 17:30.