Reservation Center
1-800-315-3949
(USA&Canada)
1-800-665-977 (AU)
0-808-189-1339 (UK)
800-840-9555
(Mainland China)
Tel:(+86) 29 8523 6688-555
China Flights
TravelChinaGuide - leading China tour operator, offers both real time flight schedule and ticket booking service with favored discount and quick response.
China Domestic Flights

Hong Kong & Macau Flights

International Flights
to/from China
Top Deals

Loading...

What's On

Direct Air Route between Harbin and Moscow Open on August 28
th
, 2014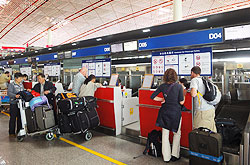 The direct air route between Harbin and Moscow has been officially opened on August 28
th
. It is the first direct air route between northeast China and Moscow as well as between Harbin and Europe.
Operated by Russia Ural Airlines with plane A320, the flight U6855/6 takes off weekly on Thursday: U6856 leaves Harbin Taiping International Airport at 09:20 and arrives at Moscow Domodedovo International Airport at 21:30 the same day; U6855 leaves Moscow Domodedovo International Airport at 22:45 and arrives at Harbin Taiping Airport at 07:45 the next day. The whole trip takes about 9 hours.

Direct Flight from Guangzhou to New York City Open on August 6, 2014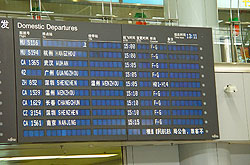 China South Airlines opened a flight from Guangzhou, China to New York, USA, which is the only directly flight between the two cities. The first flight, CZ399, departed at 02:37 from Guangzhou Baiyun Airport and landed at 17:30 (local time) at New York Kennedy Airport.
This direct air route by China South Airlines is scheduled to depart at 01:40 from Guangzhou and land at 05:45 in New York on Monday, Wednesday, Friday, and Sunday. For the return flight CZ300, it leaves at 11:15 and arrives at 15:15 in Guangzhou. The whole journey takes 16 hours, and passengers will enjoy a comfortable air trip by the most advanced Boeing 777-300ER.