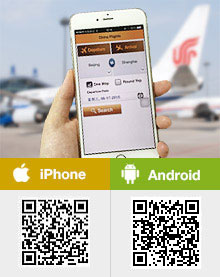 Top Deals

Loading...
What's On

Air China Opened Shenzhen-Beijing-Los Angles Flight
Air China has opened Shenzhen-Beijing-Los Angles air route since February 1, 2016. Boeing 777-300ER wide-body airliner is used to fly on this route. The plane CA983 flies daily from Shenzhen at 15:40 and arrives in Beijing at 18:45. Then it departs at 21:00 and gets to Los Angles at 17:00. The plane CA984 returns from LA at 00:40 and lands in Beijing at 05:30. After a layover of about 2.5 hours, it leaves for Shenzhen and arrives there at 11:35. (Note: All time points here follow the local time.)

Sichuan Airlines Opened Chengdu-Tokyo/Osaka/Singapore Direct Flights
Sichuan Airlines has opened a direct air route between Chengdu and Tokyo since January 18th, 2016. Besides, it plans to open direct routes between Chengdu and Osaka and Singapore recently. The former two direct routes both adopt Airbus A330. The plane leaves for Tokyo on every Monday, Wednesday, Friday and Sunday while the plane departs on Tuesday, Thursday and Saturday from Chengdu to Osaka. As for the route between Chengdu and Singapore, it will operate daily after late January 2016.
Read More