Reservation Center
1-800-315-3949
(USA&Canada)
1-800-665-977 (AU)
0-808-189-1339 (UK)
800-840-9555
(Mainland China)
Tel:(+86) 29 8523 6688-555
China Flights
TravelChinaGuide - leading China tour operator, offers both real time flight schedule and ticket booking service with favored discount and quick response.
China Domestic Flights

Hong Kong & Macau Flights

International Flights
to/from China
Top Deals

Loading...

What's On

Yiwu Open First International Flight to Hong Kong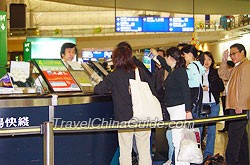 China Southern Airlines has opened air route between Yiwu, a city famous for small commodities and Hong Kong since December 19th. The route is served by Boeing 737-800 every Tuesday and Friday. CZ6045 departs from Yiwu at 18:20 and arrives in Hong Kong at 20:20; CZ6046 leaves Hong Kong at 21:20 and returns back to Yiwu at 23:10. Te duration is about 2 hours and the full ticket fare per economic class seat is CNY1,900 (excluding jet fuel surcharge, airport construction fee and tax).

Northeastern China Launched First Flight to Phuket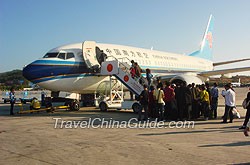 China Southern Airlines has launched the first flight between Shenyang in northern China and Phuket in Thailand on December 18th. The route is served by Airbus A320. It departs from Shenyang every Tuesday, Thursday, and Saturday at 21:40 and arrives in Phuket at 05:10 the next day; it returns from Phuket every Wednesday, Friday, and Sunday at 06:10 and arrives in Shenyang at 15:15.

Direct Flight between Kunming and Paris Opened

Spring Airlines to Operate Tianjin - Jeju and Tianjin - Yancheng - Shenzhen Flights

Read More