Reservation Center
1-800-315-3949
(USA&Canada)
1-800-665-977 (AU)
0-808-189-1339 (UK)
800-840-9555
(Mainland China)
Tel:(+86) 29 8523 6688-555
China Flights
TravelChinaGuide - leading China tour operator, offers both real time flight schedule and ticket booking service with favored discount and quick response.
China Domestic Flights

Hong Kong & Macau Flights

International Flights
to/from China
Top Deals

Loading...

What's On

Hundreds of Flights in China Delayed and Canceled Due to Air Traffic Control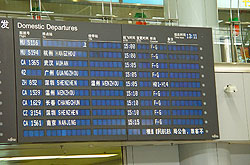 Newest update about the air traffic control in East China: an extensive disrupt to civilian airspace continues. On July 29, there will be 8 airports across eastern China being unable to accept landing flights from 2p.m. to 6p.m.; the 8 airports are Linyi, Xuzhou, Lianyungang, Huai'ai, Yancheng, Changzhou, Yangzhou, and Nantong airport. During that period, the traffic capacity of Shanghai Hongqiao and Pudong airports will drop by 75%. In the mean time, some flights to northern China from Nanchang, Ganzhou, Jiujiang, Yichun, Jinggangshan, Jingdezhen, Wuyishan, Luqiao, and Wenzhou will be delayed or canceled.
From July 20, 2014, at least one hundred flights in Shanghai have been delayed or canceled.
According the latest report, an air traffic control would be carried out from July 20 to August 15, 2014 due to frequent military exercises during this period. 12 airports in eastern and central areas will be affected, which are Shanghai Hongqiao, Shanghai Pudong, Nanjing Lukou, Hangzhou Xiaoshan, Hefei Xinqiao, Jinan Yaoqiang, Wuxi Sunan Shuofang, Ningbo Lishe, Qingdao Jiadong, Lianyungang Baitabu, Zhengzhou Xinzheng, and Wuhan Tianhe airports.
Airline companies have already made preparation for this situation and been ready to offer ticket exchange and refund services to passengers. Here we suggest:
If you are taking flights to or from the above mentioned cities during this period, confirm with the airports or airline companies for your flights. You can also download a flight APP on your mobile phone to check the status timely.
It is also necessary to prepare some food and drinking water before heading to the airport.
The air traffic control usually begins at 10am, so try to take the flights before 9am.
Reschedule your trip and use bullet trains.

Air China Introduces Discount Prepaid Excess Luggage to Flights between Beijing and North America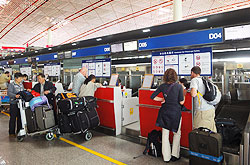 From July 17, passengers traveling by Air China can prepay for their baggage that exceeds to allowance through Air China ticket offices or the members center hotline (4006-100-666). The prepaid excess baggage fee is CNY650 per piece, which is only 50% of the normal fee that passengers pay at check-in counters. Every passenger can pre-purchase at most 2 pieces of excess luggage and the payment should be made at least 24 hours before departure. The new service only applies to flights from China to Los Angles, New York, Washington, San Francisco, Huston, Hawaii, and Vancouver.