How to Buy Train Tickets

When to Buy
Pre-sale time of China railway tickets is now 60 days prior to departure on the official website of China Railway Corporation and through phone, and 58 days prior at railway stations and other outlets. Although the pre-sale time has been extended much longer than before, it is advised to book as early as possible, especially for long-distance rides and hot routes, and during peak travel seasons like Chinese New Year and National Day holiday (Oct. 1 - 7), as they may be sold out within minutes once put on sale.



What's the Requirements
As real-name policy and identity verification are adopted, one's valid ID certificate like passport, Mainland Travel Permit for Hong Kong and Macau Residents, or Mainland Travel Permit for Taiwan Residents is required when booking, purchasing, or collecting a ticket.



Where to Buy


Online Booking Agency:
This is the most practical and convenient channel for foreign passengers who speak little Chinese. Also, there is no limitation of pre-sale time and they can make an order even months prior to departure once the travel plan is settled; the agency will handle the booking when available.
TravelChinaGuide (TCG) offers train ticket booking service in English. Our professional booking operators are always ready to solve any problems you meet during your trip. We will make sure you enjoy a secure booking and payment (TCG accepts Paypal and Western Union). After issued, tickets will be delivered to your China addresses. If you prefer to collect the tickets at railway stations by yourself, we will provide step by step instructions on how to collect and related documents to aid you. Book at TravelChinaGuide.com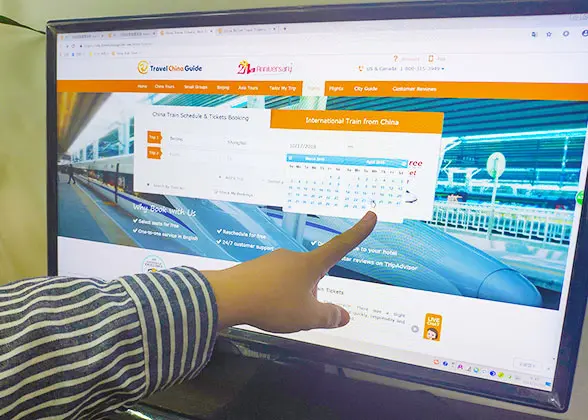 Railway Stations:
Passengers can purchase at any railway station in Mainland China at most 58 days prior to departure. One problem is that only staff in metropolises like Beijing and Shanghai may speak English while most staff behind the window speaks only Chinese; another problem is that there may be long queues in the offices, especially during peak seasons.


Transportation to Major Railway Stations


Chinese Expressions Used at Railway Stations



Note:
Most stations are equipped with automatic ticket selling machines. But please do not queue there, as the machines only recognize Chinese ID Card.



Ticket Outlets:
There are many of them in each city. However, they are only qualified to issue tickets for those holding a valid Chinese ID card. While some do not follow rules strictly and issue for foreign/Hong Kong/Macau/Taiwan passengers, we do not advise you to do so in case of being disappointed and messing up your travel plan.



12306.cn:
It is the official website of China Railway Corporation. Currently, it only has a Chinese version. To book on it, one needs to obtain a Chinese phone number to create an account. After making an order, payment should be made within 30 minutes with a Chinese bank card that supporting online payment.



Note:
The upgraded real-name policy and identity verification require the name on the booking system of 12306.cn to be exactly the same with the one on the document used for booking. However, the name column on the site does not accept spaces and symbols (hyphens) other than at most 30 English letters. Also, the name on a passport is usually surname + given name while it is more used to be given name+surname in daily lives. When foreign passengers collect their paper tickets with original document at railway stations, the conductors may reject them as their names on the documents are different from the ones (without symbols or spaces, only the first 30 letters or in an given name+surname order) in booking system. In this case, passengers can only cancel their bookings and rebook at the railway station. Another problem is that foreign passengers can book no more than 5 tickets before they do the verification, so those who plan a long trip with more than five rail rides can only buy the rest tickets after arrival in the country when some may be sold out.


Cases that Chinese Railway Tickets Can Not be Successfully Collected after Booking Online



Official Reservation Call:
The phone number is 95105105. Only Chinese prompts are provided. To book through it, one needs to obtain good Chinese listening skills. After booking successfully, one should collect the ticket within 24 hours at railway stations; otherwise the booking will be canceled. Payment is generally made by cash during collecting.
One thing to remind is that when booking a train departing from another city, one needs to add the area code of that city in front of the official phone number. For example, James is located in Beijing but wants to book a train departing from Shanghai; then the reservation call he needs to dial is 021-95105105 (021 is the area code of Shanghai).


Search for China Area Code



Useful Tips
1. The pre-sale period may be adjusted temporarily during the rush holidays or festivals, such as Chinese New Year, National Day holiday and summer vacation. To avoid disappointment, it is suggested that you book through an agency as early as possible.
2. If a passenger is unable to get on board, he or she can refund or change the ticket at any railway stations. If you lost a ticket, you can buy a replacement and have the booked seat reclaimed with your valid ID certificate. Some passengers may need to transfer to another train on the way.
3. The ticket price does not include insurance for accidents of the rail transport, so you can buy yourself transport insurance before your trip if necessary.
4. Children between 3.9 feet (1.2 m) and 4.9 feet (1.5 m) need to buy child ticket while those under 3.9 feet (1.2 m) are admitted for free. Please note that children are asked to be accompanied by adults.



How to read a ticket and identify the authenticity of it?

As China railway ticket is adopting a new edition, both the old and new editions will be valid and used for boarding from June 25 to July 31, 2015. Since August 1, 2015, all tickets will be printed according to the new composition.
Passengers may get fake tickets from scalpers, (Huangniu or Piaofanzi in Chinese). The fake ones sometimes are difficult to be distinguished from the real ones. We supply samples with some facts below to help you identify the authenticity of a ticket.
| | | |
| --- | --- | --- |
| New Sample of July, 2015 (Click to enlarge) | | Magnetic Ticket (Click to enlarge) |

1. Watermark: Clear watermark of CR and 中国铁路 must be printed.
2. Feel: The authentic one should be smooth to the touch. To be opposite, some fake ones may be rough feel, the words of which are easily to rub out or not neatly.
3. Flexibility: Roll up and twist, an authentic one could resume its original shape.
4. Comparison: Please compare it with an authentic one if you already have.
5. Code: Every ticket has a set of code at the upper left (e.g. 198A001524). You could find a corresponding set of code at the lower left (e.g. A0-0152-4).
6. Anti-fake Pattern: At the lower right, there is an anti-fake two-dimensional pattern which could record train no. and date.