* Please use the above search box to find the schedules according to your specific needs and book tickets in advance through TravelChinaGuide.com!
---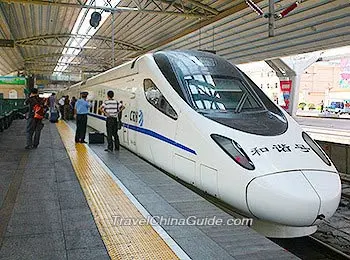 High-Speed Electric Multiple Units Train
The Beijing-Shanghai High-speed Railway, short for Jinghu High-Speed Railway, has been under construction from April, 2008. It has been put into commercial service on June 30, 2011. This rail line has a total length of 1,318km and serves over 50 pairs of bullet trains shuttle between the two cities everyday.

The High-Speed Electric Multiple Units (EMU) Train, namely the G-trains, travel between Beijing South Railway Station and Shanghai Hongqiao Railway Station, going across Beijing, Tianjin, Shanghai, Hebei, Shandong, Anhui and Jiangsu. There are 24 stops along this journey among which 5 are starting stations, including Beijing South Railway Station, Tianjin West Railway Station, Jinan West Railway Station, Nanjing South Railway Station and Shanghai Hongqiao Railway Station.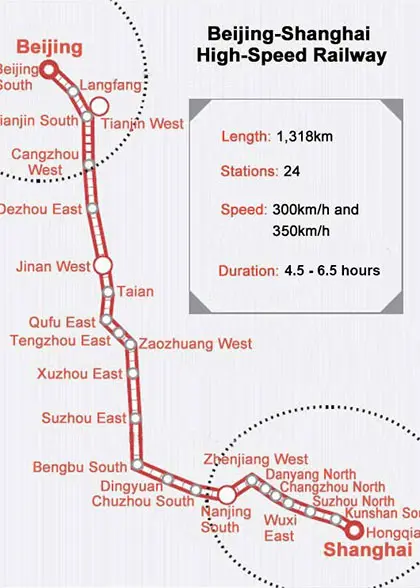 Map of Beijing-Shanghai High
Speed Railway (Click to enlarge)
The G-train was first designed for a commercial running speed of 380km/h and it was expected to finish the whole non-stop journey between Beijing and Shanghai in 3 hours 58 minutes. However, its trial run speed was slowed down to 300km/h and it would take about at least 4 hours 48 minutes to finish the whole journey.

Interior of the High-Speed Train
A G-train comprises of two VIP sightseeing-areas, a business cabin, first-class passenger cabins, second-class passenger cabins and a dining cabin. The ticket fare is CNY1,750 per sightseeing seat and business seat, CNY950 per first-class seat and CNY555 per second-class seat.

The sightseeing areas are set just behind the cockpits, which includes 5~6 deluxe seats. Through the glass window, passengers could see how the train is running under the control of the drivers. The business passenger cabin serves 24 deluxe seats, each of which is equipped with flexible reading lamp, foldable dining table, multifunction lcd tv, 3G wireless networks and etc. The seat backrest angle could also be adjusted to be 180°, which allows passenger to lie down. In the first-class cabins, 4 seats are set in a line, the slope of which could also be adjusted. The second-class seats, which are most-used, are designed to be 5 in a line.



Beijing to Shanghai

No.

Stops

G101, G105, G11, G31, G107, G109, G111, G1, G113, G115, G33, G13, G119, G121, G123, G15, G35, G125, G127, G129, G131, G135, G137, G139, G141, G3, G37, G143, G145, G147, G9, G17, G41, G149, G19, G151, G153, G155, G43, G21, G157, G159, G161
Beijing Train Schedule

Dezhou East, Jinan West, Taian, Qufu East, Bengbu South, Nanjing South, Danyang North

Shanghai to Beijing
No.

Stops

G102, G104, G106, G108, G12, G110, G32, G34, G2, G112, G36, G114, G116, G14, G118, G120, G38, G122, G16, G124, G126, G130, G132, G138, G40, G140, G142, G4, G42, G144, G146, G18, G148, G150, G20, G154, G156, G22, G158, G160, G44, G162, G164
Shanghai Train Schedule

Kunshan South, Nanjing South, Bengbu South, Xuzhou East, Tengzhou East, Jinan West, Dezhou East
| | |
| --- | --- |
| A Second-Class Passenger Cabin | A Dining Cabin |

Beijing to Hangzhou
| | |
| --- | --- |
| No. | Stops |
| G31, G33, G35, G37, G39, G41, G43 | Tianjin South, Dezhou East, Jinan West, Qufu East, Xuzhou East, Nanjing South, Wuxi East, Shanghai Hongqiao, Jiaxing South |

Hangzhou to Beijing
| | |
| --- | --- |
| No. | Stops |
| G32, G34, G36, G38, G40, G42, G44 | Yuhang, Tongxiang, Shanghai Hongqiao, Kunshan South, Changzhou North, Nanjing South, Xuzhou East, Tengzhou East, Jinan West |

Attractions of Stops along the High-Speed Rail:
| | | | |
| --- | --- | --- | --- |
| | Attractions | | Attractions |
| Beijing | Great Wall, Forbidden City, Summer Palace, Ming Tombs | Xuzhou | Guishan Han Tomb |
| Langfang | Grand Epoch City | Bengbu | Longzi Lake Scenic Area |
| Tianjin | Ancient Cultural Street, Huangyaguan Great Wall | Chuzhou | Langya Mountain Scenic Area |
| Cangzhou | Botou Mosque | Nanjing | Confucius Temple, Dr. Sun Ya-sen's Mausoleum |
| Dezhou | Tomb of the Sulu East King | Zhenjiang | Jiao Hill, Jianshan Hill Park |
| Jinan | Baotu Spring Park | Wuxi | Taihu Lake, Three Kingdom City |
| Taian | Mount Taishan | Suzhou | Classical Gardens, Tiger Hill |
| Qufu | Kong Family Mansion | Kunshan | Zhouzhuang, Jinxi Town |
| Zaozhuang | Tai'er Zhuang Battle Sites | Shanghai | The Bund, Yuyuan Garden, Xin Tian Di |

Adventures by Rail


Soul of Beijing & Shanghai: 6 Days of Beijing - Shanghai


Why not take a flight?

Beijing-Shanghai Flights