Beijing Capital International Airport

Airport Code: PEK

Brief Intro: Beijing Capital International Airport is situated in the Shunyi District of the city, about 25 km (about 15.5 miles) northeast of Tiananmen Square, and is China's busiest and most important international airport. It consists of three terminal buildings. The high standard of services and facilities has attracted 66 airlines to operate here. Currently, the airport has flight connections to some 88 domestic and 69 foreign cities.

1. From Jan. 1, 2013, passport holders of 51 countries and regions are granted a visa-free stay of up to 72 hours when taking an international transfer via Capital Airport.
Read details about 72-Hour Visa-Free Transit.
2. Since April 15, 2015, transit passengers from any country/region can stay in the airport's transit area for up to 24 hours without going through border inspections. However, both the arrival and connecting flights need to be international, either from/to a third country/region or their home country/region.



Terminal 1 of Capital Airport
Just occupying an area of 60,000 square meters, Terminal 1 has the longest history originating from January, 1980. While the larger T2 and T3 were put into use successively, T1 has been the operational base for Hainan Airlines' domestic flights. Currently, there is a convenient passage linking T1 and T2, which just takes 5 minutes on foot.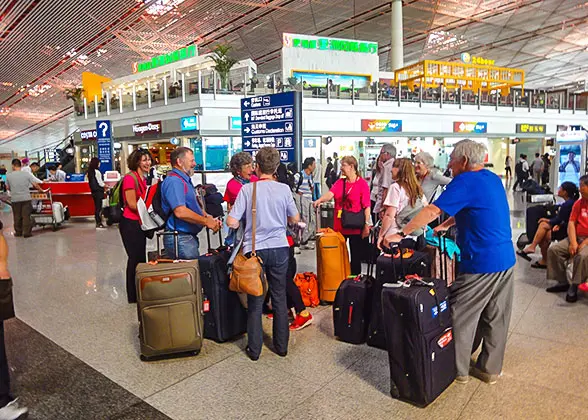 Airline Companies in T1
Beijing-Shanghai Air Express, Capital Airlines (JD), Grand China Airlines Domestic (CN), Hainan Airlines Domestic (HU), Tianjin Airlines (GS)



Terminal 2 of Capital Airport
Covering an area of 336,000 square meters, T2 was originally built on October, 1995 and put into use on November, 1999. Although it is the extension project for T1, T2 was built much larger than the previous one. Before the opening of T3, it played the vital role in the aerial transportation in China. Currently, T2 is the busiest terminal taking on the domestic airlines to and from this city although the Air China in T3 supplies frequent domestic flights. On the other hand, housing over 30 international airlines companies, this terminal is also one of the major ports for passengers to entry into and exit from China.


Airline Companies in T2


Facilities of T2


Services of T2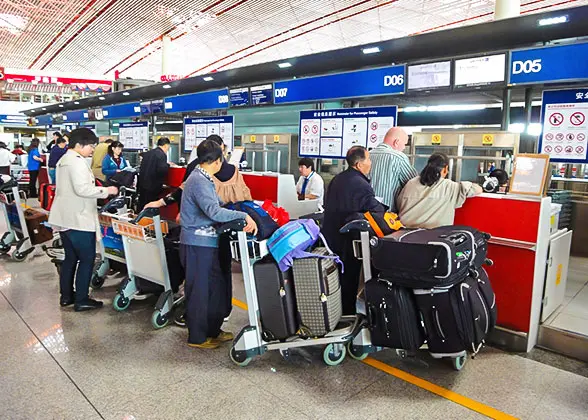 Terminal 3 of Capital Airport
T3 of Airport has been attracting much public attention since coming into use in 2008. It has a unique modernistic design and is the second largest airport terminal in the world, only after Terminal 3 of the Dubai International Airport. Some 26 national and international airlines have moved into this building that runs 2900 meters long from north to south.


Airline Companies in T3


T3 Arrival & Departure Guides


T3 Transfer Guide


Services of T3


Facilities of T3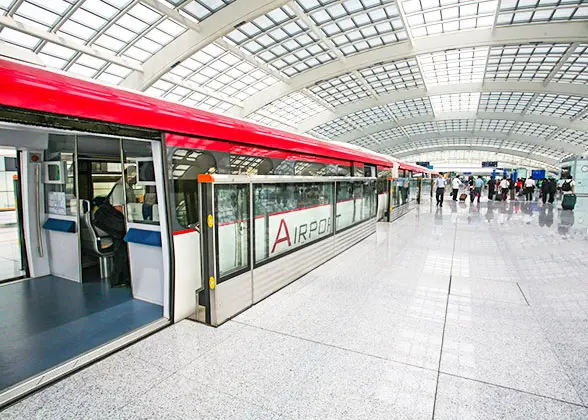 Airport Express Train

Airport Transportation

Airport Express Train
The Airport Express Line of the Subway serves the airport from Terminal 3 to Terminal 2 and then takes passengers to Dongzhimen via Sanyuanqiao. This line was opened just prior to the 2008 Summer Olympics. It carries passengers to the airport in twenty minutes from the city center, covering a distance of 28 kilometers.



Airport Shuttle Bus
Currently, there are nine different shuttle bus routes connecting the airport with various locations in the downtown area, such as Xidan, Railway Station, West Railway Station, Nanyuan Airport and others.



Airport Intercity Bus
For easing the transport to and from the nearby Tianjin City and Qinhuangdao City, five intercity bus lines have been opened between the Capital Airport and these two cities.



Cross Terminals Free Shuttle Bus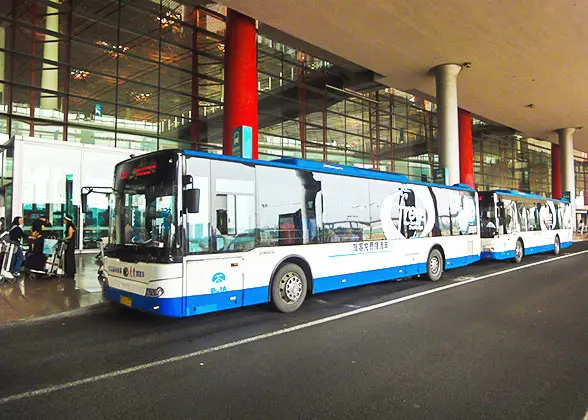 Cross Terminal Free Shuttle Bus
Every seven minutes, there is a free shuttle bus leaving from Terminal 3 for Terminal 2 and then Terminal 1, vice versa. The bus just takes 15 minutes for one-way.
Pick-up stations: T1 -- Gate3-5 on the 1st Floor; T2 -- Gate 11 on the 1st Floor; T3 -- Gate 5 on the 1st Floor
Route: Gate 5 of T3 Arrival Floor→T2 Departure Floor→T1 Departure Floor→Gate 11 of T2 Arrival Floor→Gate 5 of T1 Arrival Floor→T3 Departure Floor→Gate 5 of T3 Arrival Floor
Operating hours: every 10 minutes at 06:00~23:00; every 30 minutes at 23:00~06:00 (the next day)



Driving to the Airport
There are four expressways leading to the airport with two of them running directly from northeastern Beijing to the airport and two others connecting with nearby highways. The first expressway was opened in September 1993. The twenty-kilometer long highway runs entirely within the confines of the Beijing municipality starting from Sanyuanqiao at the 3rd Ring Road.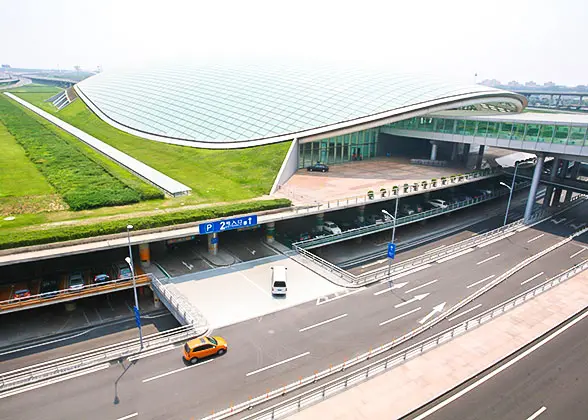 Bird's-eye view of
airport express train terminal
The second expressway opened in 2008 just in time for the Olympics. It is nearly sixteen kilometers long starting from Yaojiayuan Lu and running north to Terminal 3 of the airport. The North Airport Route completed in 2006 runs east from the Beijing-Chengde Expressway to Terminals 1 and 2, while the South Route runs from the Beijing-Chengde Expressway to the eastern 6th Ring Road at Litian Bridge. The South Route intersects with the first two expressways enabling vehicles to reach all three airport terminals. Metered taxis are available at officially designated taxi stands. Journey time to the city center is about 45-60 minutes depending on traffic conditions. Fares will generally run CNY 100-200 including any tolls.

Because of the incredible growth of passenger traffic in and out of this city, a new civilian airport for domestic flights will begin construction in 2010. Capital Airport will still act as the international hub and construction of a fourth runway to expand its capacity is being planned.

Further Reading:
Beijing New Airport
Start to be built in 2014, it will be put into use in 2018.