Apart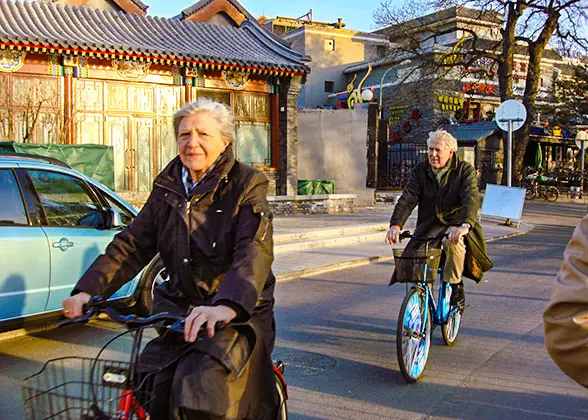 from the convenient city-bus and subway systems, the bicycle ride becomes increasingly popular in Beijing. Cycling advocates environmental protection, relieves traffic pressure and makes travels in the downtown area more efficient, especially during rush hours. More importantly, people can have an easy and free sightseeing of the city.

Currently there are more than 40,000 public bikes in Beijing. They can be easily rented at many dedicated rental sites which are intensively distributed in the urban and suburb areas. In Dongcheng, Xicheng, Chaoyang, Fengtai, Shijingshan and Fangshan Districts, one can rent a bike from 06:00 to 00:00 and return it anytime in a day. The rental service in Tongzhou District is available from 06:00 to 22:00 and one can return the bike 24 hours a day. In Pinggu, Daxing and Yizhuang Districts, the rental and return services are available around the clock.

Recommended Cycling Routes:
Bicycle riding takes you to enjoy the beautiful view of Beijing, recognize the genuine life of the locals and have a better knowledge of the profound culture of the city. It is a good idea to ride a bicycle along Chang'an Avenue. You will pass many famous attractions on the way, including Tiananmen Square, Great Hall of the People, National Museum, Chinese Grand Theatre, the Concert Hall and Military Museum. There is also much fun to cycle amongst the Hutongs which are the representative residents of old Beijing, such as Skewed Tobacco Pouch Street (Yandai Xiejie), Dashilar and South Gong and Drum Lane (Nanluogu Xiang). If your time is flexible, it is recommended to take a suburb cycling for relaxation, perhaps to Summer Palace, Botanical Garden and Fragrant Hills Park.


Beijing Bike Tours

Rental Fare:
Free for the first hour;
CNY1 for each extra hour;
The maximum daily rental fare is CNY10.


Note:
1. The price above is applied to most rental sites in downtown Beijing and it varies a little in the suburb areas.
2. Users can rent a bicycle at most for three days every time. Otherwise, CNY20 is deducted from the rental card for each extra day.

Registration of Public Bike Rental Card:

Anyone between 18 and 65 years old and over 130cm (around 4.3ft) in height is able to rent a bike. To take the service, a public bike rental card should be registered first. Registering the card actually is to activate the corresponding function of the local Transportation Smart Card (IC Card).

Due to the real-name registration system, one should fill in an application form first. For people planning to stay in the city for a long time, they should present their valid passport, residence permit and a Transportation Smart Card with the balance of no less than CNY30 and pay CNY200 guarantee deposit. For temporary comers like tourists with a short-term stay, they should present their valid passport and a Transportation Smart Card with the balance of no less than CNY30 and pay CNY400 guarantee deposit. Both of the original and copy of the passport and residence permit are needed for this registration. In addition, the guarantee deposit is refundable. When returning the card, one can get back the money.
Note: The registration conditions above apply to the urban areas as well Fangshan and Yizhuang Districts. For other suburb areas, you are suggested to consult further on the spot.

Sites for Registering Bike Rental Card:


Dongcheng District:
1. East Gate of the Temple of Heaven Station (exit A2 of Tiantan Dongmen Station of subway line 5): 09:00 – 11:30, 13:30 – 16:30 on workdays & 10:00 – 11:30, 13:30 – 16:00 on Saturdays
2. Dongzhimen Station (exit A of Dongzhimen Station of subway line 2): 09:00 – 11:30, 13:30 – 16:30 on workdays & 10:00 – 11:30, 13:30 – 16:00 on Sundays



Xicheng District:
1. Baizhifang Service Center (no. 26, South Guang'anmen Street, to the south of China Construction Bank): 09:00 – 11:30, 13:30 – 17:00 on workdays & 09:00 – 11:30, 13:30 – 16:30 on Saturdays
2. North Lishi Road Service Center (in the west of the north intersection of North Lishi Road): 09:00 – 11:30, 13:30 – 17:00 on workdays and Sundays
3. Ande Road Office (in front of the new building no. 1, at Liupukang Sanqu Community, Ande Road): 09:00 – 11:30, 13:30 – 17:00 on workdays & 09:00 – 11:30, 13:30 – 16:30 on Saturdays
4. Huayuan Street Service Center (at the intersection of Huayuan Street and Damucang Hutong): 09:00 – 11:30, 13:30 – 17:00 on workdays & 09:00 – 11:30, 13:30 – 17:00 on Saturdays
5. South Maliandao Street Office (near the building no. 1, Honglian Zhongli Community, South Maliandao Street): 09:00 – 11:30, 13:30 – 17:00 on workdays & 09:00 – 11:30, 13:30 – 16:30 on Sundays
6. Hufang Road Office (opposite of the Workers' Club Cinema on Hufang Road): 09:00 – 11:30, 13:30 – 17:00 on workdays & 09:00 – 11:30, 13:30 – 16:30 on Saturdays



Chaoyang District:
1. Chaoyangmen Station (around 55yd (50m) from the east of exit A of Chaoyangmen Station of subway line 1 and line 6): 09:00 – 12:00, 13:30 – 18:00 on workdays & 09:00 – 11:30, 13:00 – 17:00 on Saturdays
2. Jinsong Station (in the south of exit A of Jinsong Station of subway line 10): 09:00 – 12:00, 13:00 – 18:00 on workdays
3. Maizidian Station (about 875yd (800m) eastwards from North Nongzhanguan Road; in the north of exit A of Agricultural Exhibition Center Station of subway line 10): 09:00 – 12:00, 13:00 – 18:00 on workdays



Fengtai District:
1. Liujiayao Station (around 109yd (100m) southwards from exit D of Liujiayao Station of subway line 5): 09:00 – 11:30, 13:30 – 17:00 from Monday to Saturday
2. Dong'an Street Office (in the north of the east intersection of Dong'anjie Toutiao): 09:00 – 11:30, 13:30 – 17:00 from Monday to Saturday
3. Jiaomen West Office (around 55yd (50m) southwards from exit F of Jiaomen West Station of subway line 4 and line 10): 09:00 – 11:30, 13:30 – 17:00 from Monday to Saturday
4. South Fengtai Road Station (in the east of exit A of South Fengtai Road Station of subway line 9): 09:00 – 11:30, 13:30 – 17:00 from Sunday to Friday
5. Fangzhuang Community Service Center (in the west of the main gate of Fangzhuang Community Service Center): 09:00 – 11:30, 13:30 – 17:00



Shijingshan District:
East Gate of Shijingshan Hospital Office (close to West Cuiyuan Street): 09:00 – 11:30, 13:30 – 16:30 from Monday to Saturday



Daxing District:
The Public Bike Administration Center of Daxing (opposite the north gate of Kangnaixincheng Community, in the west of Liyuan Road): 08:00 – 17:00 on workdays



Tongzhou District:
1. South of Liyuan Subway Station (in the southwest of the intersection of Liyuan Road): 08:00 – 11:30, 13:30 – 18:00
2. North of Beiyuan Subway Station (at the intersection of Jingtang Road and West Xinhua Street): 08:00 – 11:30, 13:30 – 18:00



Shunyi District:
1. Xinxiqu Office (in the east of the south gate of Xinxiqu): 08:00 – 11:30, 13:30 – 17:00 from Tuesday to Sunday
2. Xixin Beiqu Community (in the west of the south gate of the community): 08:00 – 11:30, 13:30 – 17:00 from Tuesday to Sunday



Fangshan District:
Jiashiyuan Service Center (room no. 114 of the 1st floor, building no. 27 of Liangxiang Jiashiyuan Community): 08:30 – 11:30, 13:30 – 17:00 from Monday to Saturday



Pinggu District
Century Square of Pinggu (in the north of the square): 09:00 – 12:00, 13:00 – 17:30
The Public Bike Administration Center of Pinggu (no. 4, South Pinggu Street): 09:00-12:00, 13:00-17:30



Yizhuang District
Wanyuan Business Center (room no. 605 of the 6th floor, Wanyuan Business Center, 109yd (100m) southwards from exit B1 of Wanyuan Street Subway Station of Yizhuang Line): 09:00 – 12:00, 13:00 – 17:00