Beijing Bicycle & Rickshaw

By Bicycle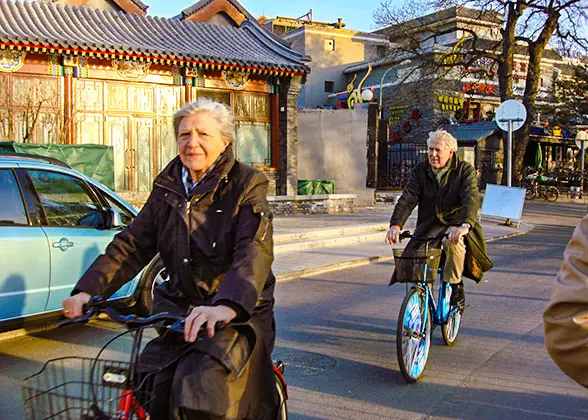 To advocate environmental protection, more and more people in Beijing are giving up driving motor vehicles and are riding bicycles instead. On June 16, 2012, public bicycle rental service was initiated in this city. 2000 bikes were put in 63 places for rent. The first hour of each bicycle is free and then CNY 1 for every hour afterward. The maximum daily rental is CNY 10. Furthermore, the users can only rent the bicycle for three days at most every time.
Another 25,000 bicycles are placed in Dongcheng, Chaoyang, Xicheng, Fengtai, Shijingshan, Tongzhou, Daxing and Yizhuang Districts for rent by the end of 2012. According to the blueprint, 1000 rental places will be built up in the city and there will be 50,000 bicycles for rent by 2015.
Currently, the bicycle rental service is only available to local citizens. In the future, tourists and non-Beijing residents who have been in this city for many years can rent bicycles by offering their original and copies of ID cards, and real-name Transportation Smart Cards with bicycle rental function.
Shichahai area is well-known with its high density of traditional Hutongs, but renting a bicycle there is more expensive. The charge is about CNY10 per hour for a regular bicycle and CNY20 per hour for a tandem bicycle. If you are of a vigorous disposition, riding a bicycle through the Hutongs or universities in Beijing is a wise choice for exploring the city thoroughly as well. You can take your time, enjoy the beautiful view on the way, and experience the real life of the locals.
Riding a bicycle along Chang'an Avenue is a good idea. You will pass by many tourist spots on the way, including
Tiananmen Square
,
Great Hall of the People
,
National Museum
,
Chinese Grand Theatre
, Beijing Concert Hall and
Military Museum
.

Beijing Bike Tours



By Rickshaw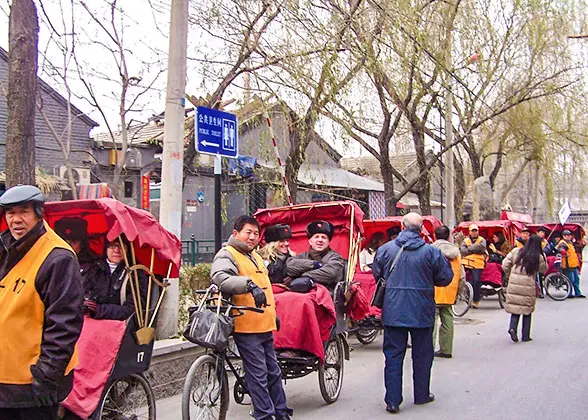 The rickshaw is a traditional vehicle that was popular in Beijing, Tianjin and Shanghai nearly a hundred years ago. Now, modern rickshaw travel is an excellent way to experience old Beijing culture and Hutongs (alleyways). There are thousands of Hutongs in Beijing. The Shichahai area is the most famous one with a high density of traditional Hutongs. It is well-known historical scenery in Xicheng District where there are dozens of Hutongs gathered in picturesque order. The rickshaws in Beijing are painted a golden yellow color. After paying an agreed fee, the rickshaw pullers will take you through the narrow lanes. Most of the rickshaw pullers can give their passengers detailed explanations on the history and culture of Hutongs, though not all can this in English. There are also professional tourist guides who can speak English, Japanese and other foreign languages.

Rickshaws are found around some communication centers and travel hotspots. Rickshaw rates are often higher than taxi rates especially during holidays for the busy traffic of automobile cars; bargain for an exact price prior to climbing aboard. Under normal conditions, the tour will take 2 and half hours with a price around CNY200 per person with a professional tourist guide.

Rickshaw Tour to Hutongs