Beijing City Bus

Routes:
Currently, there are over 800 bus routes in operation in Beijing, supplied by the buses numbered 1~998. They are mainly divided into the following categories:
Numbered 1~100—Bus routes are within the 3rd Ring Road.
101, 102, 103, 104, 105, 106, 107, 108, 109, 111, 112, 114, 115, 118 and 124—Trolleys, most of them run within the 2nd Ring Road.
Numbered 201~215—Night routes, only in operation after 23:00.
Numbered 300~810—Offering bus routes from downtown area to suburban Beijing.
Numbered 900~998—Running long distances, such as from downtown area to the Great Wall.



Operating Hours: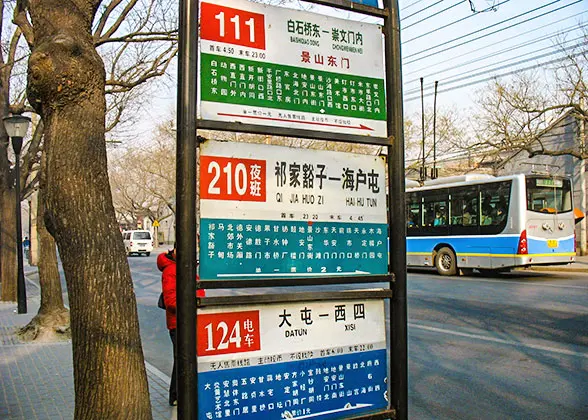 City-bus Station of Beijing
Generally speaking, the buses in downtown area are in operation from 05:30 until to 23:00. Some suburban lines may stop as early as around 18:00. The night lines of 201~215 serve from 23:00 to the next 04:30 or 05:00.

Ticket Fare
:
All buses are charged by distance. The minimum charge is CNY2 for the first 6 miles (10km), and then an extra CNY1 is added per additional 3 miles (5km). Passengers paying by
Beijing Transportation Smart Card
enjoy 50% discount when taking buses in city downtown. They can enjoy 30% discount for taking some suburban buses.
Tips:
1. If there are three gates on a bus, please embark using the middle gate and disembark from the other two gates.
2. Those pay by a smart cards have to touch the card to the reader machine when one embarks on the bus and disembarks from the bus. At least CNY1 should be kept on their smart cards for taking bus.
3. Over payment by cash into the coin machine will not be refunded.
| | |
| --- | --- |
| Embark a Self-service Bus, Beijing | A Beijing Bus with Conductor |

Dang-dang Trolley Sightseeing Bus
The sightseeing bus has a round trip, using Yongdingmen as its terminal. It has 21 stations, passing about 20 noted attractions, such as Qianmen, Tiananmen, Forbidden City, National Museum, Beihai, Jingshan Park, etc. The bus' service time is from 08:00 to 17:00 with a frequency of around 5 to 10 minutes. Bilingual (Chinese and English) tour guide on each bus is to introduce the attractions and their history. The bus fare is CNY10 per person and the local Transportation Smart Card can be used to pay.
Places to board the bus: Yongdingmen Inside – Xiannongtan – Tianqiao – Zhushikou South – Dashilar – Tiananmen (Square East) – Tiananmen (West) – Zhongshangongyuan West Gate – Forbidden City West Gate – Beihai – Forbidden City – Shatanlukou West – Beijing Obstetrics and Gynecology Hospital – Nanheyan – Tiananmen (East) – Tiananmen (Square West) – Qianmen – Dashilar – Zhushikou South – Tianqiao – Yongdingmen Inside

Further Reading:


Beijing Bus Tour: Popular bus lines to Badaling Great Wall, Tiananmen Square, Forbidden City...


Beijing Subway: There are so many public buses and private vehicles in Beijing, and thus make the city's streets so crowded. To avoid the traffic jam, the fast and convenient subway trains are good choices.