Mutianyu Great Wall
Mutianyu has established a signature wall to the west of No.14 watchtower. Another two will be set up near No. 5 and No. 10 watchtowers. Meanwhile, they consider putting up a large LED screen on top of the wall in the future, to attract people to leave their names there instead of on the Great Wall.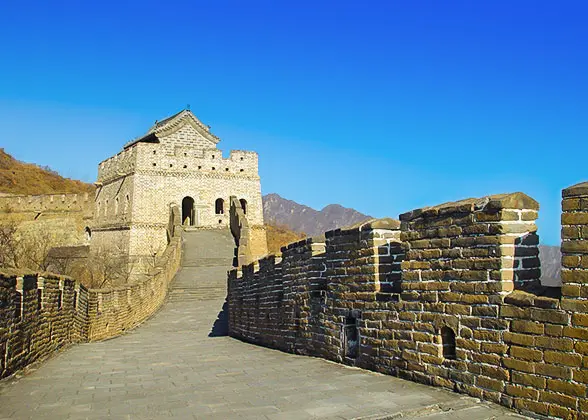 Wriggling Mutianyu in Summer
Located in Huairou County about 45 miles from
Beijing
, Mutianyu Great Wall enjoys a long history and is part of the glorious culture of China. It connects
Juyongguan Pass
in the west and
Gubeikou Great Wall
in the east. The wall was first built in Northern Qi Dynasty (550 - 557). In Ming Dynasty (1368 - 1644), Tan Lun and Qi Jiguang, two famous patriotic generals, rebuilt it in order to strengthen its defensive potential when they guarded the strategic pass. It served as the northern protective screen, guarding the capital and imperial mausoleums for generations.
Mutianyu Great Wall winds 1.4 miles through lofty mountains and high ridges, many sections of which are made of granite. The unique structure makes the wall almost indestructible. It measures 23 to 26 feet high and four to five yards wide. Both of the wall's inner and outer sides have parapets to defend against enemies coming from the two sides. Some parapets are saw- tooth shaped instead of the regular rectangular form. Below the parapets, there are square embrasures the top of which are designed in an arc structure, different from the traditional round embrasures.
There are 22 watch towers distributed at close intervals along the wall. They are located not only in the main wall but also at the distinctive 'branch cities'. Branch cities are built on the hill ridge against the inner or outer side of the wall. They measure from several yards to dozens of yards across. On the northwest over 3,281-feet hills, lies a section of the wall called 'Ox Horn Edge'. On the steep and lofty peaks, there are two walls named 'Flying Eagle Flies Facing Upward' and 'Arrow Lock'. What is more rarely seen on the southeast side is a general gateway platform guarded by three watch towers together. In locations of strategic importance, batteries are set up to reinforce the defense capabilities. Mutianyu really deserves to be the archetype of the ten thousand li Great Wall.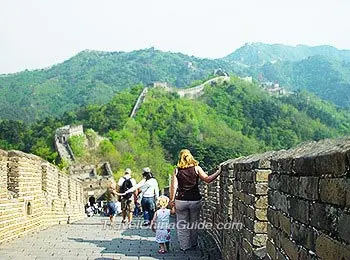 Late Autumn Scenery on the wall
Besides its strategically important location and compact layout, the Mutianyu Great Wall is also famous for the breath-takingly beautiful scenery. Woods cover over ninety-six percent of the total scenic area. The wall presents different aspects of beauty in the four seasons. Flowers bloom all over the mountains in spring.
Grasses dress the hillside green in summer. Trees are laden with sweet fruits in autumn, and especially in October, leaves are turning red or yellow, touching the mountain tops with gold. In winter, the wall is covered by snow, making it seem more magnificent. The pine trees around the wall are well-known. There are more than 20 pines over 300 years old and about 200 pines over 100 year old. Besides, spring water at the foot of the wall tastes pure and fragrant, much appreciated by visitors.
What's more, the national first-rate cable car is installed in Mutianyu. A sled named 'Speed' will give you an opportunity to experience thrills by taking you swoop down from the high mountains. China Stone City collects weird and beautiful stones, attracting more and more visitors to come and see.
Admission Fee
Adults (including children above 1.5M): CNY45;
Children (1.2-1.5M): CNY25;
Free for children below 1.2M
Cable Fee (Optional)
Adults (including children above 1.3M): CNY80 for a single trip, CNY100 for a round trip;
Children (1.2M-1.3M): CNY40 for a single trip, CNY50 for a round trip;
Free for children below 1.2M
Slideway Fee (Optional)
Adults: CNY50 for a single trip, CNY65 for a round trip (Cable car up, slideway down);
Children: CNY40 for a round trip (Cable car up, slideway down)
Opening Hours
8:00-16:00

From July 1st, 2014, a new entrance will be put into use for this scenic spot and visitors need to take a shuttle bus from the entrance to reach the foot of the Wall. The bus' duration is around 8 to 10 minutes and fare around CNY15.

| | |
| --- | --- |
| Cable Car | Slideway |
---

Transportation


By Bus
One needs to get to Dongzhimen first to find buses to Mutianyu. Buses nos. 106, 107, 123, 132, 206, 24 etc. or subway line 2, line 13 or Airport Express Train can take you to Dongzhimen.

a. The fastest way is to take bus 916快 (express) or 916, which run from Dongzhimen to Huairou Bus Station first, get off at the terminus (or Qingchun Road North End or Huairou North Street), and then hire a minivan to Mutianyu. The bus 916 (express) is recommended for its duration time is only 60 to 70 minutes. The minivan ride costs about CNY 40-50 and 20 minutes; one can also share the minivan with others to save money.

b. Visitors could also take No.867 Tourist Special Line at Dongzhimen Outer (Dongzhimenwai) to Mutianyu directly in 2.5 to 3 hours. This is a direct bus, but the duration is longer than the above way by bus 916 (express), and most importantly, please note that it is the 867 Tourist Special Line, not the common bus 867. There are only two buses a day leaving from Dongzhimen Outer at 7:00 and 8:30, and comes back at 14:00 and 16:00. And this direct bus is only available during the high season (usually from late March to November 15th). The fare for a single trip is CNY 16 by cash and CNY6.4 by using Beijing Transportation Smart Card.
Note: Bus 916(express) and 867 Tourist Special Line depart from Dongzhimen Transport Hub in Dongzhimen Outer Street, which is about 10 minutes' walk from Dongzhimen Subway Station (Exit B). Bus 916 can be found at the bus stop close to Exit B of the subway station.



Transportation from Beijing Capital International Airport:
a. Take Airport Express Train to Dongzhimen Station, get off and then take a bus according to the ways mentioned above.
b. Take Airport Shuttle Bus Line 2 and get off at Dongzhimen Station, then take a bus as indicated above.



Transportation from Beijing Railway Station:
a. Take Subway Line 2 at Xizhimen Station to Dongzhimen, and then take a bus according to the ways indicated above.
b. Take Bus No. 24 from Beijing Railway Station to Dongzhimen, get off and then go there by bus as mentioned above.



Transportation from Forbidden City:
a. From South Gate of Forbidden City (Meridian Gate):


Take Subway Line 1 at Tiananmen Square East to Jianguomen Station, get off and change to Subway Line 2 to Dongzhimen, then take a bus following the ways mentioned above.


Take Bus No. 5 at Xihuamen or Tiananmen Square East to Qianmen, change to Subway Line 2 to Dongzhimen to take bus 867 or 916.

b. From North Gate of Forbidden City (Gate of Divine Prowess):


Take bus no. 101, 109, 609 or 619 from Forbidden City bus stop to Chaoyangmen inner, get off and then walk to Chaoyangmen subway station to take subway line 2 to Dongzhimen, then get there by bus 867 or 916.



By Car
Start from Airport Expressway – Beigao Exit – Jing Shun Lu – Turn left at Kaifang Rotary – Go from the fourth exit – Drive along Bei Rotary on Ying Bin Lu – Drive along Bei Rotary on Qing Chun Lu – Mutianyu(The signs along the road will guide you to find the way)
---