Huanghuacheng Great Wall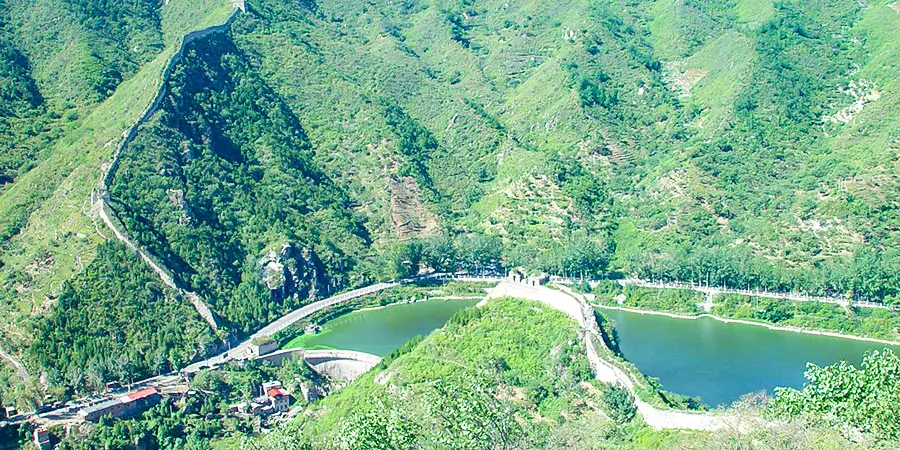 Huanghuacheng Great Wall


Photos
Although Huanghuacheng Great Wall is not as famous as sections of Badaling and Mutianyu, it still has its own charm, surrounded by clear lake and lush plants.



Why Visiting Huanghuacheng Rather Than Others?


It is the only section in Beijing that was built by a lake. The whole section is separated into three segments by water.

It represents the essence of the Great Wall built in the Ming Dynasty (1368 – 1644).

It boasts both frontier fortress scenes and graceful natural landscapes.

Climbing this section is not very difficult and is suitable for people of all ages.

43 miles (70 kilometers) away from Beijing city proper, it is very convenient to get there.



Basic Facts of Huanghuacheng Great Wall

When summer comes, the entire village under the Huanghuacheng Lakeside Great Wall is immersed in a sea of yellow wild flowers ('yellow flower' is 'huanghua' in Chinese). Consequently, this village got the name Huanghuacheng (Huanghua City in English), and hence the name of this section.

The construction work started in 1404, two years earlier than Beijing being made the capital of the Ming Dynasty, and ended in 1592, lasting for 188 years.

Hugging steep mountains, it was regarded as the north gate of Beijing, defending the northern frontier.

This section was mainly made of large flagstones, solid enough to resist heavy attacks from enemies.

Embracing the clear Haoming Lake, this section measures 7.7 miles (12.4 kilometers) in length and a small part of it has been submerged under the water.

A reservoir dam was built on the site of Xishuiyuguan Pass, near the entrance to the scenic area. The former pass was destroyed by floods.

Like other sections, it was not under the water in the beginning. After the construction of the dam, more water was stored in Haoming Lake, leading to a rising of water level. Therefore, the low-lying segments are submerged, presenting a special scene of the wall.

There is a lush chestnut garden at the mountain foot. It was planted by soldiers of the Ming Dynasty, who were assigned there to stand guard.

Admission Fee
CNY 45 for adults and children over 3.9 feet (1.2 meters).
Free for children less than 3.9 feet in height.
Opening Hours
April to October
Weekdays: 8:30 – 17:00
Weekends, May 1 to 7, and October 1 to 7: 8:00 – 18:00
November to March
8:30 – 16:30

How to Tour Huanghuacheng Great Wall?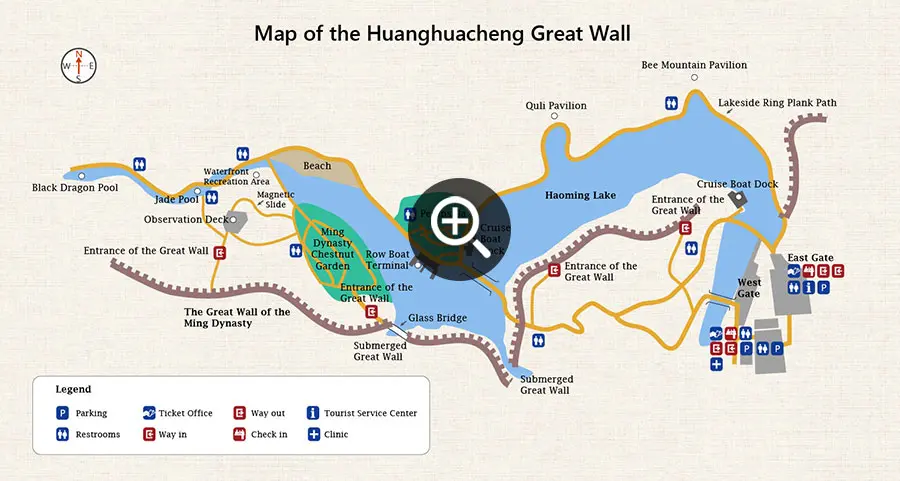 Huanghuacheng Great Wall Map (Click to enlarge)

There is a plank road on the hillside facing the scenic area. You can view this section by wandering along the road. The visiting will be more comfortable than that of other sections, with lush trees and clear lake by your side.

Half way down the plank road, you will find a small island leaning the hill. Located in the center of the scenic area, it is the best place to view this section. There is a wharf. You can cruise on the lake to appreciate the amazing scene from a different perspective.
Yacht
CNY 25 / per person / one-way
CNY 40 / per person / round-way
Sightseeing Boat
CNY 20 / per person / one-way
CNY 35 / per person / round-way
Pedalo
CNY 50 / h (for four people)
CNY 60 / h (for five people)
Rowing Boat
CNY 40 / h (for four people)
Amphibious Car
CNY 60 / per person/ once
(CNY 40 between June 10 to October 31

Climbing this section is not very tired, for it is not too long and stairs are not very steep. However, it has long been unrenovated, so be careful.

There is an ancient tower named Dongliushi Tower on the top of the hill, to the east of the dam. It is the highest point, providing a bird's-eye-view of the whole scenic area.

When is the Best Time to Visit?
The best time to visit this section is from April to October. The weather is very comfortable in April, May, September, and October. With lush plants and clear lake, it is also a perfect leisure resort to go in summer.



How to Get to Huanghuacheng Great Wall from Downtown Beijing?
You can take special sightseeing bus or public bus to the scenic area. Both start from Dongzhimen and you need to take subway line 2 or line 13 to get there first.

By Special Sightseeing Bus:
It is available on weekends and holidays during peak travel season (April to October). You need to buy a combo ticket for Huanghuacheng Great Wall and round-trip bus rides first at Dongzhimen Public Transit Hub, and then get onboard. Ticket fare is CNY 80 and the bus departs around 08:00 to 09:00.

By Bus:
Take bus no.916 or 916 Express at Dongzhimen to Huairou Bus Station, and then get on the bus H21 to the Small West Lake (Lakeside Great Wall) Station. Walk north to the scenic area.
Bus No. 916
Bus No. 916 Express
Bus H21
Fare
CNY 12
CNY 12
CNY 6
Operating Time
From Dongzhimen:6:00 – 21:00
To Dongzhimen:4:55 – 19:00
From Dongzhimen: 5:50 – 19:50
To Dongzhimen: 4:50 – 20:00
5:35 – 18:20

Where to Eat?

There is a grill zone in the scenic area. You can take food and ingredients and have a picnic there. Or you can buy food inside. Price there is fair.
| | |
| --- | --- |
| Site Fee | CNY 5 / per person |
| Oven (including coals) | CNY 150 / once |

You can also have a meal in the local villagers' houses near the scenic area. Most of them also provide accommodation.

Further Reading
Hiking from Huanghuacheng to Xishuiyu
Wild Great Walls in Beijing