Huanghuacheng Great Wall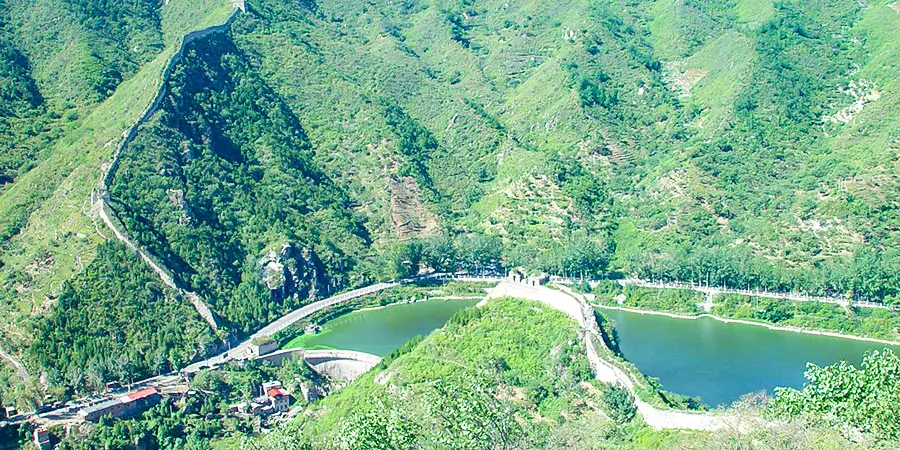 Huanghuacheng Great Wall


Photos
Maybe you have been to the
Badaling
and
Juyongguan Pass
, but the Huanghuacheng Great Wall is also well worth visiting. It was built in the Ming Dynasty (1368-1644), located at Jiuduhe Town, Huairou District, 40.39 miles (65 kilometers) from
Beijing City
. This section of the Wall at about 6.7 miles (10,800 meters) long is a resort with mountains, lakes and the ancient wall.
When summer comes, the entire village under the wall is immersed in a sea of yellow wild flowers ('Yellow flower' is 'huanghua' in Chinese). Consequently, this village got the name Huanghuacheng, and this section is called Huanghuacheng Great Wall.
On a cliff by the wall are two big Chinese characters 'jin tang' which means being very firm and strong. In fact, there is a legend about the origin of these characters. In the Ming Dynasty, the Emperor ordered a general named Cai Kai to build the wall here. But it took many years to accomplish the construction. So the emperor became very angry while at the same time some traitorous ministers scolded that Cai Kai had spent too much money in building it. As a result, Cai Kai was beheaded. Later, the emperor asked ministers to check the construction. They found that the it was strongly fortified. The emperor realized that he had treated Cai Kai unjustly. Then he ordered craftsman to carve these two Chinese characters. So the wall is also called the Jintang Great Wall; the lake under it is called Jintang Lake.
Going to Huanghuacheng Great Wall, you have four things to do at least. First, you should take photos. Since the lake breaks this section into three segments naturally, its uniqueness might surprise you.
And the Huanghuacheng Reservoir lies here, shaped like a curved moon. Second, go to visit the chestnut garden under the wall, dating back to the Ming Dynasty. The ancient chestnut trees still grow very well. Third, climb up the steepest section, Shibadeng. It is like a dragon, ready to fly into the blue sky. Fourth, look at Yaoziyu Castle. It was built in the Ming Dynasty, still well-preserved. In the castle, there is an ancient Chinese scholar tree. It is said that touching it could bring you a blessing.
Admission Fee:
CNY 45
Opening Hours:
08:00-17:00 (on weekdays)
07:30-17:30 (at weekends and Chinese Golden Week)

Transportation
a. Take Bus No.916 at Dongzhimen and get off at Huairou Dishui (Huairou Local Tax Bureau) (The air-conditioned Bus No.916 costs about CNY11, and the regular bus costs CNY 6), go forward about 50 meters (55 yards) and take the bus which runs between Huairou and Shuichangcheng (Xishuiyu) (the bus ticket costs CNY 3).
b. Take the special route bus "Changping - Jiuduhe" at Changping Long-distance bus station or at the crossing of Changling Lu in Changping District, and get off at Jiuduhe gas station (the bus ticket costs CNY 5), and take the bus which runs between Huairou and Shuichangcheng (Xishuiyu) and get off at the terminal station.
c. Take tourist special bus lines operated on Saturday, Monday and legal holidays.
Where to take
Dongzhimen Transportation Hub
In the northeast corner of Xuanwumen Crossroads
(Exit B1 or B2 of Xuanwumen Subway Station)
Where to buy the ticket
At the information desk of the Dongzhimen Transportation Hub Hall
At the entrance of the South Catholic Church
Bus Schedule
08:00 - 09:00
07:30 - 08:30
Fee
CNY 80 (including the bus fare and entrance ticket)
unknown

Dining & Places to Stay

Xishuiyu Folk Village
Chinese name: 西水峪民俗村 (Xī Shuǐ Yù Mín Sú Cūn)
Located in Jiuduhe Town near Huanghuacheng, Xishuiyu Folk Village is an ideal place to experience the authentic "peasant life". A large number of farmhouses in the village provide visitors with good food and accommodation.
How to get there:
By bus: Take bus No.916 at Dongzhimen and get off at Huairou conference center, and pick up the blue mini bus "Huairou - Xishuiyu" and you will find it.
By car: Take Jingchang (Beijing - Changping) Expressway – Exit from Xiguan Exit – Changling Mausoleum – Heishanzhai – Jiudu River – Huanghua Town – Huanghuacheng Great Wall – Xishuiyu Village. The signs along the road will guide you to find the way.

Jintang Mountain Villa
Chinese Name: 金汤山庄 (Jīn Tāng Shān Zhuāng)
Location: By Jintang Lake, at the foot of Huanghuacheng Great Wall; one hour's drive to Beijing
Dining: village food and local snacks
Accommodation: 66 sets of three-star standard rooms; big parking lot; large, medium and small sized conference rooms.
Entertainment: bonfire, Chesses & Cards, Karaoke, billiards, badminton, boating, fishing and picking

Further Reading:
Hiking from Huanghuacheng to Xishuiyu