Badaling Great Wall
The Great Wall is a symbol of Chinese civilization, a landmark of China's landscapes, a wonder created by Chinese people, and a must for worldwide tourists. Among the various sections, Badaling Great Wall is the representative and definitely worth a visit.



Why visiting Badaling rather than others?

It is the most popular section among all.

It is the best-preserved and most completed section.

Compared with other sections, most stairs are not very steep and equipped with handrails, so it is relatively easier for a climbing.

This section has been equipped with cable car and pulley to save energy, and even some accessible facilities for seniors and the disabled to conquer it.

It is closer to Beijing downtown, about 43 miles (70 kilometers) away, and easy to be reached by public transport.



Basic Facts of Badaling Great Wall

Most parts of the preserved Badaling Great Wall were built and reinforced during the Ming Dynasty (1368 - 1644 AD) to defend Beijing against the intrusion of northern Mongolian.

The total length of this section is 7.5 miles (12 kilometers) with 43 watchtowers on. But only 2.3 miles (3.74 kilometers) and 19 watchtowers have been restored and opened to visitors.

The wall of this section is about 26 feet (7.8 meters) in height averagely, and 20 feet (6 meters) in width, which would allow five horses to gallop and ten soldiers to march abreast.

It is built of huge bar-stones and bricks. The interior of the wall was stuffed by rammed earth and small stones, enable the wall to be firm and solid enough.

A number of small holes have been drilled on the wall to allow shooting arrows and watching enemies.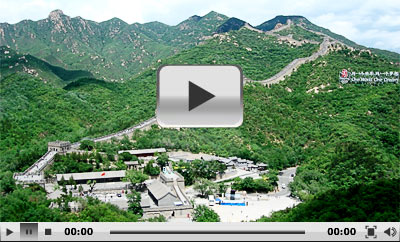 The watchtowers were built to accommodate soldiers, send messages, observe the enemy, and store supplies. It also has shooting and observing holes.

It witnessed many significant events in history: Yuan Taizu, the first emperor of Yuan Dynasty (1271-1368 AD) conquered it, took control over Beijing, then the whole China, and began the Yuan Dynasty; Empress Dowager Cixi of the Qing Dynasty (1644 - 1911 AD) fled from there to western China in 1900 when an alliance of eight western countries controlled Beijing.

It has drawn tens of millions of tourists both from home and abroad. More than 370 foreign leaders and celebrities have visited it, including former US president Nixon, Reagan, Carter, and Gorge Bush, Queen Elizabeth II of UK, former South Africa president Mandela.

| | |
| --- | --- |
| Admission Fee: | Apr. 1 to Oct.31: CNY 45;Nov.1 to Mar.31: CNY 40 |
| Opening Hours: | Apr. 1 to Oct.31: 06:30-19:00; Nov.1 to Mar.31: 07:00-18:00 |

How to tour Badaling Great Wall?
The scenic site is divided into north section and south section.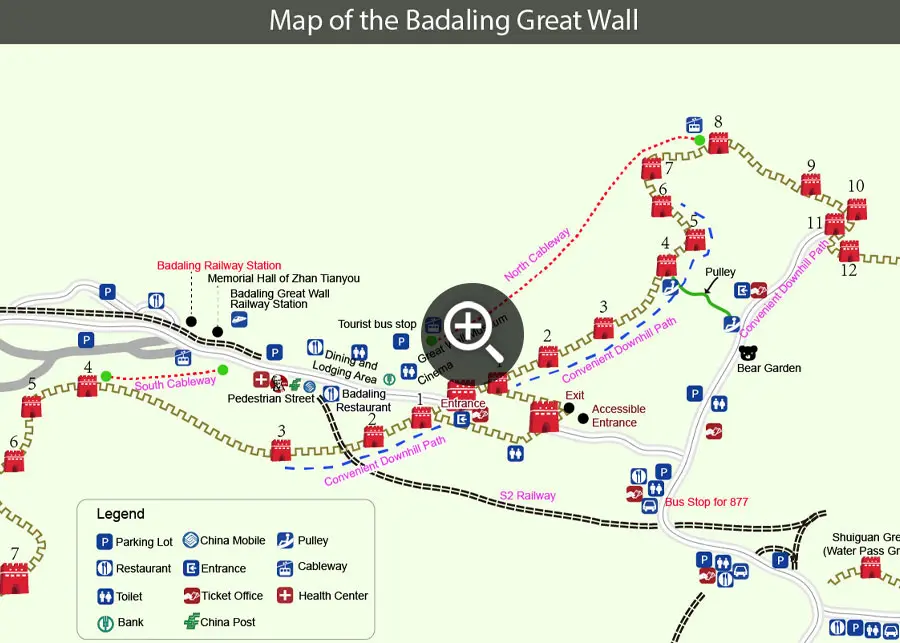 Badaling Great Wall Map (Click to enlarge it)

North Section:


It has twelve watchtowers.

The Wall winding up and down the mountain ridges, offering more magnificent scenery, but requiring more energy to climb.

The stone stele engraved with "He who has never been to the Great Wall is not a true man" is along this section, close to No. 8 North Tower; it is also the highest point of the whole Badaling section, offering a better bird-eye view.

Both cable car and pulley are available. Cable cars run between back mountain and No.8 North Tower, suitable for all visitors. Pulleys are more exciting yet challenging than sealed cable cars. Seniors and little kids are not recommended to use it. Its lower station is next to the Bear Garden at front mountain and upper station is close to No.4 North Tower.
| | |
| --- | --- |
| Cable Car | CNY 80 (single trip); CNY 100 (round trip) |
| Pulley | CNY 30 (single trip); CNY 60 (round trip) |

After reaching the furthest No.12 North Tower, it is unnecessary to go back for exiting; there is an energy-saving way leading down to the exit by Bear Garden. It generally takes about 3 hours to complete this visit on foot. But upon descending via the convenient way, another ticket will be required to climb the south section.

Between No. 6 North Tower and the exit, there is also a convenient path for descending.

South Section:


It has seven watchtowers.

The slopes are gentle and less energy-consuming.

Compared with the north section, there are fewer visitors here and one can have fun at a more leisurely pace.

Only cable car is available, running between back mountain and No.4 South Tower. Ticket fare is also CNY 80 for a single trip and CNY 100 for round trip.

After arriving at the furthest No.7 South Tower, one needs to go back to No.3 South Tower for a quick exit. This visit takes about 2 hours on foot. If visitors want to cover the north section, they can go back to the starting point and then climb forward; in the case, no extra ticket will be required.
| | |
| --- | --- |
| Cable Cars | Pulleys |

When is the best time for a visit?
The best time is April, May, September, and October, when it is neither too cold nor too hot, and the surrounding natural scenery is amazing. Usually from middle October to late October, the Great Wall is decorated by red leaves; while in the other time, it is surrounded by luxury green plants. However, you should avoid May Day holiday (May1st -3rd) and National Day holiday (October 1st-7th), when the site will be squeezed with tourists.



How to get to Badaling Great Wall from downtown Beijing?
There are two kinds of public transport: bus and train.

By Bus: 877, 919
Both of them depart from Deshengmen, about 10 minutes walking from Jishuitan subway station (Exit A) of line 2.



877: It runs to the scenic area directly without any stop. Duration is about an hour and ticket fare is CNY 12. The drop-off site is close to pulley car lower station and about 10 minutes' walking to the entrance. Please note that the last departure is at 12:30.
Operating Time:
From Deshemngmen: April 1st-November 15th: 06:00-12:30; November 16th-March 31st: 06:30-12:30
To Deshengmen: April 1st-November 15th: 10:30-17:00; November 16th-March 31st: 11:00-16:30


919: It stops a lot on the way like other city buses and Badaling Great Wall is an intermediate station. A single ride to the scenic spot takes about 1.5 hours and ticket fare is CNY 12. The drop-off site is close to cable car lower station and also 10 minutes' walking from entrance. It is available both in the morning and in the afternoon.
Operating time:
From Deshengmen: 05:45-19:00
To Deshengmen: 05:00-18:30
| | |
| --- | --- |
| Deshengmen Bus Stop | Bus 919 |

Tips:


On the way from Jishuitan subway station to Deshengmen or around Deshengmen, there are many fake buses 877, which look similar with the official ones. The ticket sellers even wear "uniform". Please ignore them without hesitation. We suggest visitors taking the official ones at the parking lots.

If it is the official buses, usually there are many passengers in a long line or two long lines waiting for boarding; no one is trying to convince you to get on the bus; the official buses are equipped with a card reader, passengers can either pay by cash or transportation card.

There may be a guide on bus 877 who sells tickets of the scenic spot. The tickets are usually combo type and you are not advised to buy any. Regular tickets are available at the scenic site and buy what you really need upon arrival.

If using Transportation Smart Card, the ticket fare will be 50% off.



By Train: S2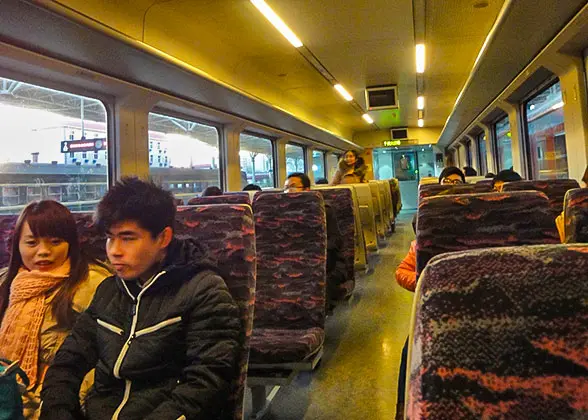 S2 Train to Badaling
The trains depart from Beijing North Railway Station, just by the Xizhimen subway station of line 2, line 4, and line 13. One should get off at Badaling Railway Station; the entrance to the scenic area is fifteen to twenty minutes' walking away. Just follow the passenger flow or direction boards and one will get there easily. A single rail ride takes about an hour and ticket fare is CNY 6.



Tips:


The tickets cannot be booked online or bought in advance. So please get there early enough, in case there is no ticket left, especially when traveling in peak season.

Seats on the train are unnumbered. If boarding late, there may be no seats left and one may need to stand all the way to the destination.

If having a Transportation Smart Card, he/she can get onboard by swiping the card and no paper ticket will be required. If not, passengers will need to buy a paper ticket before boarding.



How to get there from Ming Tombs?
Bus 879 runs between Ming Tombs and Badaling Township with a stop at Badaling Great Wall. A single ride between the two scenic sites takes about 50 minutes and ticket fare is CNY 8.
Operating Time:
From Ming Tombs: 08:00-16:00
To Ming Tombs: 09:30-17:30



How to get there from Capital International Airport?


Take Airport Express to Dongzhimen, get off and change to subway line 2 to Jishuitan (Exit A), and then walk eastward for about 600 yards (550 meters) to Deshengmen to take Bus No. 877 or 919 to get there.

Take Airport Express to Dongzhimen, change to subway line 2 to Xizhimen, get off and walk to North Railway Station to take a S2 train to get there .



How to get there from Beijing West Railway Station?


Take subway line 9 to Baishiqiao South, change to line 6 to Chegongzhuang, and then change to line 2 to Jishuitan. Get out from Exit A and walk eastward for about 600 yards to Deshengmen to take bus 877 or 919 to get there. One can also take bus no. Te 13 from West Railway Station to Deshengmen directly.

Take subway line 9 to National Library, transfer to line 4 to Xizhimen, and then walk to North Railway Station to take a S2 train.



How to get there from Beijing South Railway Station?


Take subway line 4 to Xuanwumen, change to line 2 to Jishuitan, get out from Exit A and walk to Deshengmen to take bus 877 or 919 to reach it.

Take subway line 4 to Xizhimen, walk to the North Railway Station to take a S2 train to get there.



Where to eat?


There is no restaurant inside the scenic area. But there are some restaurants around the entrance. However, it is not advised to dine there. The food price is generally high but quality is just so-so. Before departure, prepare some food and snacks for lunch and treat you a good meal after returning to downtown.

There is a KFC not far from the entrance. Price there is more reasonable.

Prepare some bottled water, too. They are not available up in the scenic site. But do not drink too much. There are only a few toilets up there.



How about Mutianyu Great Wall Compared with Badaling?
As the best-preserved and most popular section, Badaling is full of tourists most of the time. When it is the peak travel season and holiday time, it may be extremely crowded. So to avoid the crowds and enjoy the scenery more freely, Mutianyu has been the choice of many visitors. Although not as magnificent as Badaling, it is breath-taking as well and among the top visited sections. In addition, it also has convenient transport from downtown Beijing, cable car and sideway.



Further Reading:


Badaling Great Wall Travel Review

Nearby Scenic Spots: