Jiankou Great Wall (Arrow Nock)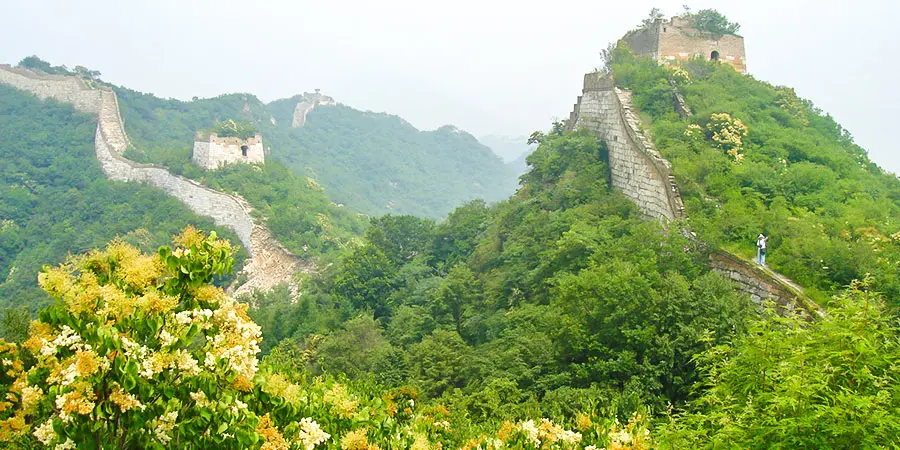 Jiankou
If you look carefully at the recent published Great Wall photographic works, you will quickly find that most of the pictures are taken from Jiankou Great Wall. Due to its unique style, steep mountains and beautiful scenery, Jiankou has become a photographic hotspot and also a hot travel destination these days. 'Jiankou', is translated as 'Arrow Nock' in English, because the shape of the mountain is like an arrow, with the collapsed ridge opening as its arrow nock.
Located in the mountain ridge of Xizhazi Village, about 19 miles (30km) to Huairou County in
Beijing
, Arrow Nock was an important section of the wall in Ming Dynasty (1368 - 1644). Owing to the need for renovation, it is regarded as one of the most dangerous sections of the Ming's wall. It connects to
Mutianyu
in the east and joins
Huanghuacheng
in the west. From east to north, the wall zigzags 9.3 miles from 'The Ox Horn Edge Wall' to 'The Nine-Eye Tower' via 'The Beijing Knot'. Compared with Mutianyu, the mountain is higher and steeper, while compared with Simatai, it is more winding and varied. It was built from the local material - dolomite. The large pieces of white rock make it striking to the eye at a distance.
There are many famous sections of Arrow Nock, such as 'The Nine-Eye Tower', an important command post during the ancient wars. It has three layers, and there are nine holes which look like nine eyes on each side. 'The Beijing Knot' is the meeting point for three walls coming from different directions. 'The Sky Stair', is a precipitous stair whose angle of elevation is 70 to 80 degrees. It leads to 'The Eagle Flies Facing Upward', a watch tower built on the lofty peaks. It is so dangerous that even eagles have to fly facing upward to reach the top. 'Zhengbei Tower' is the right place to appreciate the beauty of the sunrise and the sunset.
How to reach Jiankou from Beijing?

Bus:
a. Take Bus No.916 Express at Dongzhimen, get off at Huairou Bus Station and then change bus no. H10 to Yujiayuan Station.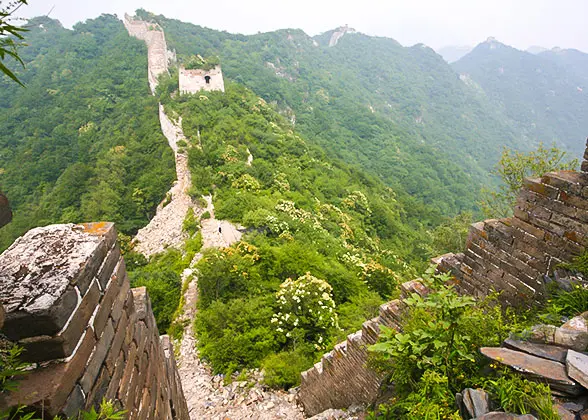 Jiankou
There you can find H25 bus to Xizhazi Village. The buses run at 11:30 and 16:30.
b. Take Bus 936 at Dongzhimen, get off at Yujiayuan Station in Huairou District. Then take bus no. H25 to Xizhazi Village.
If you fail to catch H25 bus, then you should hire a car to the village. It costs around CNY 150 for a single trip, and CNY 200 for a round-trip.

Car:
a. Dongzhimen Gate – Jingshun Lu – Huairou Kaifang Roundabout – turn left at Yanxi Fangezhuang Roundabout –Shentangyu Village – Lianhuachi Village – Arrow Nock
b. Sanyuanqiao Bridge – Jingshun Expressway – Kuliushun Roundabout – Huairou Kaifang Roundabout – turn left at Yanxi Fangezhuang Roundabout – Shentangyu Village – Lianhuachi Village – Arrow Nock
Dining & Places to Stay

Trout Channel
Chinese name: 北京虹鳟鱼一条沟 (Běijīng Hóng Zūn Yú Yi Tiáo Gōu)
Location : Lianhua Village (Lotus Village), Yanxi Town, Huairou District
Trout Channel is a clear spring where rainbow trout are raised. Along the two banks of Yanxi River, there are over 100 fishing gardens and holiday villages which can accommodate over 10,000 people. In addition, the famous Shentangyu Scenic Spot is located in the channel. The over 100 farmhouses and about 30 fishing mountain villas can receive more than 1,000 visitors at the same time.

Transportation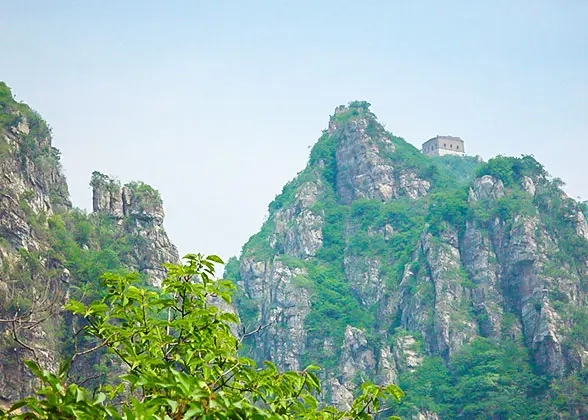 Steep Arrow Nock
Bus:
a. Take bus No.916 at Huairou Bus Station and it will arrive at Huairou Lianhuachi Village where visitors can find the trout channel
b. Take Bus No.3 at Huairou International Conference Center in the north of Huairou District. It will run to Lianhuachi Village every hour between 07:20 and 16:00. The bus ticket is about CNY 3.
Car:
a. Start from Siyuanqiao Bridge, go north by passing Huairou District, Yanxi Roundabout and Shentangyu Road, go straight and you will find the trout channel.
b. Start from Jingshun Lu, turn left when arrive at Kaifang Roundabout, go straight along Fule Roundabout, turn left at Yanxi Roundabout and go straight to find the trout channel.
c. Start from Jingcheng (Beijing to Chengde Expressway), enter Huairou County, go east along the main road until reaching Yanxi Roundabout, turn left and drive north along the mountain road, the trout channel is located within 10km (6.2 miles).



Xizhazi Village 西栅子村 (Xī Zhà Zi Cūn)
Situated at the foot of Arrow Nock, Zhazi Village is the base where visitors can stop for a rest. It is a simple and peaceful village. Most of the farmhouses in the village receive guests.



Zhao's Hostel
Chinese name: 赵氏山庄 (Zhào Shì Shān Zhuāng)
Location: Near to the parking lot of Xizhazi Village, at the foot of Arrow Nock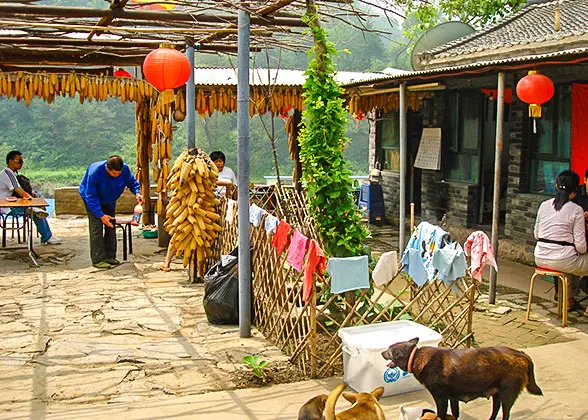 Zhao's Hostel
Zhao's Hostel is the most famous farmhouse in Xizhazi Village. It is also called "Ying You Zhi Jia" (The home of photography enthusiasts) or "Lao Zhao Jia' (Old Zhao's). Visitors can recognize it by the four big characters "影友之家" on the walls of Zhao's Hostel. The master Lao Zhao is a simple and enthusiastic peasant who has guided many visitors on climbs of Arrow Nock.
Accommodations: Twenty guests rooms to accommodate 80 people; ten standard rooms costing CNY 150 each; ten multi-share rooms costing CNY 15 each; three heated brick beds costing CNY 20 each (low season prices). Amenities in the room: TV, toilet, and 24 hour hot water.

Dining: Zhao's Hostel offers authentic "peasant dishes" including all sorts of wild vegetables, free range eggs, pan-fried green onion cakes, cornmeal dumpling with vegetable stuffing, millet gruel and all sorts of barbecue.
Entertainment: Great Wall night view, karaoke, chess, cards and Mahjong, fireworks & firecrackers, horseback riding, bonfires and mountain climbing

Transportation
Bus: Take bus No.916 at Dongzhimen Gate and get off at Nanda Street in Huairou, take a minibus which goes in the direction of Qifengcha, and get off at Badaohe, take a taxi to Xizhazi Village (about CNY 20 for the taxi fare)
Car: Take Jingcheng (Beijing – Chengde) Expressway, pass Yanxi Roundabout, Shentangyu Village, turn left at Badaohe Bridge and drive along until you reach Xizhazi Village



Huadu Farmhouse
Chinese name: 花渡农家院 (Huā Dù Nóng Jiā Yuàn)
Location: in Jiankou Eco Garden; at the foot of Arrow Nock; 88.4 km (54.9 miles) to Beijing City
Dining: village food, roasted whole sheep, baked rainbow trout and barbecue
Accommodation: Eight guest rooms to hold over 30 people at one time; 24 hours hot water supply


Warm Prompt
It is free to visit Arrow Nock. However, in a state of disrepair, the bricks, walls and steps are loose and unsteady. It is better to go in a group. Visitors should be very careful!

a. Wear durable clothes and trousers. Wear sport sunglasses and goggles.
b. Avoid the wild vegetation and broken bricks.
c. Raise special attention to the following sections: "Sky Stair" (Tian Ti), where visitors should climb on all fours; "The Eagle Flies Facing Upward" (Ying Fei Dao Yang), where a part of the wall has collapsed, so visitors should detour the wall; "Beijing Knot" (Beijing Jie) to "Wangjing Tower": the wall is on the east side and the shrubs are on the west side, with no steps between, so visitors should maintain proper intervals to avoid the rolling broken stones.
d. Be environmentally conscious. Please don't litter on the wall.



Related Tour: Arrow Nock Hiking