Beijing Capital Airport Shuttle Bus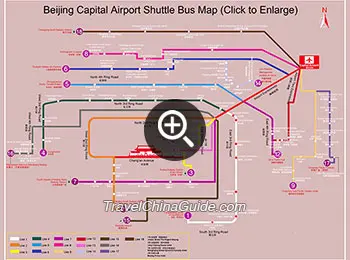 Capital Airport Shuttle Bus Map
(Click to enlarge it)
There are 14 regular airport shuttle lines operating between downtown Beijing and Capital Airport, and some other intercity lines to nearby destinations like Tianjin and Qinhuangdao. Line 3, Line 4 and Line 5 travel in both directions leave every 15 minutes, while other lines in less than 30 minutes. Passengers can buy tickets for the shuttle at the airport or some ticket offices in the downtown area.
Service Hotline for Airport Shuttle Buses: 010-64573891 / 64594376 / 64594375
Service Hotline for Intercity Buses: 010-64558718

Shuttle Bus Ticket Counters
T1 -- inside Gate 7 on the 1st Floor;
T2 -- outside Gate 9-11 on the 1st Floor
T3 – outside Gate 7 on the 1st Floor

Shuttle buses' pick-up stations:
T1 -- Gate 7 on the 1st Floor;
T2 -- Gate 13-18 on the 1st Floor;
T3 -- at the West Gate on the 1st Floor

Tips: The ticket counters for the intercity bus moved from Gate 3 (inside) to Gate 1 (inside) in T3. The shuttle bus from downtown to the Capital Airport stops at the Terminal 3, Terminal 2 and then Terminal 1 in turn.

Car Rental with Chauffeur
: offering airport p
ick-up or see-off service from $44.
| | | |
| --- | --- | --- |
| Transportation Sign | Shuttle Bus to Fangzhuang | Shuttle Bus to Xidan |
14 Shuttle Lines to Downtown
| Line 1 | Operating Hours | Stops & Ticket Price |
| --- | --- | --- |
| Capital Airport → Fangzhuang | 07:00 ~ 01:00 (The next day) | Airport → Sanyuanqiao [CNY15] → Liangmaqiao → Baijiazhuang [CNY18] → Dabeiyao (Guomao Bridge) [CNY21] → Panjiayuan → Shilihe (Jingrui Building) → Fangzhuang (Zifang Road) [CNY24] |
| Fangzhuang → Capital Airport | 05:10 ~ 21:00 | Fangzhuang (South of the East Entrance to Sports Park of Fangzhuang) [CNY24] → Dabeiyao (Southern Airlines Pearl Hotel) [CNY21] → Airport |
| Line 2 | Operating Hours | Stops & Ticket Price |
| --- | --- | --- |
| Capital Airport → Xidan | 07:00 ~ 24:00 | Airport → Yonghegong Lama Temple [CNY18] → West of Andingmen Bridge → West of Jishuitan Bridge [CNY21] → South of Xizhimen Bridge → East of Fuxingmen Bridge → Xidan (Transfer Station of subway line 1 and line 4 at Xidan Intersection) [CNY24] |
| Capital Airport → Xidan | 24:00 ~ the last domestic flight arrival | Airport → Sanyuanqiao [CNY15] → Dongzhimen → Dongsishitiao Bridge → Chaoyangmen → Yabao Lu [CNY21] → Railway Station (International Hotel)→ Xidan (Civil Aviation Building) → Fuxingmen (Bus Stop by the South Gate of Parkson) → Guanyuan Bridge (Bus Stop by the North Side Road of Guanyuan Bridge) → Jishuitan (Bus Stop by the East Side Road of Jishuitan) [CNY24] |
| Xidan → Capital Airport | 05:10 ~ 21:00 | Xidan (Civil Aviation Building) → Chegongzhuang (Exit B, Chegongzhuang Subway Station) [CNY24] → Yonghegong Lama Temple (Exit B, Yonghegong Lama Temple Subway Station) [CNY18] → Airport |
| Line 3 | Operating Hours | Stops & Ticket Price |
| --- | --- | --- |
| Capital Airport → Railway Station | 07:00 ~ 24:00 | Airport → Dongzhimen → Dongsishitiaoqiao → Chaoyangmen → Yabao Lu [CNY21] → International Hotel Beijing → Railway Station [CNY24] |
| Railway Station → Capital Airport | 05:10 ~ 21:00 | Railway Station → International Hotel [CNY24] → Dongzhimen (Newsstand, south of the road, 50 meters east of the bridge) [CNY21] →Landmark Tower (West Gate) [CNY18] → Airport |
| Line 4 | Operating Hours | Stops & Ticket Price |
| --- | --- | --- |
| Capital Airport → Gongzhufen | 06:50 ~ 01:00 (the next day) | Airport → International Exhibition Center [CNY15] → Xibahe [CNY18] → Anzhen Bridge → Madian Bridge → Beitaipingzhuang → Jimen Bridge [CNY21] → Friendship Hotel → Suzhou Bridge → Zizhu Bridge → Hangtian Bridge → Gongzhufen (Xinxing Hotel) [CNY24] |
| Gongzhufen → Capital Airport | 05:10 ~ 21:00 | Gongzhufen (Xinxing Hotel) → Friendship Hotel (Air Ticket Office at the north gate) [CNY24] → Beitaipingzhuang (50m east of the intersection) → Anzhen Stop (under the flyover east of Puppet Theater) [CNY21] → Xibahe (Pingan Jingyizhan Hotel) [CNY18] → Airport |
| Line 5 | Operating Hours | Stops & Ticket Price |
| --- | --- | --- |
| Capital Airport → Zhongguancun | 06:50 ~ 24:00 | Airport → Xiaoying [CNY18] → Asia Games Village (Anhui Bridge) [CNY21] → Xueyuan Bridge → Zhongguancun (No.4 Bridge) [CNY24] |
| Zhongguancun → Capital Airport | 05:30 ~ 21:00 | Zhongguancun (No.4 Bridge) → Beihang University (north gate) [CNY24] → Huixin West Street (Anhui Building) → Huixin East Street (Tianshui Yige Hotel) [CNY18] → Airport |
| Line 6 | Operating Hours | Stops & Ticket Price |
| --- | --- | --- |
| Capital Airport → Olympic Green Village | 08:00 ~ 21:00 | Airport → Guangshun North Street → Huguang Middle Street [CNY18] → Yuhuili → Beiyuan Lu Datun → Datun [CNY21] → Olympic Village → Best Western OL Stadium Hotel [CNY24] |
| Olympic Green Village → Capital Airport | 06:30 ~ 19:00 | Best Western OL Stadium Hotel → Geography Institute of Chinese Academy of Sciences [CNY24] → Datun → Beiyuan Lu Datun [CNY21] → Wangjing West Garden Zone 4 Gate A → West Block of Wangjing Garden [CNY18] → Airport |
| Line 7 | Operating Hours | Stops & Ticket Price |
| --- | --- | --- |
| Capital Airport → West Railway Station | 07:20 ~ 24:00 | Airport → Chaoyang Gongyuan Bridge (50 meters to the south) [CNY18] → Tonghuihe North Road (New Beijing TV Station) → Yonganli East Street (before Beijing Energy Investment Holding Co., Ltd) [CNY21] → Guangqumen (200m north of the west side of the intersection) → Ciqikou (100m north of the west side of the intersection) → Zhushikou (100m north of the east side of the intersection) → Caishikou (100m north of the west side of the intersection) → Guang'anmenwai (500m north of the west side of the Bridge) → West Railway Station (around 20m southwest of South Ticket Office No. 1) [CNY24] |
| West Railway Station → Capital Airport | 05:10 ~ 21:00 | West Railway Station (around 20m southwest of South Ticket Office No. 1) → Guang'anmen (50m south of the east side of Baiguanglu Beikou) → Ciqikou (100m south of the west side of the intersection) [CNY24] → Chaoyang Gongyuan Bridge (bus stop at the east side road, north of the Bridge) [CNY18] → Airport |
| Line 8 | Operating Hours | Stops & Ticket Price |
| --- | --- | --- |
| Capital Airport → Shangdi Information Industry Base | 08:00 ~ 21:00 | Airport → Baifang (Tiantongyuan East) → Tiantongyuan West (north gate) → Huilong Guan East Street → Huilong Guan West Street → Huilong Guan → Shangdi Information Industry Base (Holiday Inn Express) [CNY24] |
| Shangdi Information Industry Base → Capital Airport | 05:30 ~ 19:00 | Shangdi Information Industry Base (Holiday Inn Express) → Xisanqi (Xinlong Mansion) → Longze Subway Station (subway line13) → Longhuayuan (Huilong Guan West Street) → Juzhen Residence Community → Tiantongyuan West (north gate) → Baifang (Tiantongyuan East) → Airport [CNY24] |
| Line 9 | Operating Hours | Stops & Ticket Price |
| --- | --- | --- |
| Capital Airport → Tongzhou District | 07:00 ~ 24:00 | Airport → Beiguan (opposite the Qitian Park) [CNY21] → West Street (Tongzhou District Committee) → Beiyuan Crossroad → Cuiping Beili → Sunflower Hotel [CNY24] |
| Tongzhou District → Capital Airport | 05:30 ~ 19:30 | Sunflower Hotel → Cuiping Beili (west gate) → Beiyuan (to the east of the subway station) [CNY24] → Beiguan (the west gate of the Qitian Park) [CNY21] → Airport |
| Line 10 | Operating Hours | Stops & Ticket Price |
| --- | --- | --- |
| Capital Airport → South Railway Station | 09:30 ~ 21:30 every 30 minutes | Airport → Guangqumen (under Guangqumen Bridge) [CNY21] → Tumour Hospital (opposite the Tumour Hospital) → Yuting Bridge (Yuting Bridge West) → South Railway Station (north exit) [CNY24] |
| South Railway Station (north square) → Capital Airport | 07:30 ~ 19:30 every 30 minutes | South Railway Station (north square) → Airport (T2→T1→T3) [CNY24] |
| Line 11 | Operating Hours | Stops & Ticket Price |
| --- | --- | --- |
| Capital Airport → Yizhuang | Only one departs at 18:00 | Airport → Wayaohu Lake Bridge North → Xiaowuji → West Road of Yizhuang North Circle Road (Huaguan Supermarket) → Fengda International Hotel → Pullman Beijing South [CNY24] |
| Yizhuang → Capital Airport | Only one departs at 08:00 | Pullman Beijing South → Fengda International Hotel → West Road of Yizhuang North Circle Road (Huaguan Supermarket) → Airport (T2→T1→T3) [CNY24] |
| Line 12 | Operating Hours | Stops & Ticket Price |
| --- | --- | --- |
| Capital Airport → Sihui | 09:30 ~ 20:30 | Airport → Guanzhuang Road (Changying) [CNY18] → Qingnian Road (Joy City) → Balizhuangnanli (Shifoying) [CNY21] → Sihui Transportation Hub [CNY24] |
| Sihui → Capital Airport | 07:30 ~ 18:30 | Sihui Transportation Hub [CNY24] → Qingnian Road (Joy City) [CNY21] → Guanzhuang (Changying) → Airport (T2→T1→T3) [CNY18] |
| Line 13 | Operating Hours | Stops & Ticket Price |
| --- | --- | --- |
| Capital Airport → Wangfujing Jinbao Street | Only two depart at 11:00 and 13:00 | Airport → Jinbao Street (Regent Hotel) → Jinyu Hutong (Novotel Peace Hotel) → Wangfujing Avenue (Sunword Dynasty Hotel) → Wangfujingbeikou (Prime Hotel) [CNY24] |
| Wangfujing Jinbao → Capital Airport | Only two depart at 07:00 and 09:00 | Jinbao Street (Regent Hotel) → Jinyu Hutong (Novotel Peace Hotel) → Wangfujing Avenue (Sunward Dynasty Hotel) → Wangfujingbeikou (Prime Hotel) [CNY24] |
| Line 14 | Operating Hours | Stops & Ticket Price |
| --- | --- | --- |
| Capital Airport → Wangjing | 07:30 ~ 21:00 | Airport → Guangshun Bridge South → Guangshun North Street → Huguang Middle Road → Nanhu → Huajiadi → Wangjing Hospital → Wangjing New World Department Store → Chinese Civil Aviation Management Institute [RMB18] |
| Wangjing → Capital Airport | 06:00 ~ 19:30 | Chinese Civil Aviation Management Institute → Wangjingxiyuan (Gate A of District Four) → Wangjinghuayuan (West District) → Huacai Commercial Center → Airport (T2→T1→T3) [CNY18] |
to Tianjin

Departure Station
Operating Hours
Ticket Fare
Duration
Capital Airport → Tianjin
No.15 Gate, 1F of T2;
No.3 Gate, 1F of T3
07:00 ~ 10:00 hourly, 10:45 ~ 23:00 every 30 minutes or 45 minutes
CNY80
2.5 hours
Tianjin → Capital Airport
Tianjin Tianhuan Passenger Transport Station (at the junction of Hongqi Lu and Anshan Xidao)
04:00, 05:00, 06:00 ~ 18:30 every 30 minutes
CNY80
2.5 hours


Tips: For passengers from Tianjin to Capital Airport, please take the shuttle 5 hours (domestic flights) or 6 hours (international flights) prior to the flights' departure.


Long-distance Bus to Tianjin

to Tanggu, Tianjin
Departure Station
Operating Hours
Ticket Fare
Duration
Capital Airport → Tanggu, Tianjin City
No.15 Gate, 1F of T2;
No.3 Gate, 1F of T3
10:30, 13:00, 18:30, 20:30
CNY90
3 hours
Tangu, Tianjin City → Capital Airport
Tanggu Passengers Transport Center
06:00, 08:00, 14:00, 16:30
CNY90
3 hours
to Qinhuangdao, Hebei

Departure Station
Operating Hours
Ticket Fare
Duration
Capital Airport → Qinhuangdao
No.15 Gate, 1F of T2;
No.3 Gate, 1F of T3
09:00 ~ 18:00 hourly, 19:30, 21:00
CNY140
4 hours
Qinhuangdao → Capital Airport
Qinhuangdao Long-distance Bus Station (No.405, Beihuan Lu of Haigang District)
05:00 ~ 15:00 hourly, 17:00
CNY140
4 hours


Tips: For passengers from Qinhuangdao to Capital Airport, please take the shuttle 6 hours (domestic flights) or 7 hours (international flights) prior to the flights'departure.


Long-distance Bus to Qinhuangdao

to Langfang, Heibei
Departure Station
Operating Hours
Ticket Fare
Duration
Capital Airport → Langfang
No.15 Gate, 1F of T2;
No.3 Gate, 1F of T3
10:30, 12:30, 14:30, 16:30, 18:30, 20:30
CNY40
2 hours
Langfang → Capital Airport
Airport Bus Station, 4, Beijie, the 6th Street
08:00, 10:00, 12:00, 14:00, 16:00, 18:00
CNY40
2 hours

to Baoding, Hebei
Departure Station
Operating Hours
Ticket Fare
Duration
Capital Airport → Baoding
No.15 Gate, 1F of T2;
No.3 Gate, 1F of T3
10:10, 11:10, 14:10 16:10, 18:10, 20:10
CNY90
3 hours
Baoding → Capital Airport
To the south of Baoding Railway Station
05:00, 07:00, 09:00, 10:30, 14:00, 16:00
CNY90
3 hours
to Tangshan, Hebei

Departure Station
Operating Hours
Ticket Fare
Duration
Capital Airport → Tangshan
No.15 Gate, 1F of T2;
No.3 Gate, 1F of T3
10:15, 11:15, 14:15, 16:15, 18:15, 20:15
CNY80
2.5 hours
Tangshan → Capital Airport
Tangshan West Long-distance Bus Station, Zhanqian Bei Duan, Lubei District
07:00, 08:10, 09:20, 11:00, 14:00, 16:20
CNY80
2.5 hours

Long-distance Bus to Tangshan
-